Richard Conder's long history with BU began when he was employed as a lecturer back in 1982; today he is the Chairman of the BU Board. Richard talks to InsideBU about the changes he's seen over the last 34 years – and about BU's future.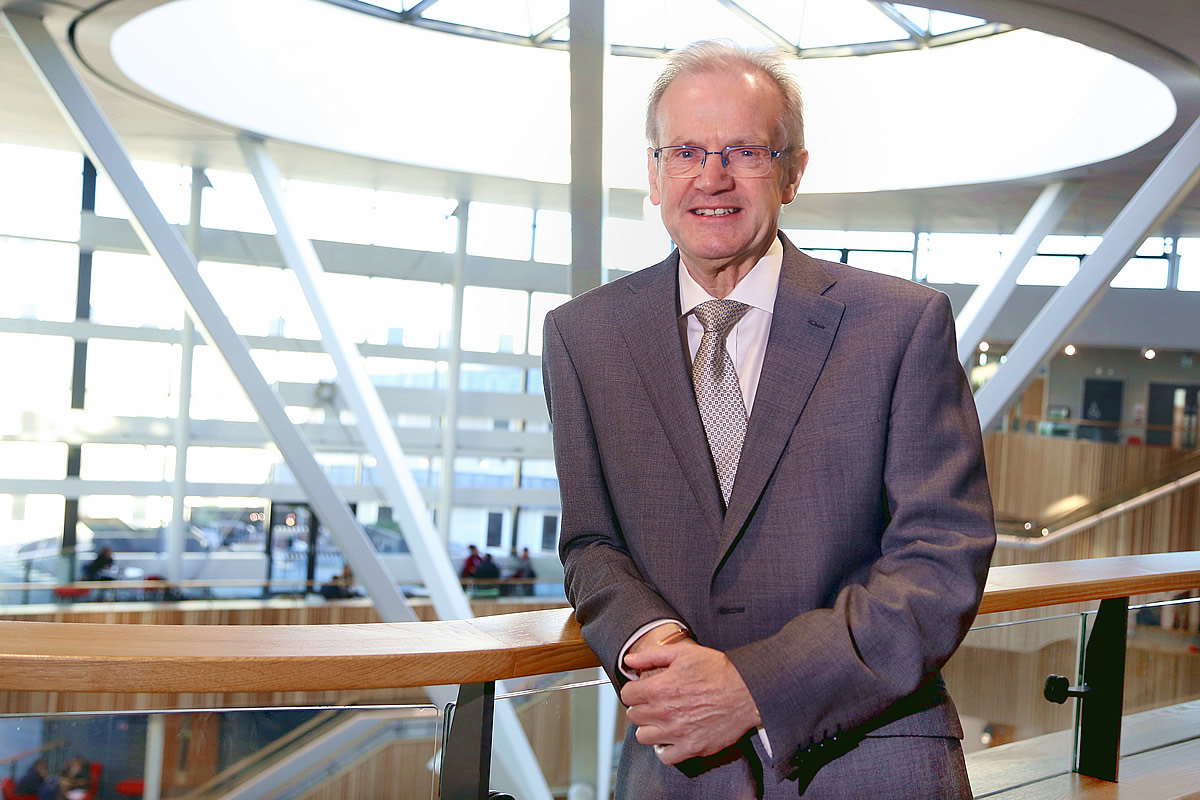 "I come from a family of teachers and I guess that I've always had a passion for learning and a desire to teach. In 1982, I applied for a role as a Senior Lecturer in Finance & Accountancy at the then Dorset Institute of Higher Education – or as we now know it, Bournemouth University – and I was thrilled and amazed to be offered the job. From the moment, just a few months later when I first stood in front of a class of students, I knew that I wanted to teach and be part of a learning institution.
I was very lucky to join an organisation that was growing and provided opportunities for its staff to develop and grow along with it. Thus by 1985 whilst concentrating on teaching at Bournemouth I was also studying for a Master's degree in Business Administration at Bath University – all the while living 75 miles away near Cheddar Gorge in Somerset!
Commuting was a challenge. I remember that on one cold winter's morning at about six o clock as I was on my way to teach at Bournemouth, my car became trapped in a flood on the Somerset levels. I pulled my shoes and socks off, rolled my trouser legs up, pushed my car for about one hundred metres  out of the flood, got the car restarted and drove in bare feet for the next fifty miles and still made it to Bournemouth to teach at 9am – the things you do for your students!
In 1988 I became the Head of the School of Finance and Law, a very happy and productive time for me personally. In the early 1990's, we became a Polytechnic, and I became a Professor. As an institution our main focus over that period was to achieve degree awarding status which was the key to our becoming a university. Much of my time and energy was spent as a member of the many working parties and committees who worked on preparing the institution for its application for degree awarding powers, which was ultimately successful thus enabling us, in 1992 to become Bournemouth University  a truly amazing achievement in such a short time.
In 1996 I was promoted to Pro Vice-Chancellor of Finance & Corporate Development and had the opportunity to be involved in strategic planning alongside the then Board of Governors and other members of the OVC from whom I learnt an awful lot. In early 2002 I left this role to become the first Chief Executive of the Guernsey Training Agency which in 2006 became a University Centre of BU offering undergraduate and postgraduate degrees of the University in the Channel Islands, something of which I was inordinately proud. During all of this time I retained my connection with the University both as a Visiting Professor and Chair of the University's Endowment Fund. In 2011, shortly after my retirement from the GTA University Centre I was invited to join the University Board. It was a huge thrill to be back although in many ways it felt as if I'd never been away. l often say to people that if I were a stick of rock and someone was to split me open, they'd find BU written inside!
In 2012 I was elected to the Guernsey's parliament called the "States of Guernsey", and in due course became Deputy Education Minister. I decided not to seek re-election in 2016 as I wanted to be able to devote more time to my role at BU and give something back to this amazing institution to which I owe so much. In July of 2016 I was elected to the position of Chair of the University Board, an extraordinary moment for me.
The role of the Board is to oversee corporate governance and set strategic direction, whilst maintaining appropriate financial stewardship of the institution. By its very nature, the University's Board is unusual, being a large body of some 26 members. Notwithstanding its size the Board is very effective and I am blessed with some fantastic colleagues with which to work. Its membership includes student representatives, elected staff, the University Executive Team and non-executives from the wider business community so we have a huge pool of talent and experience.
Through that eclectic mix of experience and talent, the Board can bring a wealth of knowledge to strategic planning. Each member has an equal role in debate and decision making. All of the members of the Board can participate and use their expertise in governing and influencing the future direction of our university.
In the recent past a lot of our decision-making has focused on our estate and we have seen the results in some fantastic new buildings and infrastructure. For me it is incredible to think that back in 1982 when I joined the then Dorset Institute of Higher Education there was just one building – Poole House – and a large, very potholed car park!
Looking ahead, I'm excited about the planned Bournemouth and Poole Gateway Developments. We believe that our students and staff should have the best facilities to study and teach in, and these buildings demonstrate BU's commitment to this.
For many years we have aspired to develop both of our sites to make them absolutely world class. Our ambition is to become a Top 50 university in the UK. We are currently developing a new strategic plan that will take us to 2025 and these new infrastructure developments are essential to this, as are the nurturing and development of all our talent. For me, the most important person in this institution is the student, and the most important asset are our staff, both of whom we must support to develop their discipline, professional practice, research, teaching, and career  opportunities in a world-class learning institution, which we all know that BU is."
I am really proud to be a member of BU. When I walk around the campuses I feel that I am in what is a truly welcoming institution. I hope that I will have the opportunity to serve it for many more years to come and equally I hope that I will get to know as many of our brilliant staff as possible during those years.