The Accounting, Finance & Economics department is a vibrant and collegiate environment for staff to showcase the latest research. Here are some of the recent conferences and events that have been organised by our staff.
View events year by year:
2018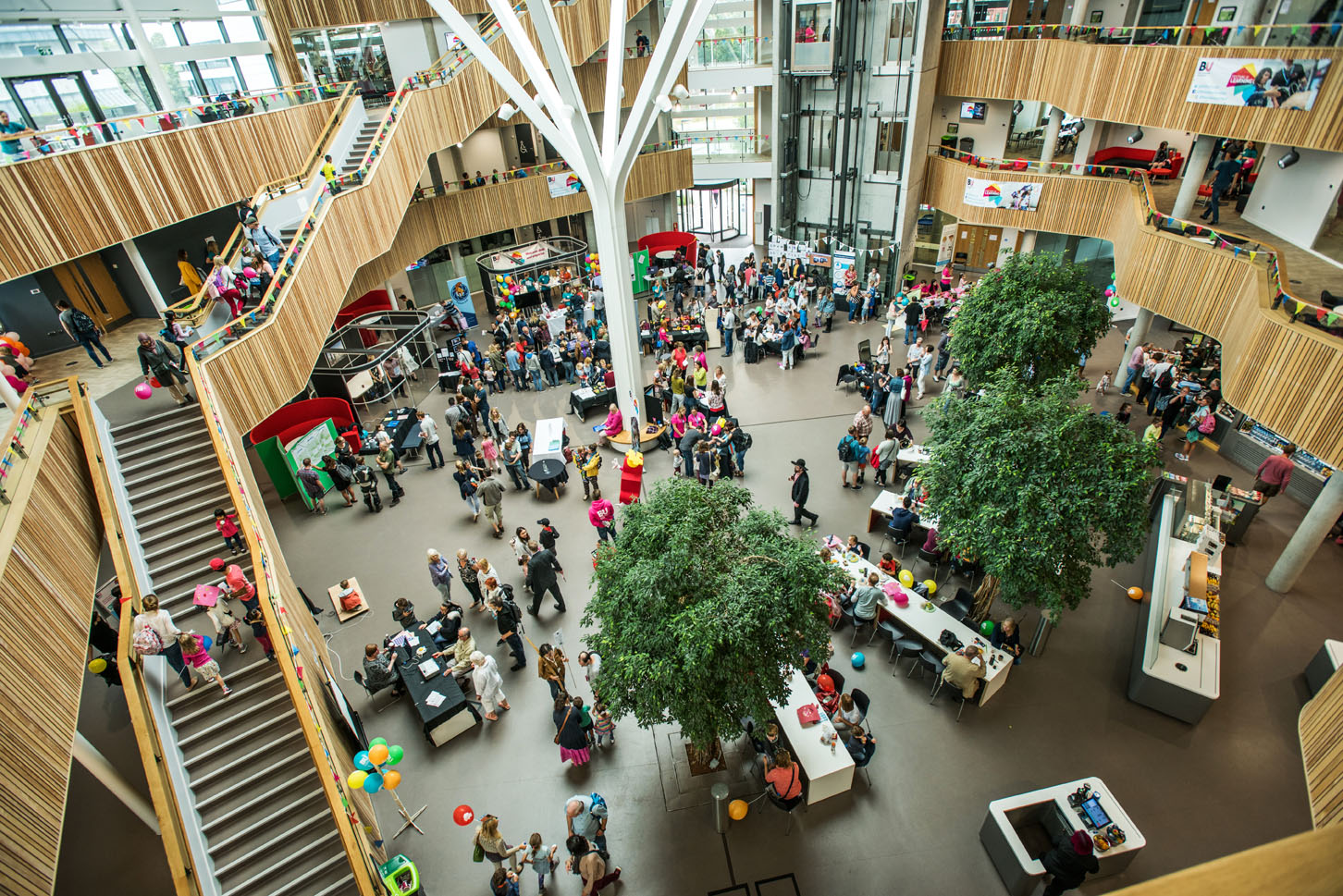 June
Our staff members actively participated in the Festival of Learning with the following events:
Impact of Brexit in the marine industry in Poole and Dorset, Davide Parrilli
Suranjita Mukherjee and Dorset Indian Association organised a charity event in collaboration with St Mungos to raise money for the homeless in Bournemouth & Poole Boroughs. The event nearly £2,000 has been rose for St Mungos.  
May
Workshop on Mathematics and statistics support for Economics and Finance organised by Marta Disegna with the support of the SIGMA Network.
This event gave us the opportunity to expand our knowledge on existing online resources and national projects for Math and Stat support, to create future collaborations with SIGMA members, and to be an active member of the SIGMA network. 
2017
November
Workshop on "Brexit: next steps for Businesses and trade policy", ESRC Festival of Social Sciences, Commonwealth Secretariat, Marlborough House, Pall Mall, St. James's, London organised by Sangeeta Khorana and Jens Hölscher
October
Inaugural Public Lecture by Prof. Jens Hölscher on "The effects of Brexit on the EU, the UK and Dorset – a migrant's account". The Working paper is available on the BAFES Working Papers series.
September
26th annual Tax Research Network Annual Conference organised by Phyllis Alexander and Alan Kirkpatrick, sponsored by the Chartered Institute of Taxation, the Institute of Chartered Accountants of England and Wales and ICAEW Southern.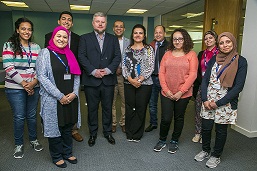 July 
Pharmaco-Economics Workshop
Prof. Darrin Baines organized a one-week Pharmacoeconomics Workshop funded by The British Council to promote economic and social impact in Egypt.
June
Our staff members actively participated in the Festival of Learning with the following events:
Brexit: Next Steps for Businesses and Trade Policy accepted, Sangeeta Khorana and Jens Holscher
Tax Havens: A UK and international perspective, Alan Kirkpatrick
2016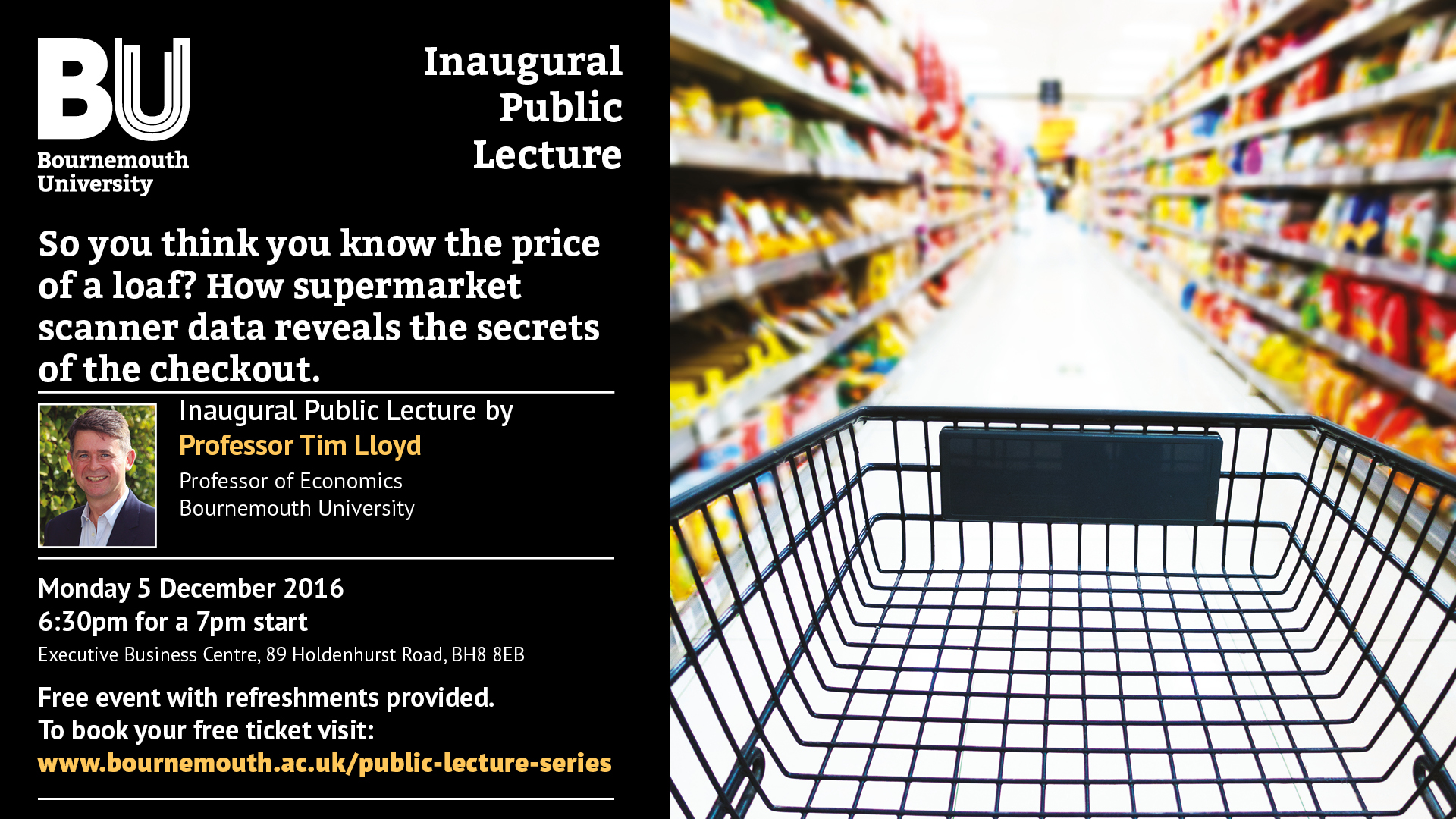 December
Inaugural Public Lecture by Prof. Tim Lloyd on "So you think you know the price of a loaf? How supermarket scanner data reveals the secrets of the checkout"
Research Seminar Series
Our Research Seminar Series offers a place for research information exchange, lively discussion and debate. The series is intended to provide exposure to a wide range of topics – encompassing theoretical and applied research.
It includes presentations and talks by internal and external academic scholars, representatives of funding institutions, journal editors, and others. For further information, please contact the Research Seminar Series co-ordinator, Dr Nikolaos Papanikolaou, npapanikolaou@bournemouth.ac.uk.
Current programme - academic year 18/19
Date

Speaker

Affiliation

Title of the presentation

30/01/2019

Dr Sushil Mohan

Brighton University

Coffee price dynamics: What does it tell?

06/02/2019

Professor Beata Javorcik

University of Oxford

Financial Constraints and Propagation of Shocks in Production Networks

13/02/2019

Dr Davide Parilli

Bournemouth University

Context-specificity and micro determinants of innovation modes: Evidence from EU countries

20/02/2019

Professor Lorenzo Trapani

University of Nottingham

Determining the dimension of factor structures in non-stationary large datasets

27/02/2019

Dr Deborah Taylor

Bournemouth University

Making sense of Psychological Ownership: Construct confusion and unanswered questions

06/03/2019

Professor Robert Elliot

University of Birmingham

The impact of flooding on property prices: A repeat-sales approach

13/03/2019

Professor Christopher Hartwell

Bournemouth University

Rational Response or Irrational Fear?

Financial Markets and Terrorism in Tsarist Russia

20/03/2019

Professor Gerald Eisenkopf

University of Vechta

Inter-Group Migration and Intra-Group Cooperation

27/03/2019

Professor Steve McCorriston

University of Exeter

Revisiting Commodity Price Shocks

03/04/2019

Professor Etienne Piguet

L'Université de Neuchâtel

Environmental change and migration: state of the art and current research questions

08/05/2019

Dr Timothy King

University of Kent

A Safe Pair of Hands? CEO Career Experience and Risk-taking

22/05/2019

Dr Tony Abdush

Bournemouth University

Using Insurance Distribution Strategy as a Complementary Corporate Governance System, How Efficient In the UK?

05/06/2019

Dr Anita Starzyk

NEOMA Business School

Dealing with managers' neglect of upward voice: Revealing employees' strategies
Previous seminars
| Date | Speaker | Affiliation | Title of the presentation |
| --- | --- | --- | --- |
| 05/10/2016 | Dr Katsushi Imai | University of Manchester | Estimation of vulnerability to poverty using a multilevel longitudinal model: Evidence from the Philippines |
| 19/10/2016 | Prof. Nancy Puccinelli | University of Bath | The new psychology of marketing |
| 26/10/2016 | Prof. Dominique Xardel | ESSEC Business School | The luxury products industry : The power of experience |
| 02/11/2016 | Dr George Filis | Bournemouth University | Forecasting of oil prices |
| 16/11/2016 | Dr Kaouther Kooli | Bournemouth University | Value co-creation in cross category brand alliance |
| 23/11/2016 | Prof. Allan Webster | Bournemouth University | Innovation and foreign ownership in transitional countries:  A (firm-level) empirical study of 29 transitional countries |
| 30/11/2016 | Dr Giuseppe Bova | Coventry University | Evaluation of group contracts as a tool for employee retribution |
| 07/12/2016 | Dr Jens Mohrenweiser | Bournemouth University | Are public service motivated work values shaped by administrative traditions in Europe? A multilevel cross country investigation |
| 01/02/2017 | Prof. Francesco Pastore | Seconda Università di Napoli and IZA | Is the gender pay gap in the US just the result of gender segregation at work? |
| 15/02/2017 | Dr Davide Parrilli | Bournemouth University | SME finance: a typology |
| 22/02/2017 | Dr Alan Kirkpatrick | Bournemouth University | Pension accounting disclosure controversies |
| 01/03/2017 | Prof. Oliver Morrissey | University of Nottingham | Colonial legacy and poverty reduction in Africa |
| 08/03/2017 | Dr Gbola Gbadamosi | Bournemouth University | Extending the frontiers of job fit through matching aspirations and widening participation: the views of academics and students in South Africa |
| 15/03/2017 | Prof. Indrajit Ray | Cardiff University | Auctions with discrete bid levels: Theory and experiments |
| 22/03/2017 | Dr Donald Nordberg | Bournemouth University | Ownership, activism and engagements |
| 29/03/2017 | Dr Khurshid Djalilov | Bournemouth University | Regulations, institutions and stability in the banking sector of transition countries |
| 05/04/2017 | Dr Chardin Wese Simen | Henley Business School | The predictive power of the dividend risk premium |
| 03/05/2017 | Dr Fabian Homberg | Southampton Business School | WE WANT YOU! Experimental evidence on the impact of recruitment messaging on application intentions |
| 10/05/2017 | Dr Piotr Lis | Coventry University | Buying friends for wars: Bribing through trade deals |
| 03/10/2018 | Prof. Dimitrios Gounopoulos | University of Bath | Geographic Dispersion and IPO Survival |
| 10/10/2018 | Dr Jens Mohrenweiser | BU Business School, LSO | Information Advantages of Training Employers Despite Credible Training Certificates |
| 17/10/2018 | Dr Anna Freni Sterrantino | Imperial College London | Advanced models for spatio-temporal data |
| 24/11/2018 | Dr Stavros Degiannakis | BU Business School, AFE | Oil price volatility forecasts: What do users need to know? |
| 31/10/2018 | Caroline Burr | BU Business School, Marketing | Female Green Consumption: Enacting a Green Identity |
| 07/11/2018 | Dr Donald Nordberg & Dr Hany Elbardan | BU Business School, AFE | Different marches of the machines: Institutional change and identity work of professionals |
| 28/11/2018 | Prof. Dimitrios Asteriou | Oxford Brookes University | Structural Breaks and Herding Behaviour in Cryptocurrencies |
| 05/12/2018 | Zhongqi wu & Junpeng Chen | Yiwu Industrial and Commercial College | Starting Point of New Silk Road / Visual Marketing in E-Commerce |