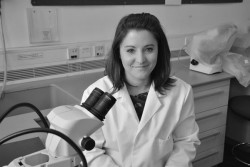 Publications
Journal articles
Brooks, S.J., Davies, K.L., Mather, K.A., Matthews, I.P. and Lowe, J.J., 2016. Chironomid-inferred summer temperatures for the Last Glacial-Interglacial Transition from a lake sediment sequence in Muir Park Reservoir, west-central Scotland. Journal of Quaternary Science, 31, 214-224.
Davies, K.L., Pancost, R.D., Edwards, M.E., Walter Anthony, K.M., Langdon, P.G. and Torres, L.C., 2016. Diploptene δ13C values from contemporary thermokarst lake sediments show complex spatial variation. Biogeosciences, 13, 2611-2621.
More informationView in BU repository
Wooller, M.J., Saulnier-Talbot, Ã.., Potter, B.A., Belmecheri, S., Bigelow, N., Choy, K., Cwynar, L.C., Davies, K., Graham, R.W., Kurek, J., Langdon, P., Medeiros, A., Rawcliffe, R., Wang, Y. and Williams, J.W., 2018. A new terrestrial palaeoenvironmental record from the Bering Land Bridge and context for human dispersal. Royal Society Open Science, 5.
More informationView in BU repository
Crone, A., Cavers, G., Allison, E., Davies, K., Hamilton, D., Henderson, A., Mackay, H., McLaren, D., Robertson, J., Roy, L. and Whitehouse, N., 2018. Nasty, Brutish and Short?; The Life Cycle of an Iron Age Roundhouse at Black Loch of Myrton, SW Scotland. Journal of Wetland Archaeology, 18, 138-162.
More informationView in BU repository
van Hardenbroek, M., Chakraborty, A., Davies, K.L., Harding, P., Heiri, O., Henderson, A.C.G., Holmes, J.A., Lasher, G.E., Leng, M.J., Panizzo, V.N., Roberts, L., Schilder, J., Trueman, C.N. and Wooller, M.J., 2018. The stable isotope composition of organic and inorganic fossils in lake sediment records: Current understanding, challenges, and future directions. Quaternary Science Reviews, 196, 154-176.
This page is a shortened version of a BU academic profile. To view the complete profile, visit our Staff Profiles site.