An event to celebrate the best in food research, latest innovation in research and links with industry has taken place at Bournemouth University.
FoodBiz brought together people from the food and hospitality industry alongside academics to share findings from latest research and take ideas forward within the health, wellbeing, hospitality and food industries.
The event included the introduction of a new research project looking to inform people about eating out. The FoodSMART app – an app which allows consumers to access information about food intake, diet and allergies when eating in public places – had its first public showing at the event with a hands on demonstration of its capability.
Bournemouth University's Professor Heather Hartwell, who chaired the event and is leading the FoodSMART project, said at the event, "Today is a celebration of food. It is a celebration of how BU works with industry and how industry works with us. We have all our international partners here and industry representatives who have benefitted from working with the university.
"We are also having our first sneak peak of our FoodSMART app – which is really exciting. There has been a lot of interest in it – as far and wide as Australia and Malaysia. Even companies like Nestle in Switzerland and Unilever in The Netherlands are looking to test the app in their canteens – it is still in development at the moment, and being tested at FoodBiz, but this app could really change the way we view eating out."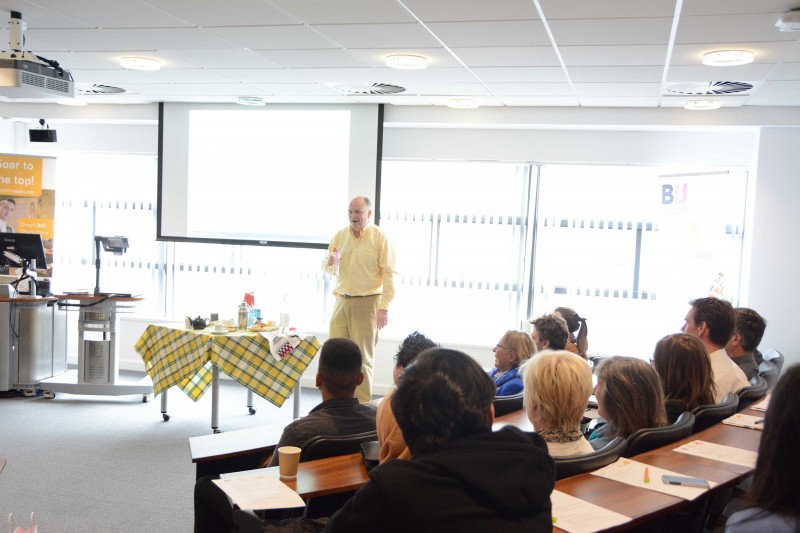 Other activities taking place at FoodBiz included hands on food demonstrations from Dr Sean Beer, looking at his PhD research into Dorset's food landscape, and a talk from Mr Lee's Noodles creator Damien Lee about working with Bournemouth University to develop the brand.
Damien Lee said at the event, "We've had great help from people here at BU. We have a lot of student help with our brand and we're really grateful for the support we've received from people at the university.
"Local universities, like BU, have so much to offer and it's about tapping to that resource. It's a great partnership and we've been fortunate to build an excellent relationship with BU. This brand has been built in partnership with them. My advice is to reach out to the university and its recourses on your doorstep, as it can be really beneficial."
Presenters at the event travelled from as far as France, Austria and Greece to come and talk about the latest in food innovation and research, while there was also a look at food in care homes, food psychology and food safety.
For more information about the FoodSMART app, visit www.foodsmartproject.net.