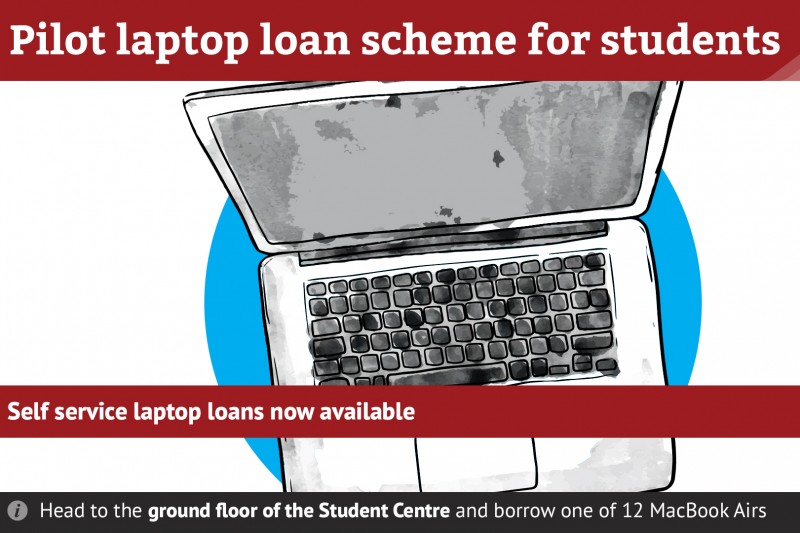 From Monday 16 January, 12 brand new 13" MacBook Airs will be available for students to borrow from the Student Centre at Talbot Campus.
This is a pilot scheme which will be reviewed based upon the feedback that you provide us. There is potential capacity to add additional lockers and laptops if the trial is successful. IT Services in collaboration with SUBU, Finance, Legal Services, Student Services and the Library have implemented this new scheme as a result of student feedback, which requested the flexibility of being able to work anywhere on campus and not be restricted to the Open Access Centres or the Library. The more feedback we receive the better the service we can provide, so please help us by sharing your thoughts about the pilot in the survey - there will be a link on the laptop's desktop.
These, 'first come, first served' laptops have several applications installed on them including Microsoft Office and Skype. They can be borrowed for up to 4 hours and can be taken anywhere on Talbot campus. They will have been charged before you borrow them, so you don't need to find a charging point or plug socket – you can simply grab a comfortable spot in any building and log on to the BU-Student wireless network.
The laptops will be contained in a series of lockers found on the ground floor of the Student Centre, next to the stairs. To gain access, you'll need your student card and to follow the simple instructions on the terminal screen. Once you've authenticated and agreed to the terms and conditions, scan your student card on the reader of an available locker to open the door and take the laptop.
When the laptop is returned to a locker, you will need to plug it in to the provided power adapter so it will charge for the next user. This process needs to be completed to successfully complete the loan.
If you have any questions regarding this scheme, please contact the IT Service Desk on 01202 965515 (option 1) or raise a ticket or chat online.