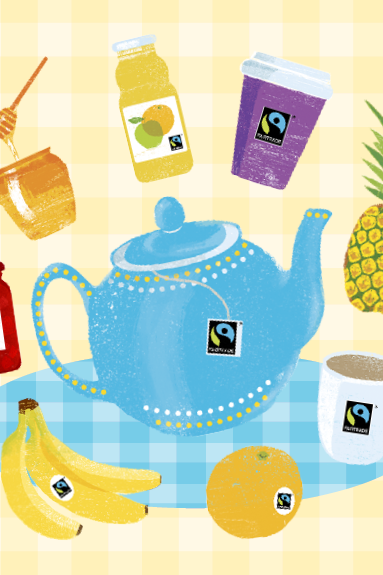 The next two weeks (27 February – 10 March) is Fairtrade Fortnight - this year Fairtrade at BU is turning 10 and to celebrate this there will be lots of Fairtrade product giveaways and promotions to look out for.
There will also be a range of activities and events you can get involved with:
Tuesday 28 February:
Free coffee and chocolate giveaway 
Free Pelican Rouge coffee and chocolate will be given out at both Talbot and Lansdowne campuses to mark the beginning of the fortnight.
Wednesday 1 March:
Love Dorset Fairtrade Day 5th floor of the Student Centre (10.30am-3pm)
Come and watch the Dorset Fairtrade Scone Bake-Off - you'll even get the chance to taste the scones! This will be followed by a free conference in the Fusion Building discussing ethical and sustainable food with guest speakers and a networking session - register your place.
Thursday 2 March:
Take a Break Morning at the Fusion Building and EBC (8:30am-12:00pm)
Tying into BU Mental Health Awareness Day which is also taking place on the 2 March, the 'Take a Break Morning' is about having a break from your studies and celebrating both positive mental health and Fairtrade! There will be plenty going on including pop-up Fairtrade stands in Fusion, happy hour prices on both campuses from 10am-11am and there will even be games of Fairtrade Snakes and Ladders out to play.
Fairtrade story performance and Fairtrade food at Dylan's Bar (5pm onwards)
A Fairtrade story performance. Surya Arts are a theatre company who travel around the UK and share the Fairtrade message though a performance. This will be followed by the chance to learn a few Bhangra dance moves as part of a short Bhangra dance class.  
On-going (17 February – 10 March):
SUBU will be giving out Fairtrade goodies for students who give feedback as part of Speak Week.
Promotions in the student shop on all Fairtrade products including the Epona Fairtrade clothing lines.
The BU Chartwells outlets will be promoting the EATFAIR range. For every item sold, Chartwells will donate 5p to EATFAIR projects that support growers and producers in developing countries.
"Me & Fairtrade" – follow @BUeatanddrink and tweet a picture of yourself with one of our fair trade products and one lucky winner will be selected to win a month's worth of medium sized coffee drinks (x 20).
Look out for homemade cake of the week and why not have a go at guessing the number of Fairtrade Jelly Beans in the jar to win!
Posted on
Thursday, February 23, 2017
Category