Bournemouth University's global Festival of Learning has taken place in Europe, with staff and students joining partners from across Europe in Berlin. 
The two-day festival provided a forum for researchers, educators, policymakers, businesses, students, and the wider European community to network and share knowledge.  
The 2018 festival theme is 'Global Education 2050: Celebrating European Collaborations' and events focused on key issues affecting Europe.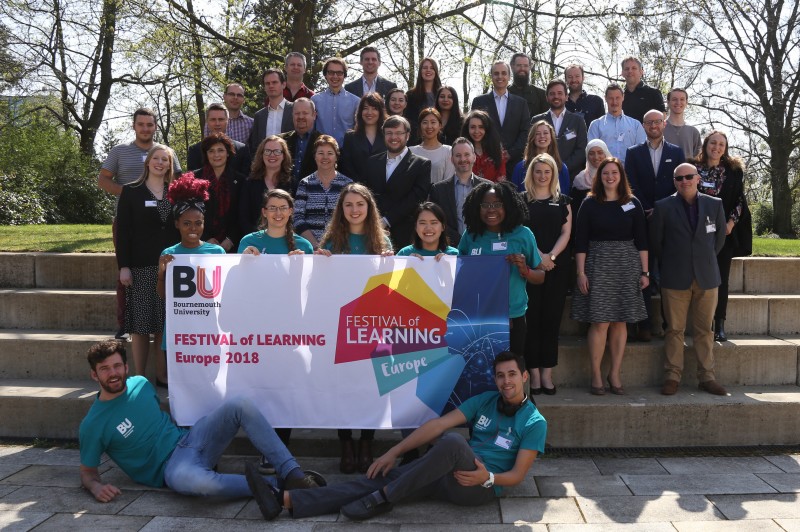 Staff and students travelled from BU to Berlin for the festival, and were joined by representatives from other European universities, German industry, Bournemouth Borough Council, and the British Embassy, among others.
The festival was supported by other European partner education institutions, including SRH Hochschule Heidelberg, Universidad San Jorge, and Quadriga Media Berlin GmbH.
The first day of the Festival featured keynote speeches by Andy Tunnicliffe, Director of Internationalisation and Quality Assurance at Universidad San Jorge in Spain, and Eszter Salamon, Vice President of Lifelong Learning Platform. 
Both keynote speakers joined representatives from the UK Science and Innovation Network for the British Embassy, Quadriga University for Applied Science, SRH Hochschule, and BU, for a panel discussion about higher education institutes and European collaboration post-Brexit.  
Andy said: "I wanted to be here to learn from other universities, from other colleagues in different contexts and different countries and to see how they are tackling internationalisation in their institutions.
"It's essential for us as universities to look and listen at what's going on in the sector and to listen to companies to be able to improve our own practice and provide a better experience for students."
BU academics also shared their work and research into topics as diverse as archaeology and fake news, alongside a live link up back to Bournemouth to the SOCNET conference taking place at BU. 
The second day featured a keynote from Sven H. Engel, Director of International Relations for the German National Association for Student Affairs, who spoke about the work of the association and the German HE landscape. 
A panel discussion - featuring representatives from business and industry both in Bournemouth and across Europe - explored the importance of developing student talent with a global profile.  
Brian Heppenstall, a BU graduate who is now Senior Ranger for Hengistbury Head and takes on around 20 BU placement students a year, was part of the panel. He said: "I love BU, I'm very proud to have been there and I've always wanted to work to help promote BU and attract talent.I was really excited to come here and to give any help or advice that I could around their global festival.
"I now better understand the opportunities available to students, both at home and I guess more importantly in terms of the global Festival, abroad as well.
"So when students come and talk to me, I'll have a better point of view about opportunities abroad and from listening to people here have found that really adds a richness to their experience that can help add to a career as well."
BU academics also presented their research into speed-reading, sport fandom, legal highs and the FoodSMART project, alongside speaking about the importance of teaching critical thinking.  
A team of current BU students supported the festival in a range of roles, including events management, filming and social media. 
First year BA (Hons) Business Studies student Freya Stevens was one of them. 
"I thought it was a really great opportunity to connect with different cultures and people as well as develop my skills, focusing on events management but also different areas such as social media," said Freya. 
"I've learnt from so many different aspects of the festival – there are so many different ideas and theories that I hadn't even thought about so it's really opened my eyes.  I've found it busy, but in a great way. I've loved it so much, and I'm taking away all the skills I've learnt in the different areas." 
This is the third year that Bournemouth University's Festival of Learning has gone global, with events taking place in India and China earlier this year and a festival planned for the ASEAN region in May.
BU's Pro-Vice-Chancellor for Global Engagement Dr Sonal Minocha, said: "The global Festival of Learning is one of the exciting ways Bournemouth University fosters international public engagement to celebrate learning, share knowledge and expertise, and deliver impact beyond borders.
"We are delighted to be working with partners from across Europe to bring the global Festival of Learning to Berlin, one of Europe's most iconic cities, providing a befitting platform for our inaugural festival in Europe for a cross border dialogue in education, research and policy."
To find out more visit the global Festival of Learning webpages. 
Global Festival of Learning Europe - Day 1
Global Festival of Learning Europe - day 2