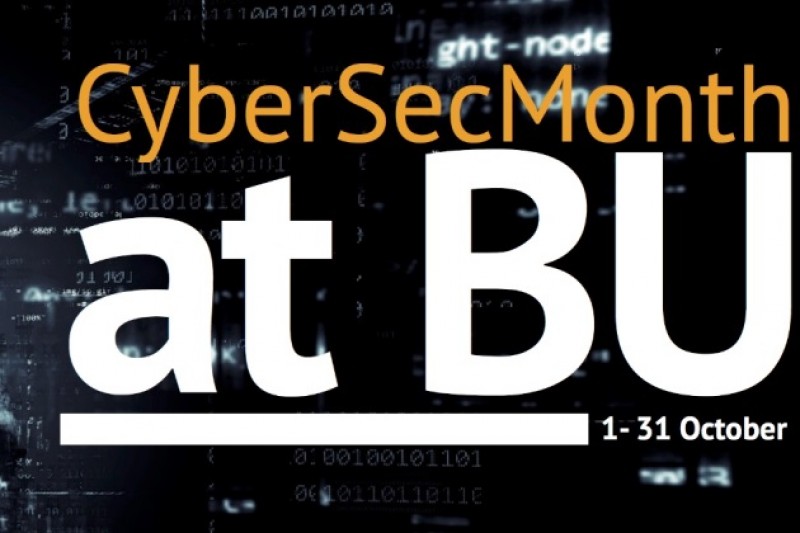 It's Cyber Security Month at BU and we're sharing our top tips about how you can keep yourself safe online - this week's focus is on passwords and password protection.
Use a silly password
We all know how tricky it can be remembering lots of passwords, but using different passwords for your BU email, your bank, your personal email, online shopping and so on, means there's less to update if any of your accounts are ever compromised. 
The good news is that you only need one password for all of your BU accounts - but that also means it's even more important to really think about what your password is.
Our advice is to use three-word passwords with a combination of letters, symbols and numbers, and to make them about something random such as '5CheeseParis.Bentley33' rather than  something simple like 'Summer2018', and to change it regularly and as a minimum, each academic year. For more advice on what makes a good password check out our guide about creating strong passwords that are easy to remember. 
Resetting your password
If you do forget your password, most people contact IT Services to have it reset, which isn't ideal, especially as it might not be the first thing you think of! To avoid having to do this in future, we encourage you to sign up to our password reset tool where you can add in some security questions and answers now, so that you can reset your password online easily and quickly. So sign up now and make life a little bit easier!
Keep your password safe!
Some of these things sound obvious but it's likely you've done at least one of these things recently - we recommend you don't do any of them!
Share your password
Send it in an email
Write it on a post-it
Store on unprotected storage
Enter on an unsecured website.
Most mobile devices now have wallets and secure folders where you can save a list of all your passwords – just make sure you password protect that too! 
Look out for further tips about keeping yourself safe online throughout this month - if you've got any queries, please get in touch with the IT Service Desk on 01202 965515, option 1.
Posted on
Thursday, October 4, 2018
Category