AFC Bournemouth's Commercial Director Rob Mitchell visited BU to brief and judge a series of pitches from Corporate Marketing and Communication students.
Rob, a BU graduate, used his experience of working for a Premier League football club to provide a brief for students to work to. He then returned to BU to join the judging panel for a series of assessed presentations that responded to the live brief.
The brief was to look at how AFC Bournemouth could sustain, develop and improve their relationship with sponsors, with students tasked with coming up with ideas and pitching them back to Rob.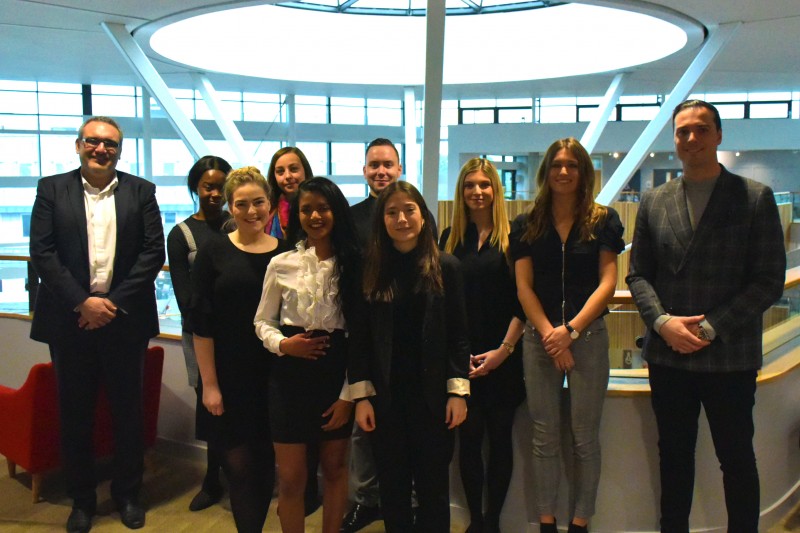 Dr Tasos Theofilou, unit leader of final year option "Corporate Sponsorship" who arranged this, said, "I think the students really benefited from the experience and will benefit even further when they receive some recorded feedback that Rob left for each group. Having live briefs enhances the student experience and really helps the students contextualise what they learn. The students rose to the challenge; I was more than happy to see how the students developed a clear strategy and tactics. We heard some very fresh ideas during the day."
Bournemouth University are the official higher education partner of AFC Bournemouth, with the partnership stretching back over six years. Students have benefitted from the partnership through both learning opportunities, and the ability to be involved with the club on matchdays.
Speaking about the opportunity to deliver a presentation to AFC Bournemouth's Commercial Director, Tasos continued, "Making students' co-creators of knowledge, bringing together theory with practice and offering them the opportunity to pitch their ideas and campaigns in what could be seen as a simulation of an industry environment is invaluable. Students build confidence, develop strong personalities and of course are able to develop some necessary modesty which will help them improve as professionals but most importantly as people in the future. 
"I'd like to publicly thank Rob Mitchell for his active support and input over the years."
For more information about BU's Corporate Marketing Communication courses, visit BU's course pages.
Posted on
Tuesday, January 22, 2019
Category