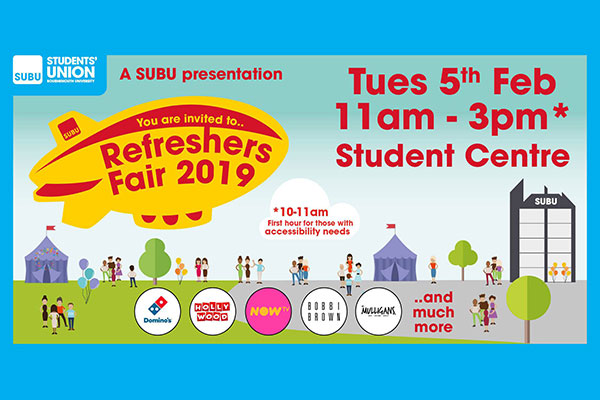 SUBU's Sports & Societies Festival showcases the different ways you can get involved in clubs, societies, academic societies and sports with lots of stands, activities and free taster sessions.
Whether you have just started your studies at BU this semester, or you missed the Fresher's Fair in September, this is the perfect chance to think about how you can expand your horizons, meet great people and take part in something you love or want to learn more about. 
From 5 - 8 February, the Student Centre on Talbot Camps will be home to lots of stands, local and national organisations with some great freebies and discounts, as well as music, food and drink!
Lea, SU VP Activities at SUBU invites you to: "Come along, jump in and find out from the people directly involved what it's like to do it alongside your studies!"
Refreshers Fair kicks off the week of events giving you the chance to talk to hundreds of clubs and societies about the many opportunities you can take part in alongside your studies - a great way to get more from your time at BU. 
Check out the list of taster sessions, download the Sports & Socs Festival Programme and watch the video from last year's Sports & Societies Festival to see what it's all about!
And remember, if you join a club, academic society, or sign up to a sporting activity, it can all earn you points towards the BU Global Talent Programme as you develop new skills and enjoy new experiences!