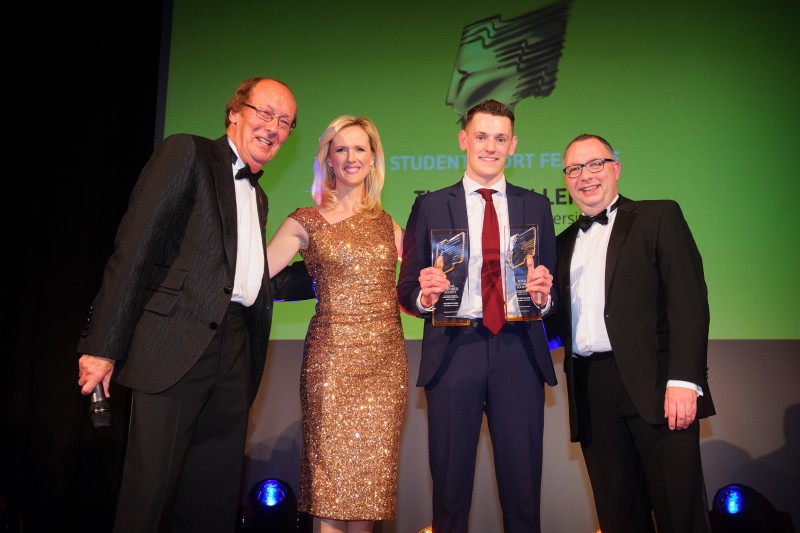 Hosted by ITV Meridian's Fred Dinenage and BBC South's Laura Trant, The Royal Television Society (RTS) South's flagship event of the year saw more than 200 industry professionals from main production hubs across the region come together to award the work of those working in the television industry and emerging talent from universities in the South.
 Among the winners was Tom Perry, a BU BA Television Production alumni who won the short form documentary category for 'The Shovelers' which chronicles the enduring friendship of two men working at Tattersalls Horse Auctioneers. Judges praised the piece for its charm, with Tom being awarded by Jason Horton, Head of News at BBC South.
Tom said: "What an experience Bournemouth has been, from the first day feeling, incredibly out of my depth and now an RTS winner. Progression is the thing that shocked me most as now I am a fully qualified camera operator, director, editor, sound operator, you name it."
He added: "Bournemouth has been the best thing that has ever happened to me and I look forward to the bright future that Bournemouth has paved for me."
Also nominated were graduates from BU's Faculty of Media and Communication and National Centre for Computer Animation. (NCCA). BA TV Production alumni Henry Cramer-Todd was nominated for his film 'An Extra Step', with BA Media Production's Callum Blitz also nominated for 'The Love Producer'. NCCA students Aaron Demolder, Hannah Kenton and Louie Gordon were also nominated for their animation work, 'Somnia', tutored by Oleg Fryazinov.
Produced by BU academic and VFX Hub Director Peter Truckel and animated by graduates Lucy Wright and Fran Towey, 'Cut Your Strings', an animated series of films that support a Dorset Police initiative to combat controlling and coercive behaviour was nominated in the Graphics/Animation category.
BU partner college Wiltshire College and University Centre also took the award in the Student Category for comedy film, 'The Second Coming'.    
RTS South Chair and Executive Producer for BU-based RedBalloon Productions, Stephanie Farmer, said: "I am very proud to be the Chair of the RTS Southern region who put together this fantastic event, and I can tell you that it really means something to professionals and students across the region to receive an RTS award because they are judged by fellow professionals from across our area. I am also very proud of the students, who once again show us how talented they are, producing work which is virtually professional standard, in every category."
She added: "I would also like to thank the faculty once again for being one of the Key Supporters for the event."
The success comes as BU students and alumni have also been successful at Commercial Radio's IRN Awards, with MA Multimedia Journalism student Dave Wheeler being named IRN Student Journalist of the year 2019, and BU BA Multimedia Journalism alumni Sam Thomson collecting the Newsreader of the Year award.
To read more about how you could study a programme at BU's award-winning Faculty of Media and Communication, click here.