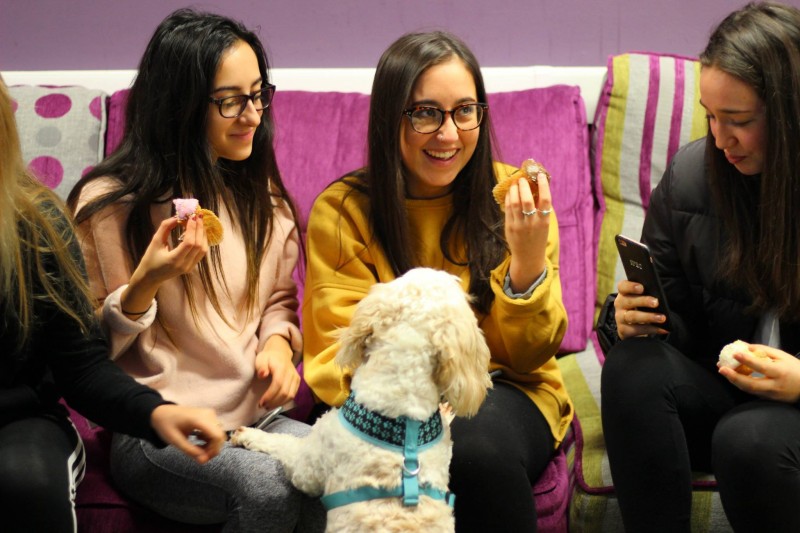 Take some time out from revision and coursework with our ResLife activities to help you to relax and feel good in between exams. 
Our lovely ResLifeBU team has organised activities in and around your halls to help keep you calm and balanced..
Every morning, fresh fruit will be available in hall receptions from 8.00-9.30am to make sure you get an energy boost before your exams, and a stress-busting roadshow will tour all residences providing free professional head, neck and shoulder massages, craft workshops and Barney the dog. There's no need to book and the full schedule is below, so just pop along when you can to say hi!
Student vlogs
Get some top tips from your fellow BU students including Danielle's 'stress-free studying', Imogen's 'how to cope with the stresses of uni' and Sam's 'top places to escape exam stress in Bournemouth'.
Late bus
New for this year's summer exam period is the free, midnight UNIBUS service - E1 - which will run when the Sir Michael Cobham Library (Talbot Campus) closes. This means you can take full advantage of the library opening hours then travel home safely. This is a special service, which will run through Winton and Charminster before going to the Lansdowne Campus - check departure and arrival times and the route.
Looking after your wellbeing
Find advice from both the NHS and BU students to support you while you're preparing for exams and make sure you're fully prepared with our exams do's and don't's. It's a really important time of the year to look out for yourself and your friends, so check out our useful managing exam stress tips and support information.
And remember, if you're feeling overwhelmed or anxious, to please contact our Student Wellbeing team or SUBU Advice - and if you are looking for support out of hours you have free access to the Big White Wall when logging in with your BU email or call the Samaritans for free on 116 123 from any phone.
ResLifeBU stress-buster roadshow 
Second week: 28 - 31 May              
Monday 27 May - Bank Holiday             
Tuesday 28 May, 12pm – 2pm - Lyme Regis House 
Wednesday 29 May, 12pm – 2pm - Chesil House
Thursday 30 May, 12pm – 2pm - Corfe House
Friday 31 May, 12pm – 2pm - Student Village
Posted on
Tuesday, May 28, 2019
Category