As the football season draws to a close, AFC Bournemouth is celebrating what will be a fifth consecutive season in the Premier League next year.
Bournemouth University are the official higher education partner of AFC Bournemouth, with benefits for staff and students of BU, as well as staff at AFC Bournemouth and members of the local community.
BU's partnership goes beyond the first team with a celebration of the achievements of the AFC Bournemouth Girls teams for which we are the main supporter. The girls teams have completed an impressive season across all age ranges. The under 10s team won the League Cup, with a 5-2 victory over Mudeford Phoenix Girls FC, the under 12s are still in contention to win their league, while both the under 14s and under 16s teams completed 'trebles' by winning their leagues and respective cups.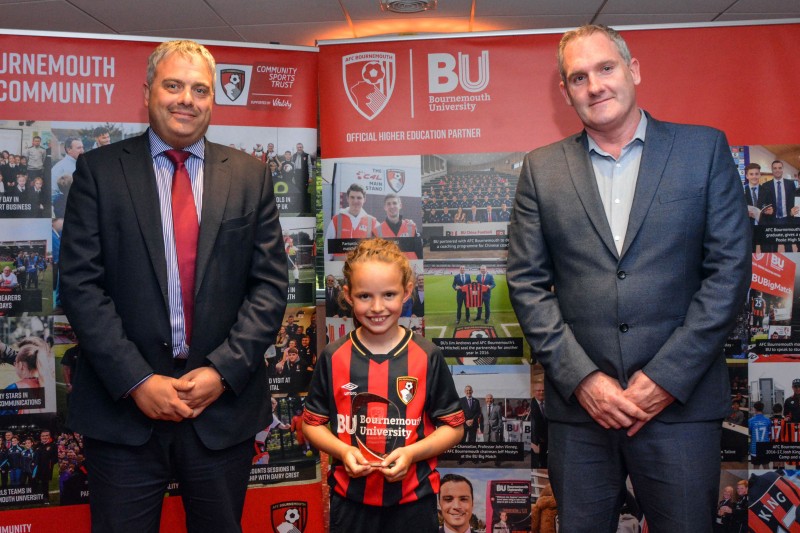 The Cherries finished in 14th place in England's top division, and will look forward to another season of top flight football, while Bournemouth University is looking back over another season of official partnership between two of Dorset's biggest organisations.
A number of research collaborations have been established between the Cherries at BU, such as Osman Ahmed's work with AFC Bournemouth physiotherapists, while Osman even worked with AFC Bournemouth footballer Jermain Defoe, now on loan at Scottish team Rangers.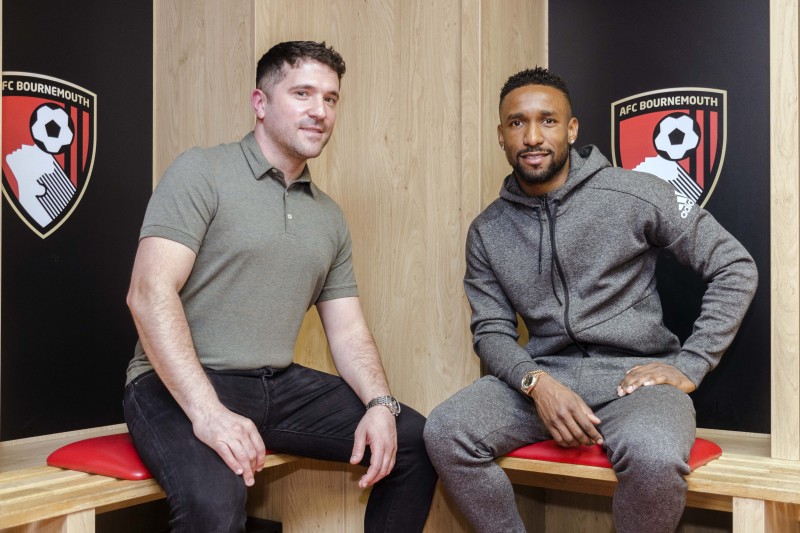 The partnership offers opportunities for students to work at the Premier League football club, as match day ambassadors, ticket assistants and even in the press office. Additionally, BU's men's and women's football teams are coached by AFC Bournemouth coaches.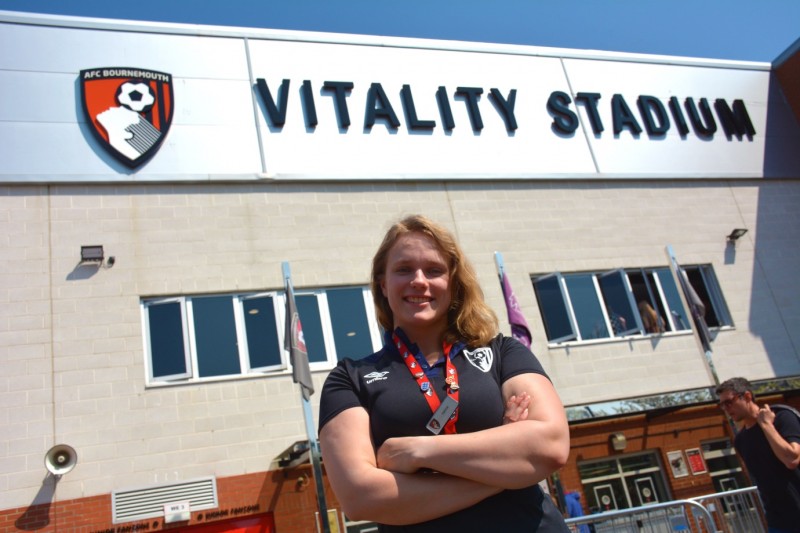 A number of players have visited BU to engage with students, including Jermain Defoe, Joshua King and, Simon Francis and Tyrone Mings, who this season came to talk to staff and students about resilience in sport.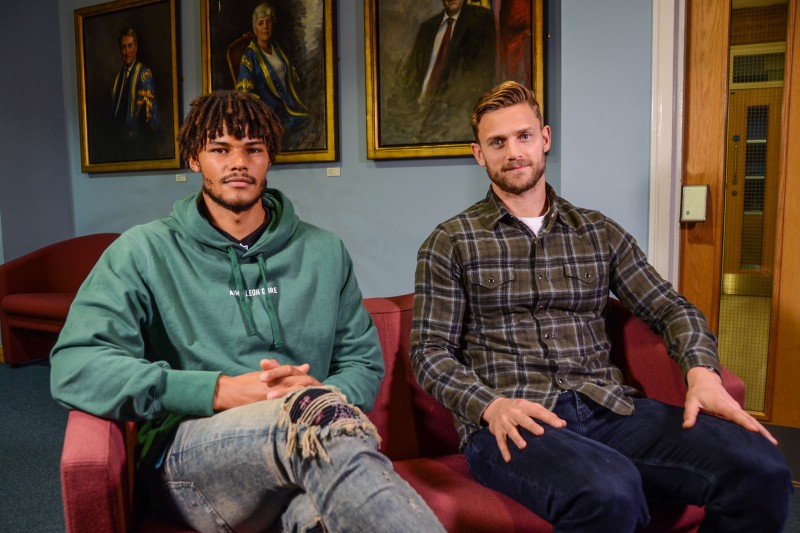 Each year, one AFC Bournemouth match is designated as the #BUBigMatch, with additional BU activity taking place before the game, and at half time. This year, the university took the opportunity to highlight its wellbeing work, and invited along some local children that had worked alongside the university to create the mental health awareness film #lifeunfiltered.
BU has also worked with AFC Bournemouth and the Dorset FA to train groups of Chinese football coaches. Over the past three years, over 180 coaches have travelled to Bournemouth to undertake FA football coaching and further development that underpins sports coaching in China.
Additionally, a number of BU activities have taken place at the Vitality Stadium throughout the year; including a staff family pitch day, and Professor Mike Silk's inaugural lecture, on the impact of mega events such as the Olympic and Paralympic Games.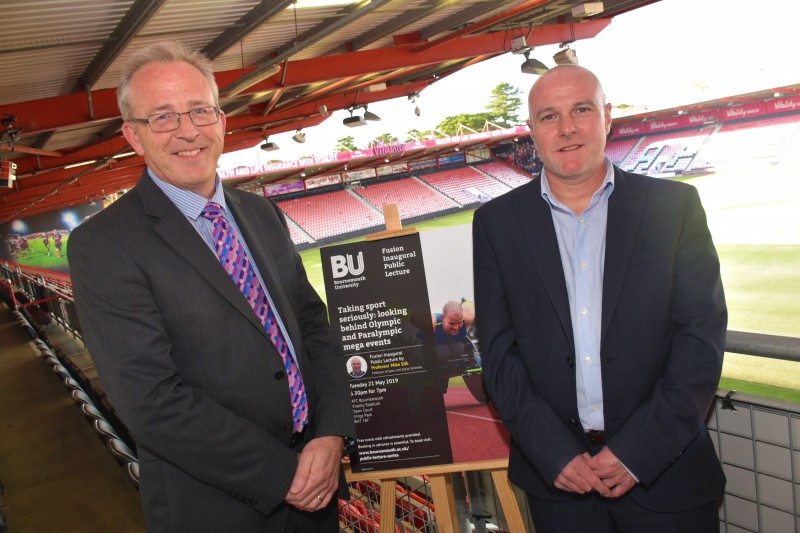 The partnership between BU and AFC Bournemouth is set to continue, as the Cherries look forward to another season in the Premier League.
Speaking of AFC Bournemouth's success, Jim Andrews, Chief Operating Officer at Bournemouth University, said, "We are so proud of our long term support of AFC Bournemouth, and are delighted to be celebrating with them as they look forward to their fifth consecutive season in the Premier League. I am particularly proud of the AFCB Girls teams which continue to excel at U10, U12, U14 and U16 levels. The collective success of AFCB mirrors the continued success of the region as a whole, and the international reach of the Premier League, through AFC Bournemouth, and the success of BU continues to demonstrate the growing worldwide reputation of our region.  
"Well done to everyone at the club for their hard work and dedication this season and we're all looking forward to cheering you on again next year."
For more information about BU's partnership with AFC Bournemouth, visit www.bournemouth.ac.uk/collaborate/afc-bournemouth