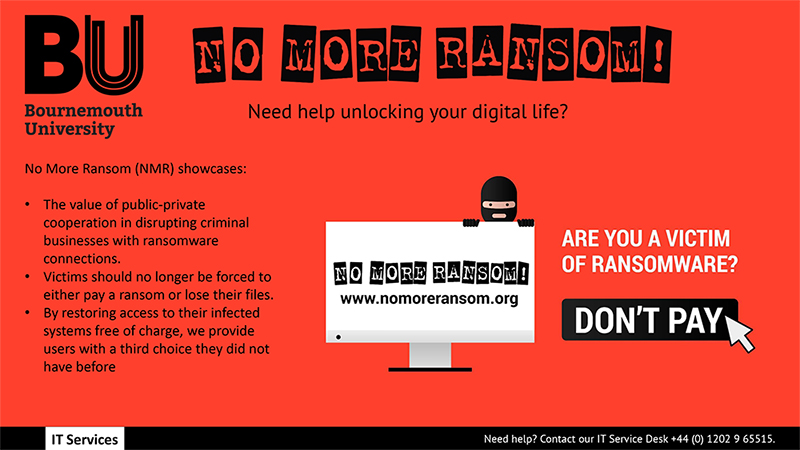 No More Ransom is a an initiative set up by Netherlands' Police - National High Tech Crime Unit, Europol's - European Cybercrime Centre and McAfee. Their goal is to help victims of Ransomware retrieve their locked data without having to pay criminals.
Ransomware is a type of Malware - software intentionally designed to cause damage to a computer, server, client, or computer network. Malware blocks access to your computer, mobile devices or personal files unless a ransom is paid. 
There are a number of ways Ransomware can access your computer. One of the most common is phishing spam — an attachment that arrives in an email that looks as though it has come from a trusted source. Once the software has taken over your computer the most common action is to lock some or all of your files so you are unable to access them. Then a ransom payment is demanded via cryptocurrency or credit card, to enable you to regain access. However, payment of the ransom does not guarantee access to your devices and should never be paid.
Since it is much easier to avoid the threat than to fight against it, the No More Ransom project also aims to educate users about how Ransomware works and what measures can be taken to effectively prevent an attack. This initiative is open to other public and private organisations on the basis that the more parties who support the project, the better the results will be.