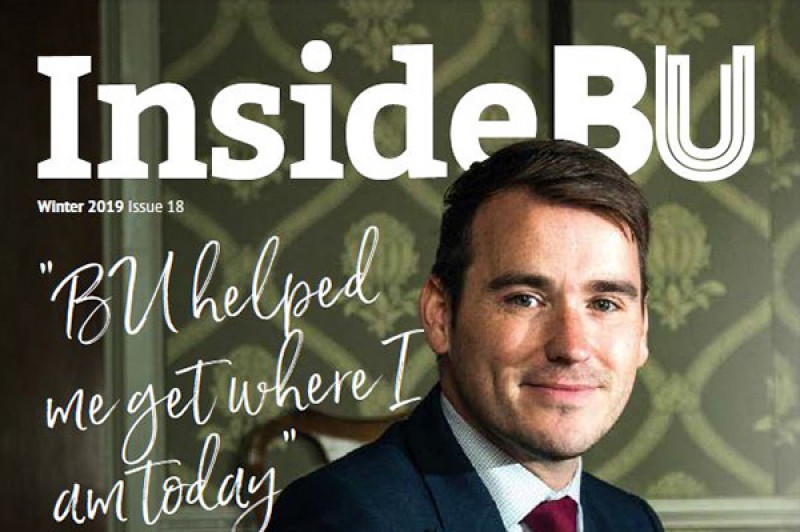 The latest issue of InsideBU, the internal magazine for BU staff and students is out now.
Containing a mixture of news, interviews, events and features, InsideBU provides an insight into the activities taking place at the university. This issue takes a look at BU's impact and features interviews with our four Alumni of the Year Award winners to find out what impact BU had on them - and how they continue to influence the next generation of graduates. Other articles include a look at global opportunities for staff and students, sustainability success stories and how BU staff are involved in a wide range of research helping to shape the world around us, including; promoting responsibility within gambling, connection and identity, making an impact creatively and best practice in media reporting.
Hard copies are available around both campuses and you can also read it online - simply click on the arrows on the bottom right of the screen to expand it to a full page size.
If you use a screen-reader, Word and PDF versions are also available. Please email [email protected] if you would like hard copies sent directly to you.
We appreciate all feedback and suggestions for future issues. If you have a story for the next issue of InsideBU, email [email protected].
Global Talent Programme
Our GTP event on Wednesday 13 November - Global Heartset Masterclass - features Christopher Hammond, Leader of Southampton City Council and one of BU's Alumni of the Year, along with BU's Head of Student Support & Wellbeing, Kerry-Ann Randle. We will be focussing on what a Global Heartset is and how it creates value in real life and business. Book your place now.
Get involved in a research project
As part of a BU research project into problem gambling we would like to include student opinions, particularly around the growing issue of gambling related student debt at universities. We are looking for volunteers to evaluate and help design parts of an app that allows individuals to track and monitor their online betting activity.
are you aged 18 or over?
do you bet online occasionally?
want to design messages to help people bet responsibly?
 You will receive up to £!00 Amazon vouchers for your time. If you are interested in taking part, please contact: Stephen Richer via email [email protected].