Graduates from Bournemouth University's Faculty of Health & Social Sciences came together on Friday to receive their degree awards.
Around 780 students graduated in two ceremonies at Bournemouth International Centre and were joined by over 3,500 of their family and friends. After the ceremonies, graduates and their guests enjoyed celebrating in the reception and posing for photos with their class mates. 
The ceremonies were also watched live online by people from across the world, including viewers in Bulgaria, Thailand and Sweden.
Graduates from fields including adult nursing, midwifery, paramedic science and nutrition were joined by Honorary Doctorate recipients Dr Shirley J. Thompson, OBE and Sophie Cook. Honorary awards are conferred to outstanding individuals who embody BU's qualities and values.
Dr Shirley J. Thompson, OBE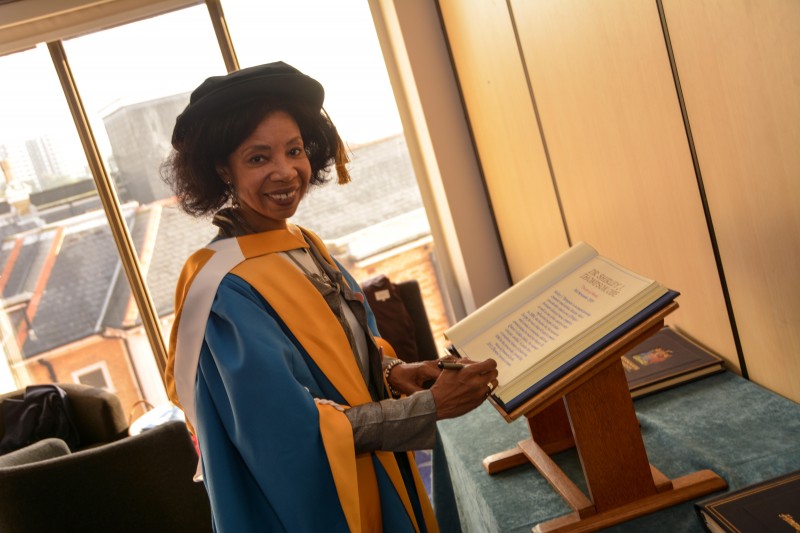 Shirley J. Thompson is an award-winning composer who is consistently cited as one of Britain's foremost classical music composers, as well as one of the country's most influential people of colour. 
In 2004, she was the first woman in Europe for more than 40 years to compose and conduct a symphony, commissioned to mark Her Majesty The Queen's Golden Jubilee. She also composed the symphony which formed the musical framework for the London 2012 Olympics opening ceremony.
Dr Thompson said: "For me it has been about relating art to the everyday and issues that are important to us. 
"Going to art school, music was something that was perceived to be very abstract and esoteric and that really grated with what my sensibilities are because I feel that as artists we should be part of the everyday and speak for persons who don't really have a voice and be representative.
"I was absolutely thrilled to receive a letter inviting me [to get an honorary degree] - it's a real honour."
Sophie Cook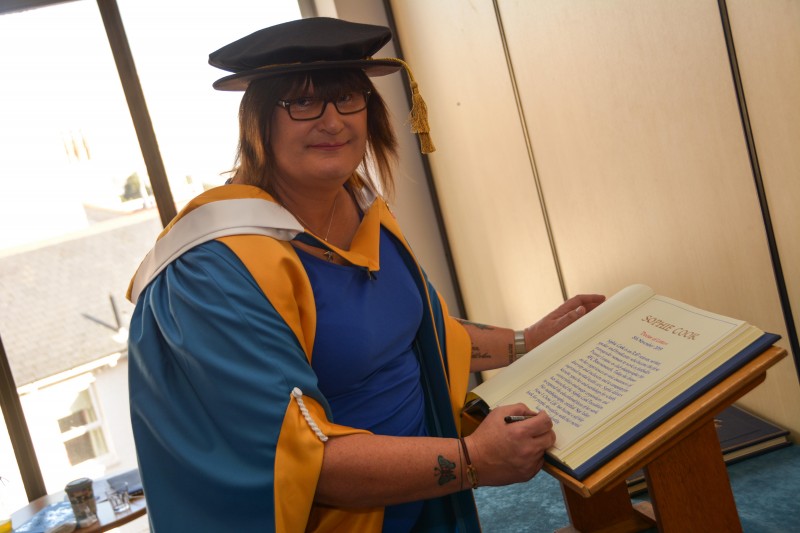 Sophie Cook is an RAF veteran, writer, speaker and broadcaster who became the first transgender woman to work in football's Premier League as club photographer for AFC Bournemouth. She works to raise awareness of diversity and mental health.
She said: "It feels really surreal but a massive honour. I feel that, especially now, the last graduation [ceremony] before Rememberance Day and me being an RAF veteran that struggled with PTSD I feel that in some way this is an award for all the veterans who are still struggling with PTSD and have never received help for it.
"I joined the Air Force at 16, travelled all over the world and Bournemouth has always been home. I've been invited to speak at BU quite a few times over the last few years and it's always been a massive honour, I thought that was the honour just turning up to speak at BU, I didn't realise that stuff like this [honorary degree] would follow. 
"No one from my family has ever been to university but my 15 year old daughter recently annouced to me that she is planning to come to Bournemouth University and I'm just so proud to be part of a university that my daughter is hoping to go to."
Bournemouth University's graduation ceremonies take place from 4-8 November 2019, with over 4,000 students graduating in total across the week.
For more information about BU's graduation ceremonies, visit www.bournemouth.ac.uk/graduation-2019