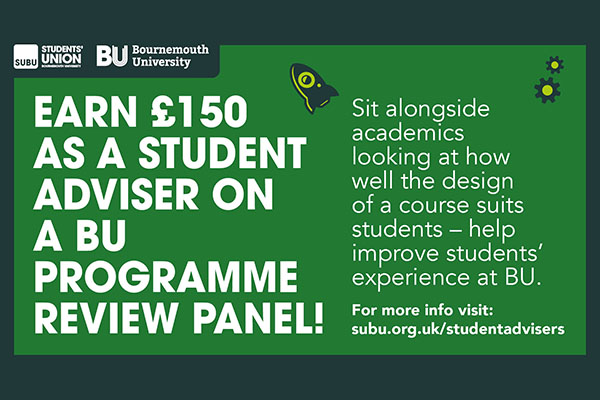 Are you passionate about improving the student educational experience at BU? 
Would you like to develop your communication and critical thinking skills whilst speaking up for students?
SUBU and BU are looking for students to be paid panel members and have a voice on BU's programme approval and review panels for 2019/20. If you are reliable, diligent, objective when considering issues and professional in your approach, this may be the opportunity for you.
Drop in information sessions will be running from 11-15 November.
Full training will be given, so passion and interest in the work is more important than knowledge right now. Please visit the SUBU Student Advisers web page for full information. You can also email [email protected] with any questions
What previous Student Advisers say
"The skills I learnt or improved upon were more confidence in presenting/ public speaking, organising resources and managing time effectively, but overall it gave me a lot more confidence and it was great to be a part of it." - Jack Allen, Student Adviser 2017/18
"By being on the Programme Review Panel, I was able to develop my professional speaking skills and my eye for detail and self-confidence. I learned more about how the university functions behind the scenes, and it was a great opportunity to express my opinions in front of various academics – and be taken seriously too."
- Georgina  Mackey, Student Adviser 2017/18
Visit the SUBU website for more information.