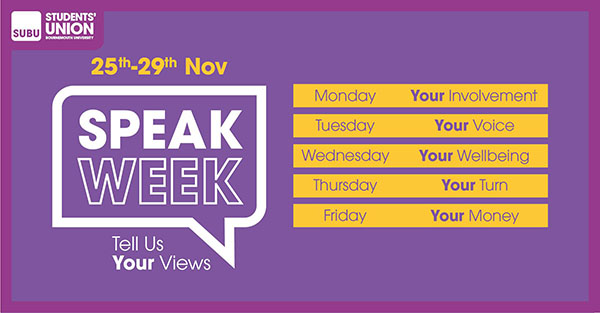 Speak Week is a full week dedicated to collecting feedback about your student experience at BU.
Taking place from Monday 25 - Friday 29 November you can get involved with Speak Week by giving your feedback. Each day will be themed around a topic - Your Involvement, Your Voice, Your Wellbeing, Your Turn, and Your Money. SUBU Reps and Officers will be available on both campuses throughout the week.
Last Speak Week SUBU collected over 2000 pieces of individual feedback that were used to lobby the university for change. Speak Week wouldn't be possible without the help from Student Reps. Remember that your Student Rep is always there to collect feedback on all areas of the student experience.
To give us your thoughts you can find us, during Speak Week, on the ground floor of the Student Centre and Poole House on Talbot Campus, and Studland House at Lansdowne Campus, or by filling in the survey online. Find out more about the Speak Week activities and how you can share your feedback or join the Speak Week Facebook event.
Remember, you can - and should - share feedback via your Student Rep, course tutor, and the Students' Union at any time throughout the year.