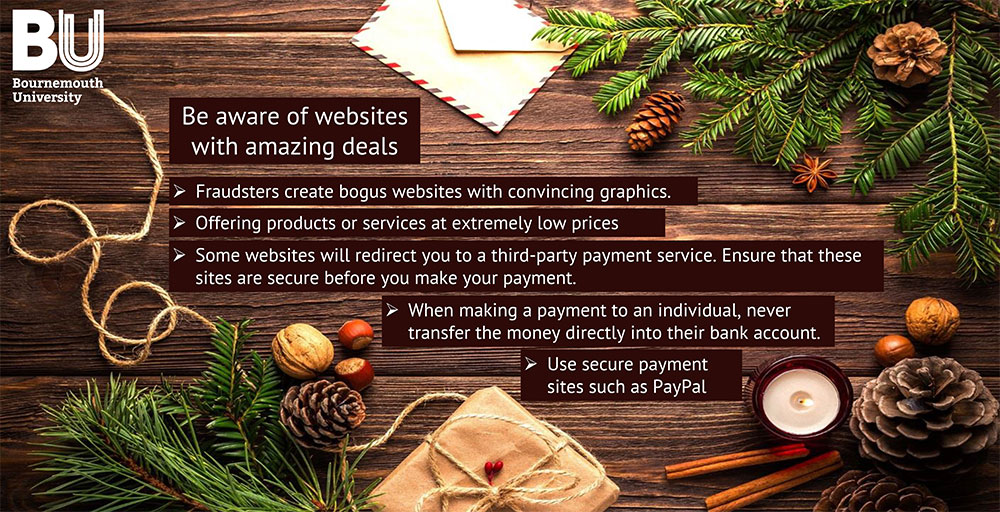 With Christmas coming up, it's that time of year when we're more reliant than ever on shopping online to find presents, food, and help with other last-minute Christmas preparations. Christmas is also a favourite time of year for criminals, well aware that you're busy online and have too many other things on your mind to think about safeguarding yourself, your family and your finances.
This year, make sure you don't get conned out of Christmas, by thinking twice before you click and taking some simple precautions. That way, you can make sure it's a festive season to remember - for all the right reasons.
Top tips to stay safe online this Christmas
Ensure you have an updated antivirus running before you go online
Be aware of websites with amazing deals - if it's too good to be true, then it probably is
Protecting your personal information and devices also helps protect the university from malicious attacks. Always stop and think twice before typing your login details and personal information on any websites
Fraudsters can create bogus websites with convincing graphics. If you're unsure about the legitimacy of a website you're trying to access, check with a friend or colleague. If you're on campus, call IT Services on 01202 965515 or 

0808 196 2332 (free from mobiles) 

for a second opinion
Some websites will redirect you to a third-party payment service. Ensure that these sites are secure before you make your payment. Two ways of checking this are: 
 - Look for the padlock symbol – there should be a padlock in the address bar next to the website address
 - Double check the website address this should start with https://. The S stands for secure
Use secure payment sites such as PayPal
When you're out in the high street and crowded places, ensure your cards, phone and anything that may contain sensitive information are safely in your possession. 
For more information, please head to the Action Fraud website and the Stay safe online section on the BU website.