Around 100 Bournemouth University (BU) students and staff attended two guest talks at Talbot Campus by retired Paralympic athlete Susannah (Susie) Rodgers, MBE.
A gold and bronze medallist in swimming at the London 2012 and Rio 2016 Paralympic Games, Susie is an advocate for inclusion, disability, gender and diversity. In her lectures she discussed coping strategies she'd learnt from her athletic career and how they apply to her professional career today.
Susie said: "The lessons that I learnt as an athlete were very valuable in leadership, so hopefully that will be something that they can take away."
Students and staff attending from the Faculty of Management stayed after the sessions to ask questions and take photos with Susie and her Rio 2016 gold medal.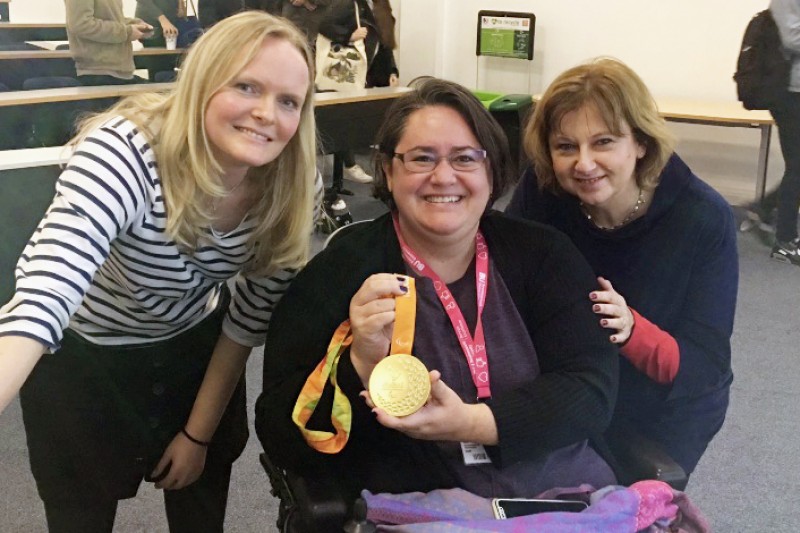 Earlier in the day, Susie had the opportunity to discuss the Paralympic research being undertaken by BU's Professor and Deputy Dean (Research & Professional Practice) in the Faculty of Management, Professor Michael Silk.
Michael co-authored 'Re-presenting para sport bodies: Disability and the cultural legacy of the Paralympics' which looked at the London 2012 and Rio 2016 Games in order to understand audience interpretations of disability and its portrayal in the media. Susie, who now does consultancy work around disability and inclusion, was familiar with the report and has found it useful in her own work.
Susie added: "I think any kind of research around perceptions of disability and how Paralympic sport links to that is very valuable because it is an elite sport event - but there is a social impact element."
Her talks took place at the Marconi Lecture theatre at Kimmeridge House. Attendees included students from courses including: BSc (Hons) Marketing, BA (Hons) Business and Management and BA (Hons) International Business and Management.
Dr Parisa Gilani, Senior Academic in HR and OB, who organised the event said: "The students asked a lot of fantastic questions, I was very proud of them and felt really supported, and the cheering and clapping in the second talk was amazing."
Watch our interview with Susie Rodgers, MBE.