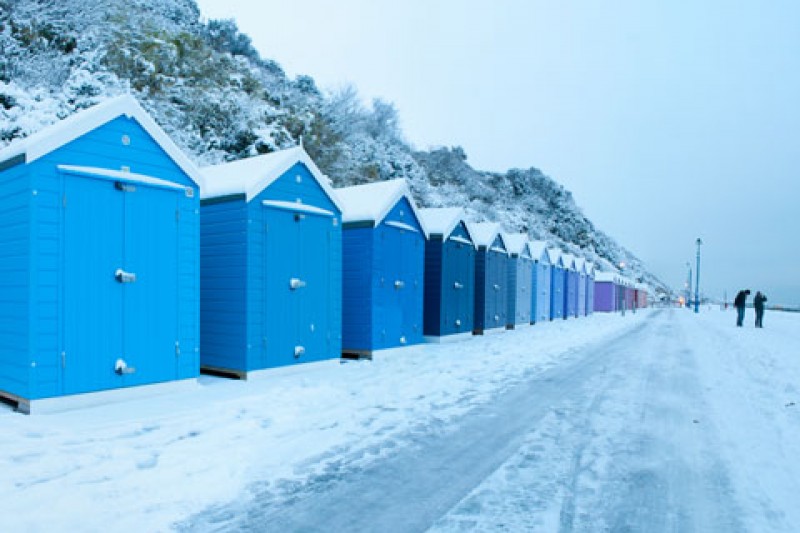 Lots of students choose to stay in Bournemouth over the holidays, so you won't be alone if you're staying local this year. 
Enjoy a Christmas Day meal
ResLifeBU wants to make sure that students staying in BU-managed halls of residence get to enjoy a Christmas dinner with others. Why not get together with other students in your halls to enjoy a meal? ResLifeBU is even offering vouchers for you to buy ingredients for your Christmas meal! Join the 'Staying in 'Sunny Bournemouth' on Christmas Day' Facebook group to find out more and meet other students who are also staying local over the holidays to form your own Christmas dinner group – you can also email ResLifeBU's Christmas Helper Emily, if you have any questions.
Things to do in the local area
If you fancy feeling festive, a visit to the Christmas market in Bournemouth town centre should definitely be on your to do list! Open daily from 10am from now until 1 January, you'll find traders and caterers, an alpine lodge and Santa's grotto as well as live music, entertainment and magical illuminations for you to enjoy. You can also follow the Christmas Wonderland trail featuring 100 glittering trees and illuminations starting at Bournemouth sea front and continuing through Bournemouth Gardens.
There's plenty happening in Poole including a lantern parade on 12 December and the annual charity bath tub race at Poole Quay on 1 January – definitely not one to miss!
If you are still wondering what to do, check out these hidden gems in Bournemouth, Poole and the surrounding area or discover new ways to get out and about this winter break.
Student events
A range of student events are also being held over the festive period for those staying local this winter, including: movie and board game nights, Christmas fireworks, ice skating, Mr Mulligans indoor crazy golf and a trip to the Poole bath tub race! Make sure you join the 'Staying in 'Sunny Bournemouth' on Christmas Day' Facebook group to find out more, meet other people staying local and book your place!
What's open at BU
Many of our services are closed during the holidays, however some areas of the campus, such as Open Access Centres and the Faith & Reflection services remain accessible. Read more about what's open and when, who to contact in an emergency and what support services are available if you need someone to talk to or you feel unwell.
Bus services
A reduced, vacation bus service will operate from Saturday 14 December to Tuesday 24 December and again from Thursday 2 January to Sunday 5 January. There will be no UNIBUS service between Wednesday 25 December and 1 January. The full service will start running again on Monday 6 January 2020. Please check the UNIBUS website for details.
Other local bus services may also be running on a reduced service during the Christmas period. We recommend planning your journey in advance to minimise disruption.
Library and study skills resources
The winter break is a great time to brush up on your reading and study skills in time for the new year and January exams. You can access online books, journals and study skills resources from the comfort of your home, and borrow books and DVDs for longer from 30 November.
Libraries on both campuses will be closed from 1pm Tuesday 24 December until 8am Thursday 2 January, and will be open on reduced hours for the rest of the winter break. If you plan to visit the library, please check the winter break opening hours beforehand. For changes to opening hours due to unforeseen circumstances check @BU_Library.
Be weather ready
During December and January temperatures are typically low and there's usually some rain and occasionally some snow! Wearing layers is a good way to manage the temperature changes, and getting some practical boots or wellies will keep you dry - check out the Met Office's #WeatherReady campaign for more tips and advice.
Make sure you know who to contact if you have any issues with your boiler, heating or plumbing. If it snows ahead of the start of term check @bournemouthuni on Twitter or call the BU Information Line on +44 (0) 1202 968999 for updates, but the campus will remain open unless you're advised otherwise.
Bin collections
Over Christmas and New Year bin collection dates in the area will differ to usual. The council has confirmed there will be no household waste or recycling collections on Christmas Day, Boxing Day and New Year's Day (25 & 26 December, and 1 January) Instead, alternative catch-up collections will be scheduled to run from Saturday 21 December to Saturday 4 January, which might mean your collections may be earlier or later than expected. Find out more on the council website so you can make sure your rubbish and recycling doesn't mount up.
Student Wellbeing
The BU Student Wellbeing  counselling and wellbeing advice service will be closed between Saturday 14 December and Sunday 5 January. If you are worried and need advice or support during this time, there are resources to help.
Enjoy some festive cheer… and consider your neighbours
If you're living in a residential area many of your neighbours will have time off work, school and college during the holidays, so please remember to keep noise to minimum, the front of your house tidy and put your bins out for collection (and bring them back in again!). This can also be a lonely time for some people, so keep an eye out for your neighbours - why not send them a Christmas card or knock on the door with some homemade mince pies to let them know you'll be at home.
If you see anything suspicious, report it to the police by calling 101 from a mobile or landline - or 999 in an emergency.