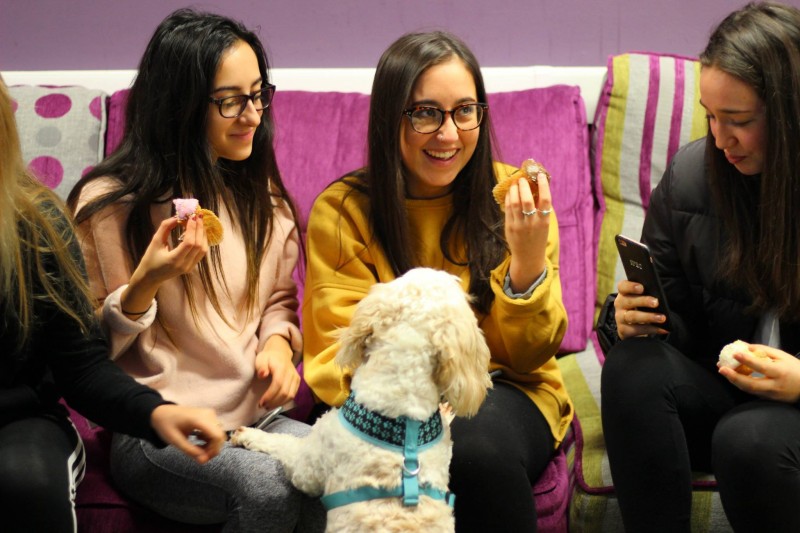 Take some time out from revision and coursework to join in activities that help you to relax and feel good. Revision isn't just about putting your head down and studying, there are other ways that you can mentally prepare to stay relaxed for your exams.
ResLifeBU stress-buster roadshow 
Our lovely ResLifeBU team has organised activities in and around your halls to help keep you calm and balanced this exam season.
The ResLife dogs will also be joining the team for a series of stress-busting roadshow events that will make an appearance on campus and tour all BU managed halls, providing:
free professional head, neck and shoulder massages
craft workshops
colouring activities
fruit & snacks
cuddles with the Reslife dogs
There's no need to book and the full schedule is below, so pop along when you can to say hi!
| | | | |
| --- | --- | --- | --- |
| Day | Date | Hall | Time |
| Monday | 27 January 2020 | Student Village | 12:30 - 14:00 |
| Tuesday | 28 January 2020 | Lyme Regis House | 12:30 - 14:00 |
| Wednesday | 29 January 2020 | Chesil House | 12:30 - 14:00 |
| Thursday | 30 January 2020 | Corfe House | 12:30 - 14:00 |
| Friday | 31 January 2020 | SUBU Collaboration | 12:30 - 14:00 |
Study tips
Get some top tips from your fellow BU students:
Or listen to the study tips edition of the Flat 111 podcast. 
Where Georgia, Charlotte and George – three BU students, ResLife assistants, flatmates and friends discuss their top study tips. Is it best to cram for an exam or revise little and often? Do rewards help you study and should you break up your revision with Netflix? So sit back, relax and listen to find out!
Late bus
A free, midnight UNIBUS service – E1 – will run when the Sir Michael Cobham Library at Talbot Campus closes at midnight.
This extra service means you can take full advantage of the library opening hours and then travel home safely without the added stress of arranging transportation. This is a special service, which will run through Winton and Charminster before going to the Lansdowne Campus. You can view the timetable and find out more about this service on the student news page.
Library and Learning support workshops
Throughout the year the Library and Additional Learning Support (ALS) run a variety of workshops across both campuses, including exam preparation, maths, yoga and dissertation support. These workshops are aimed to get you up to speed in key areas you may feel weakest in.
You can find out more about these workshops and book your place on the Additional Learning Support and Study Skills pages on Brightspace.
A recording of the revision & exam techniques workshop is available for you to watch online at any time and will give you a taster of these sessions.
Looking after your wellbeing
Find advice from both the NHS and BU students to support you while you're preparing for exams and make sure you're fully prepped with our exams dos and don'ts.
It's a really important time of the year to look out for yourself and your friends, make sure you know how to access a doctor if you need to and check our useful tips and support information for managing exam stress.
If you start to feel overwhelmed or anxious, please contact our Student Wellbeing team or SUBU Advice. If you are looking for support out of hours you have free access to the Big White Wall when logging in with your BU email, or you can call the Samaritans for free on 116 123 from any phone.
This exam period our local Samaritans will also be running a BU Halls of Residence Roadshow with the ResLifeBU Welfare coordinators. So if you would like to talk to someone or want advice face to face, make sure to pop by the roadshow and speak with the friendly teams who can offer you a listening ear.