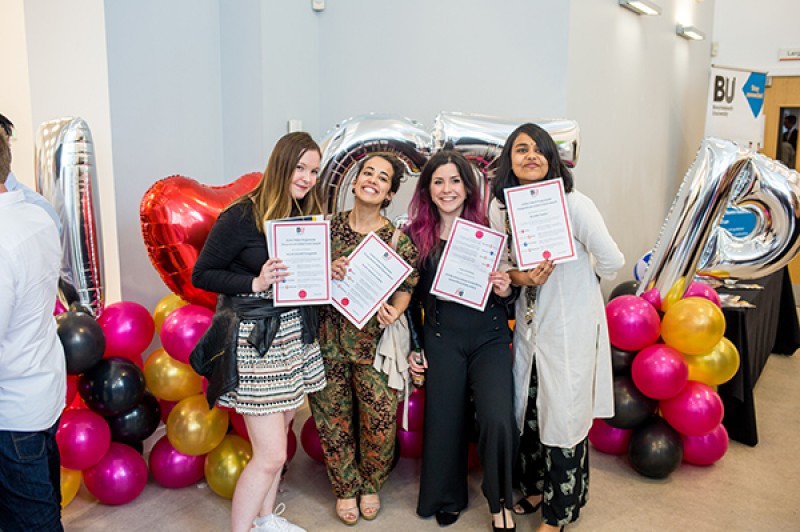 There's still time to complete your Global Talent Programme this year and we've got a great line up of workshops for you this semester.
Previous GTP sessions have included global organisations such as British Airways, IBM, IMG, J.P Morgan, Microsoft, Facebook, Cadbury, HAYS and Crowdfunder UK as well as BU's Dr Paola Vizcaino, the BU Sustainability team, Dr Elvira Bolat, Mark Ridolfo, Dr Milena Bobeva, Dr Sukayna Ayatakashi Endow, Kerry-Ann Randle and many more. While GTP students Joe Lomax, Lindsey Selleck, Bettina Dorffer, Freya Stevens, Ruth Mackay, Melissa Evans, Mbonimpa Leonah and Annamária Simon also shared their life-changing experiences.
The GTP, open to all BU students, adds value to your degree by encouraging you to think globally and develop valuable skills for a global workplace. There are three stages (badges) to achieve for undergraduate students and four for postgraduate students. These are achieved through a mix of online interactive e-learning content, attending workshops we organise throughout the year, and taking part in extra-curricular activities. The range of extra-curricular activities is huge - from working with SUBU or being a BU Student Ambassador to learning a language or studying, working or volunteering abroad. You may already be doing some of these, and the GTP will give you formal recognition for your efforts.
Book your place
The next series of GTP workshops runs until 25 March and there's still time for you to join the other 550 new students who have registered for the programme so far this academic year:
26 February - Global Employability - ​Apply techniques to critically reflect and express your Global Skillset and identify career opportunities and strategies to land your dream job
4 March - Global Project Lab Day 1 - Learn to manage global projects in the first of this two part session
25 March - Global Project Lab Day 2 - Learn to manage global projects in the second of this two part session.
For a full schedule, please see our GTP Workshops Leaflet.
The Global Talent Programme team have drop-in sessions in The Career Centre 1-3pm every Thursday, so why not come in and say hello and find out more about how you can get involved.
Get involved in the GTP for the chance to explore new opportunities for research, study or work and expand your professional networks by meeting other students, staff and employers.
Here's what some of our students had to say:
"The guest speakers are so interesting, everything they are telling us is real life experience, real people's stories. It is inspiring and really useful for finding jobs and handling interviews."
GTP Student, Business Studies, Final Year
"I think everyone should do it."
​GTP Student, MSc Cyber Security and Human Factors
Read our students' stories to find out about their experiences and find out more about the Global Talent Programme.
Posted on
Friday, February 14, 2020
Category