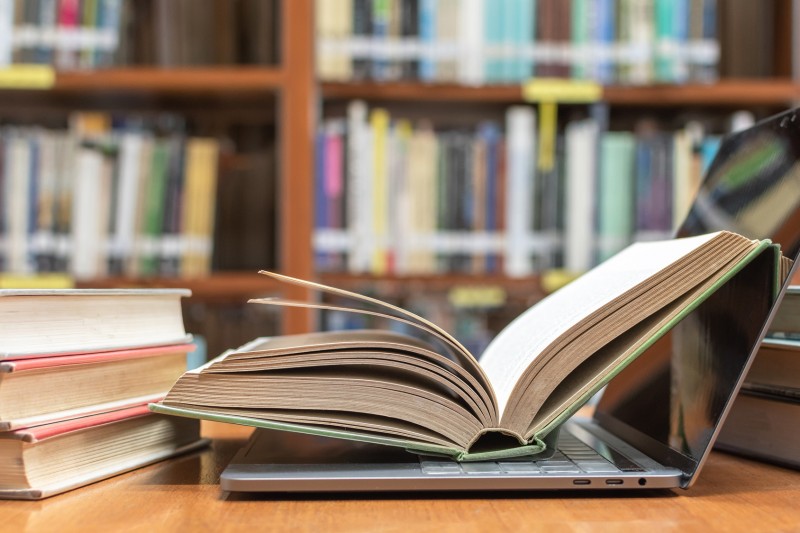 Both our Libraries are open for quiet individual study from Monday to Friday, 9am – 8pm and the Library team looks forward to welcoming you, either on campus or via our virtual services. 
Things will be different this term due to the Covid-secure measures in place. Here are some details so you know what to expect: 
The Library Help Zone (at both campuses) and our online Chat service are staffed from 9am - 5pm.  Between 5pm and 8pm we are open for pre-booked use of computers and study space only. 
Please wear a face covering in the Library (unless you are exempt). 
As we must limit the number of people in the Library at any one time, you will need to pre-book your study space (a desk only or a desk with PC/Mac) using our booking system. Please observe the physical distancing measures and signage. Group work is not currently possible in the Library, so please use the space you have booked and do not move the chairs around.
To borrow a print book, please use our Reserve & Collect service. It is not possible to browse the bookshelves at the moment. You will receive an email when your book is ready for you. You will need to collect it from the Help Zone at the book's home site, so please make sure you check the details in your email notification.  
To return your books please use the returns box in the courtyard outside The Sir Michael Cobham Library or the box on the ground floor of Bournemouth House. You can use either box, regardless of which site you borrowed the books from. 
To make loans and renewals easier for you at this time, we have waived all outstanding fines and will not be charging fines in the 2020/21 academic year. If you have a book that you have been meaning to return for ages, please drop it in one of the returns boxes and no fines will be charged.  
More details about borrowing and returning books are available on the library webpages. 
We have changed our food and drink policy, temporarily. Bottled cold drinks and hot lidded drinks are permitted but to help us manage the increased cleaning regime we are asking you not to eat food in the Library. 
Remember that in addition to its print collections, the Library has thousands of e-books and e-journals that you can access from anywhere with your BU username and password, with specific items included on the reading list for your course. 
If you have any queries, please contact the Library team on Chat or by email to LibrarySupport@bournemouth.ac.uk.
Posted on
Tuesday, September 15, 2020
Category