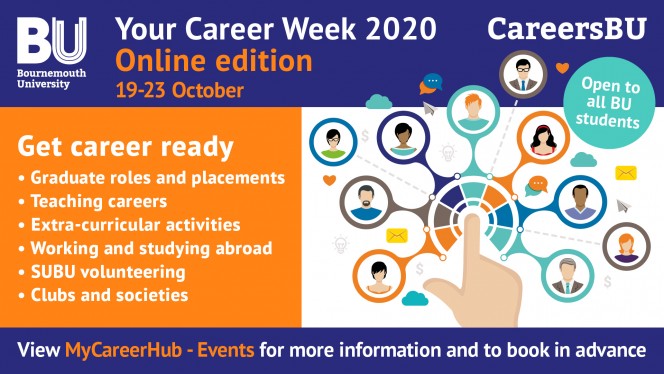 19–23 October
Your Career Week is designed to present opportunities to students from any course, year group, level of career experience, or walk of life. All sessions/events are designed to help you develop your career thinking.
What's in it for you?
Connect with employers at several Careers Fairs. They are participating to present their Placement and Graduate opportunities to you.
Develop skills and attributes employers are looking for, to expand your horizons, ambitions and professional network.
Get involved in BU's award winning extra-curricular programme, the Global Talent Programme,  which helps you to become sought after by employers (global and local).
Hear from and question some extremely special guests, including:
Some sessions need to be booked in advance.
Visit MyCareerHub to find out more and see a full timetable.  More events will be added up until the week before, so keeping checking back to make sure you don't miss anything.
Highlights of the week
Get into Teaching Fair
Online edition

Monday 19 October
 

Whether you have a vague idea teaching might be for you, or it is your main career aspiration, please join our guests online to discover more directly from them.
 

BU Annual Careers Fair 2020  
Online edition 

Tuesday 20 & Wednesday 21 October

Students tell us: "The BU Careers Fair is a goldmine of information."

Sectors represented include: Research and Analysis, IT, Sales, Marketing & Media, Sciences, Business & Finance, Engineering & Industrial Design, Logistics, Sports Coaching, Teaching and more!

 

For BU students and recent graduates to meet employers offering Placements, Graduate opportunities and Volunteering. 
 

Exhibitors include Mondelez International (they own Cadbury, Toblerone, Milka and Oreo), Hewlett Packard Enterprise, Teach First, Enterprise Rent A Car, TARGETjobs, Graduate-Jobs.com and many more. 

A full list of employers and the roles offered can be found on MyCareerHub – BU Annual Careers Fair.

No booking required. Organised by the Careers & Employability Service.

BU's award-winning extra-curricular programme the Global Talent Programme

Various events

Get career-ready with BU's Global Talent Programme - gain access to employer-led workshops, business challenges, digital games, global experiences, e-learning, team assignments and over 100 extra-curricular activities.

Global Mobility - work or study abroad
Headlined by author and broadcaster Kate Adie

BU's Global Engagement Mobility Team offer support and advice about studying or working abroad and possible funding opportunities with Erasmus+.

For Your Career Week, they have lined up a series of amazing webinars for you, headlined by author and broadcaster Kate Adie.

Creative Access
Thursday 22 October
 

Looking for a creative career? From an under-represented background? 
View the Your Career Week landing page for more information on this very special one-off event.

SUBU takeover
Friday 23 October

Various events
 

SUBU can help you develop personal and employability attributes via Volunteering, being part of Clubs and Societies, and taking part of one of their Sustainability Challenges (with a prize of £500 up for grabs!).
CareerBU beyond Your Career Week
Work-It Webinars
Held throughout the autumn term, covering topics such as 'Acing cover letters & applications', 'Using LinkedIn to kickstart your career and 'Acing virtual interviews'.
Nursing, Health & Social Sciences Fair 2020 – Online edition
Wednesday 25 November
Organisations will be joining us to encourage and help you to apply for a wide range of employment opportunities. They will be participating in these events as they love BU students and the expertise, knowledge and energy you bring to their roles and workplace.
This event is open to all BU students and recent graduates. No need to book.
Information for Employers 
It is FREE to join this year's Annual Careers Fair and Nursing Health & Social Sciences Careers Fair. Cost waived this year to help out business partners in these unprecedented economic times.
Details on how to book are available on MyCareerHub.
Follow CareersBU on social media 
Used for sharing advice, events and jobs. Information BU staff have spotted around the web as well as promoting their own unmissable content.
LinkedIn | Twitter | Facebook | Instagram