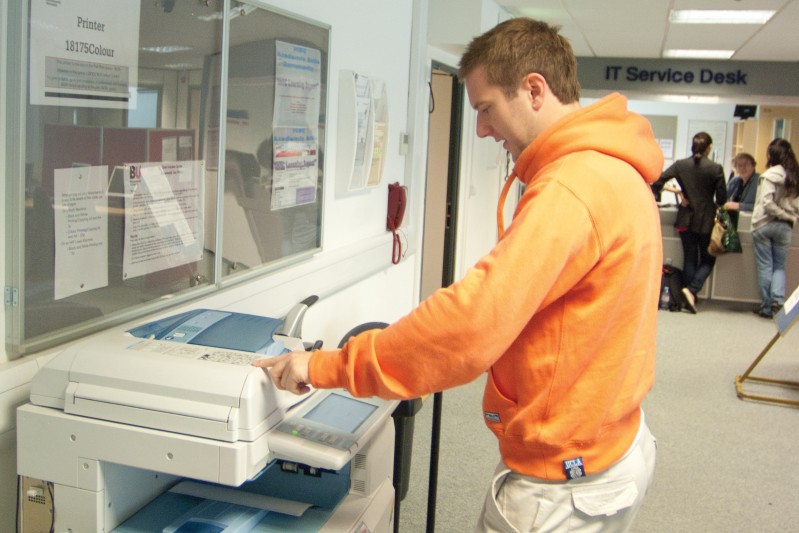 To support BU's sustainability initiatives, we encourage all staff and students to go paper-free wherever possible, however if you do need to print something off, here are the IT solutions available:
Follow-me printing
At BU we have a service called 'Follow Me Printing'. This means you are able to print from anywhere on campus to any printer. You can also scan documents or photocopy on any BU printer.
Your BU student ID card, which you will be given at your enrolment session, acts as your library card and also stores print credits - you just need to swipe your card to retrieve your printing at any of the printers provided by BU. You can top up your print credit online.
Printing from your personal device
Send documents, emails, or images directly from a personal mobile, tablet or laptop to any printer at BU without the need to log into a BU computer. Simply email your printing to [email protected] - your BU email address is automatically linked to your printing account and print credit balance, however, if you want to send something to print from a personal email account, you must register your email when you're on the BU network (on campus and connected to the WiFi).  When you first email [email protected], you will get an automatic reply with simple instructions on how to do this.
When you log into any printer at BU (using your BU credentials or your ID card) your documents will be displayed on-screen ready for printing. Please note, they may take up to 15 minutes to appear in your print queue and will only remain in the queue for 24 hours, after which time they will disappear if not printed.
Please ensure you collect your printing promptly, and do not leave any printed material unsecured or laying on the printer as this could be lost, taken or recycled.
Find out more about printing at BU on the library pages of the website.