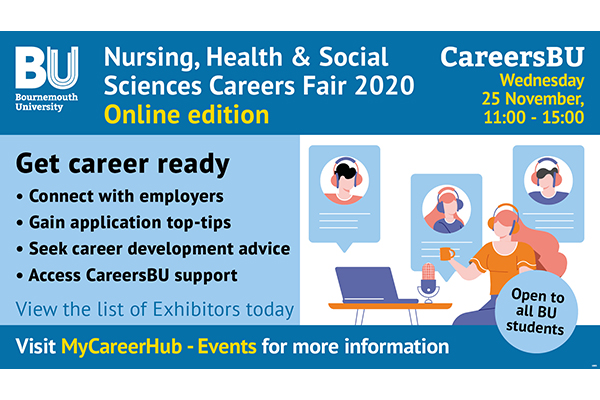 BU's Nursing, Health & Social Sciences Careers Fair is an opportunity for you to network with 30+ organisations taking part in this online event.
Some of the sector's biggest employers, including multiple NHS Trusts will be taking part. You will be able to chat to the employers and apply for jobs in areas such as nursing, occupational therapy, midwifery, social work and much more. This could be for jobs that begin once your course has been completed or part-time jobs with an asap start date.
The careers fair is open to all BU students and recent graduates. Further information and details of all the organisations participating can be found on MyCareerHub.
Get prepared
Check now to view an A-Z list of 30+ organisations attending, the jobs/preceptorships on offer, and the courses and year groups they relate to.
From Monday 23 November: You will be able to view all of the information for each exhibitor, including application details, job descriptions and most importantly contact details.
On Wednesday 25 November: Staff from the organisations will be available via phone/Zoom/email so that you can contact them to discuss opportunities.
Use this event to ask questions, build a relationship with hiring managers, improve your applications, expand your horizons, and stand out from the crowd!
The organisations are participating because they want to talk to you and employ you, so make the most of it!
Job opportunities include:
Nursing: Adult, Child & Young people, Mental Health
Midwifery
Social Work.
Learning Disability Support
Paramedic Science
Nutrition/Digital Health Coaches
Occupational Therapy
Operating Department Practitioners
Physiotherapy
Psychology
Sociology
Support Workers
Care Assistants
and also learn more about BU postgraduate courses.
This is an ideal event whether you know exactly what you want in your future career, or would just like an informal chat about your options.
No need to book, but look at MyCareerHub today to plan who you want to connect with, and again from Monday 23 November when the full information goes live.
Any questions please email: [email protected]
--
Information for potential exhibitors
 
This is a free recruitment event. Details on timings and how to book are available via MyCareerHub.
More information on recruiting our students and recent graduates can be found on our Jobs Portal for Employers.