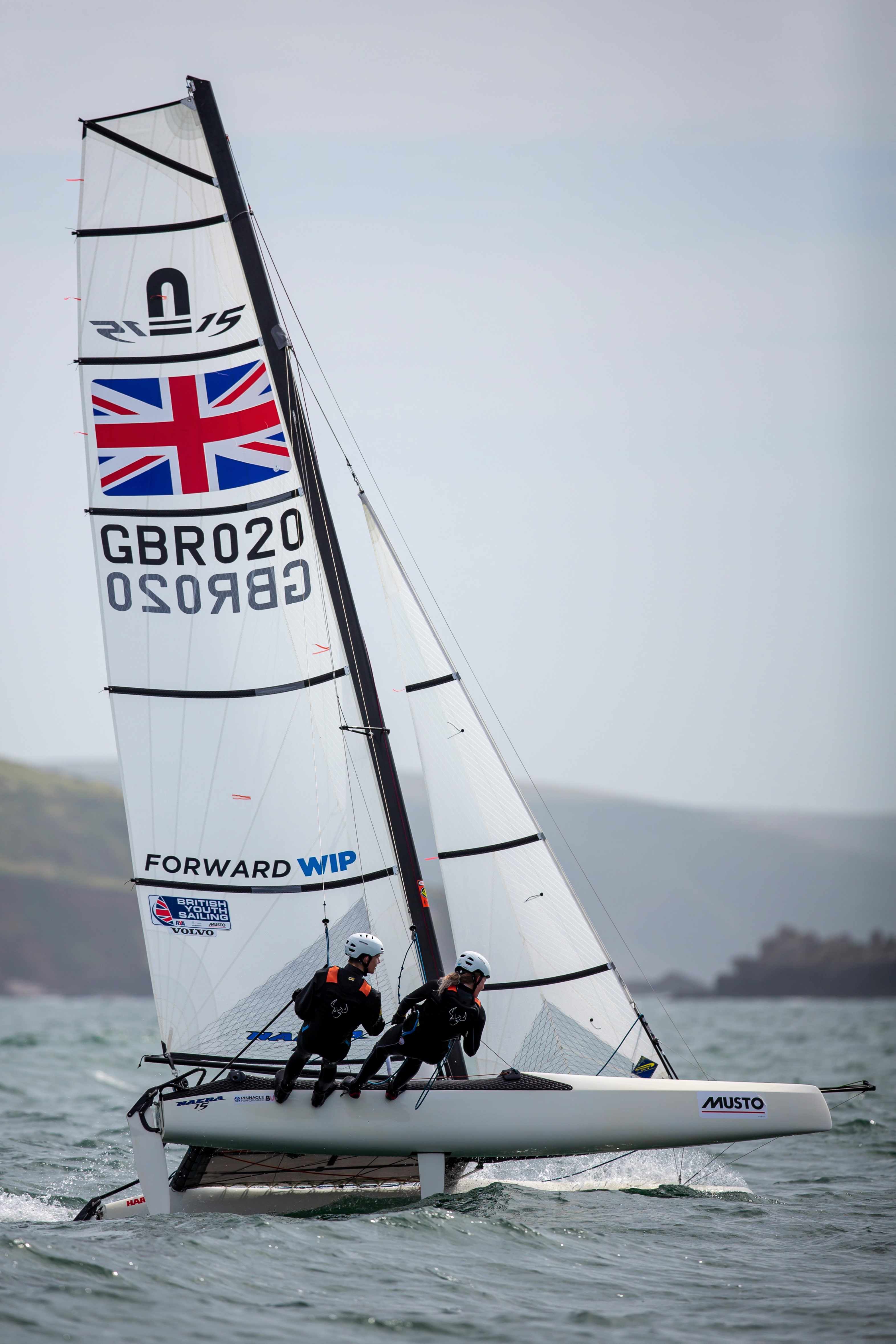 Alongside studying Product Design at BU, I am also part of the British Youth Sailing Team in the Nacra 15 Mixed Youth Multihull class, a 15ft catamaran sailed by one male and one female sailor. With my sailing partner, I have sailed the Nacra 15 for almost four years both in the UK and at an international level.
After a productive training block in Weymouth in July, followed by a week racing in the prestigious Cowes Week regatta, I travelled to Plymouth for the RYA Youth National Championships in early August, our first major event in the Nacra 15 class in almost two years!
Arriving on Friday, we spent the day rigging our boat, checking over the boat to prevent any equipment breakages during the event, as well as talking with our coach to discuss our goals for the week. The event was the selection event for the Youth Sailing World Championships, with the two previous GBR representatives and ourselves all too old to qualify, joined by the best younger teams all hoping to be selected for the event, so competition was going to be tough! After a few hours training on Saturday to check our boat speed against the fleet and perfect our boat handling, we returned to shore and made the most of Sunday as a rest day ahead of racing.
A tough start to the week for us saw us making too many mistakes to be pushing towards the front of the fleet, however by the end of Day 2, we had started to show our potential, taking our first race win of the series. The racing on Day 3 was held close to the cliffs making the wind very unpredictable. Coupled with strong tidal flow, the racing was again extremely tough, with very few boats managing to stay consistent throughout the day. Day 4 provided much more stable wind, with us racing consistently at the front of the fleet and taking a second race win of the series. Day 5 was the final day of racing, with strong wind and big waves meaning good communication and smooth boat handling was required to sail fast and avoid capsizing. Staying calm and sailing with confidence despite the difficult conditions allowed us to dominate the final day, winning all three races to secure second place overall!
It was great to race at the pinnacle sailing event in the country, racing against some of the most talented young sailors in the sport! I am extremely grateful to SportBU for their support as part of the BU Sports Scholarship programme over the past year, which has allowed me to continue training alongside university, as well as supporting my physical training programme!