The inaugural Communication and Journalism Department celebration day took place on Talbot Campus on Friday 20 May 2022 to reflect and share student success. The day involved three key events including the final year student dissertation conference, an interactive student showcase exhibition, and an evening awards gala.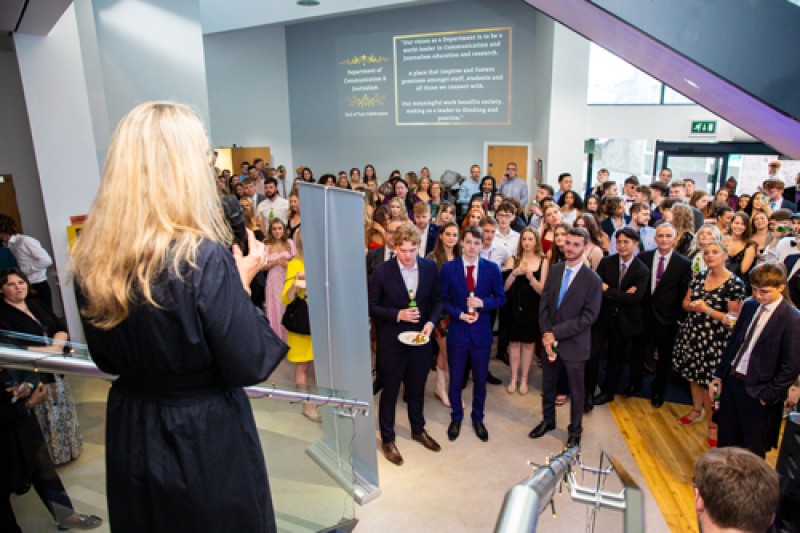 "The day was intended as a time to celebrate all the great student work from across the department. We are so proud of all of our current and former students and this day was an opportunity to look at and hear their work and celebrate with them,'' said Melanie Gray, Head of Department. 
Opening the event, Melanie welcomed final year students, their families, and BU colleagues to the annual dissertation conference. We were delighted to be joined by keynote speakers and BU alumni Faye Turner, Head of Commercial Strategy & Insight and Ryan D'Cruz, Group Strategy Director at Hearst UK. Their inspirational presentation provided students with insight into career prospects beyond their academic journey at BU and some invaluable advice to help them on their way.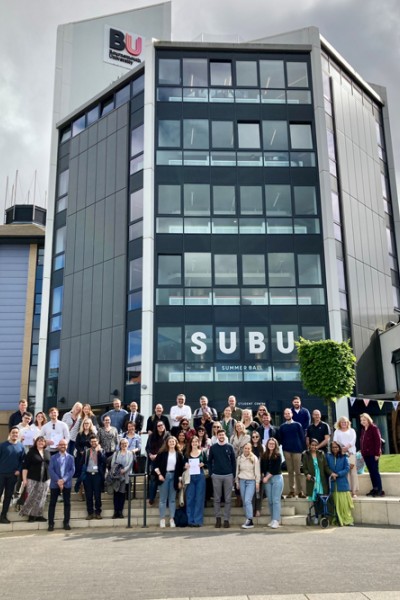 With a passion for continued learning and personal development, Ryan noted, "Your first job is not your only job. There are lots of different experiences that you'll have across your career that will shape you".  
He shared five key learnings; be human: think human, stay curious: keep learning, it's ok to fail, stay close to your course mates and a reminder that Bournemouth University is well respected for its media advertising graduates.  
Sharing details of her personal career journey, Faye discussed the highlight of her career, founding Hearst Purpose. She noted, "A lot of your future and the work you do will be value driven." Faye launched Hearst Purpose to drive positive change, working with brands to make an impact, such as Project Body Love which aims to change the way women think, feel and speak about their bodies.  
This year's dissertation projects have demonstrated our students' cultural awareness, covering impactful topics relevant to five key themes: health and the media, media representations, persuasion, perception & media influence, brands and branding and consumer behaviour and attitudes. Gianluca Fiocchi was awarded the prize for Best Paper for his work titled 'Exploring the distinctive value of brand assets within the UK automotive industry'. On receiving the award Gianluca said "It's the celebration of a six-month long project and it's been really great to work with my supervisor Mona Seyed Esfahani, who's been supportive and enthusiastic throughout." The top two papers from this year's Dissertation Conference, produced by Gianluca Fiocchi and Harriet O'Leary, will be published in BU's Journal of Promotional Communications, an open-access, peer-reviewed, online journal that publishes original research produced by undergraduate and postgraduate students.  
Throughout the day the department showcased, in an interactive exhibition, examples of student work from all levels of studies. The exhibition was curated by students and staff and included a range of student outputs such as podcasts, video blogs, posters, campaign visuals, social media collections, and academic essays. This exhibition was visited by over 400 guests.  
The event continued into the evening with students from the department coming together to celebrate their work. Awards were given to over 50 students from across all the department's undergraduate and postgraduate degrees. Furthermore, six BU alumni were selected to enter the Communication & Journalism Hall of Fame, in recognition of their impact and achievements in industry. The 2022 Hall of Fame inductees were: Thea Matthews (BBC Radio 1), Chloe Culpan (Freelancer, Sky News), Dev Mistry (Global Internal Communications Manager, DICE), James Hickman (Director and Head of Strategy, Walker Agency), Charlie Ayling (Global Marketing Director and Head of Customer Experience Marketing, Fujitsu) and Amy Ratcliffe (Planning Director, CHS Agency).  
The Communication & Journalism Department celebration day was a great success and something that will be remembered by students, staff and invited guests for some time to come. 
Find out more about our Communication & Journalism degrees here.