The Research Handbook on Visual Politics, edited by Darren Lilleker and Anastasia Veneti, has been published by Edward Elgar. It features 31 chapters in the broader area of visual politics by established academics and early career researchers in the field.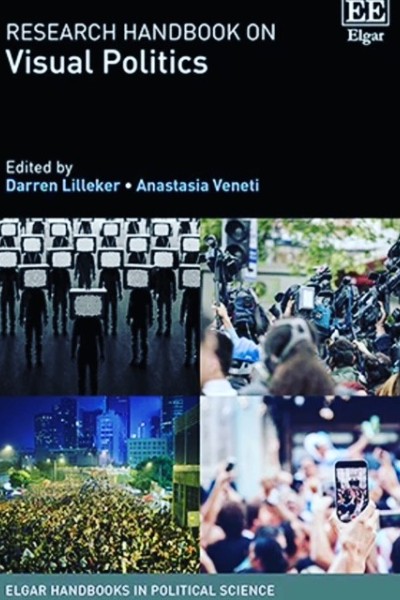 This edited collection focuses on key theories and methodologies for better understanding visual political communication. It also concentrates on the depictions of power within politics, taking a historical and longitudinal approach to the topic of placing visuals within a wider framework of political understanding. 
The impressive selection of contributors explore all types of media, including studies of the tools utilised for visual politics such as social media, art and photography, featuring the latest platforms such as TikTok and Instagram. The editors also include discussions of visual politics covering a range of nations and political systems while placing current practices in visual politics within their historical context.
Offering a rich range of studies exploring differing practices within their contexts to highlight current studies and support the development of future research, this Research Handbook is designed for researchers and students interested in the broad field of politics and the subfields of political communication, persuasion, propaganda and rhetoric.
The book has been endorsed by leading scholars in the field of visual politics:
'The Research Handbook on Visual Politics will make us think hard about the terrain of visual political communication. A marvelous review of the study of visual politics, this book will arouse interest and expose the foundation for understanding images from days of portraiture to the current age of Instagram and TikTok.'
– Shahira S. Fahmy, American University in Cairo and Associate Editor of the flagship Journal of Communication (JoC)
'Gathering scholars from a wide array of disciplines and backgrounds, Darren Lilleker and Anastasia Veneti's new Research Handbook on Visual Politics offers timely insights by exploring how visuality plays a central role across numerous pressing political phenomena, from social movements to war and from election campaigns to pandemic policies.'
– Roland Bleiker, author of Visual Global Politics, University of Queensland, Australia
'How were historical monarchs artistically portrayed to legitimate power? What are the benefits and challenges in using eye-tracking technology to study recipients' perception of political visuals? How are journalistic war images used to support political perspectives and powers? These questions, and many more, are answered in this edited volume where scholars from different fields, with different theoretical and methodological perspectives shed light on how images are used in politics. Since we all live in a visual culture, this is a must read for anyone interested in contemporary political communication.'
– Bengt Johansson, University of Gothenburg, Sweden
Find out more about the book and purchase a copy on the Edward Elgar website.