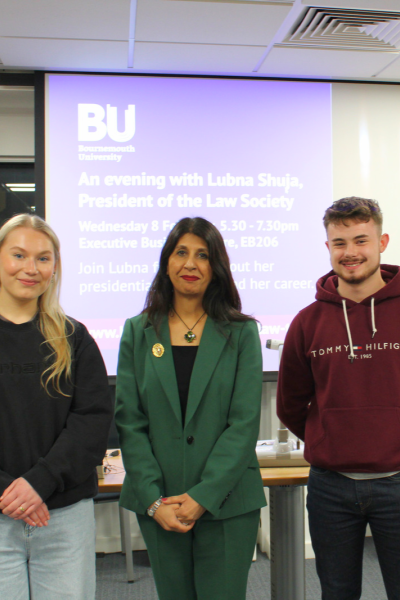 The Humanities and Law department hosted 'An evening with Lubna Shuja' on 8 February 2023 at The Executive Business Centre as a part of the Academic Integrity series.
Lubna Shuja is the President of the Law Society of England and Wales. She is the first Muslim and first Asian woman to hold the position. The Law Society is the representative body for over 200,000 solicitors across England and Wales.
Students, staff and members of the public were introduced to Lubna by Professor John Vinney, BU Vice-Chancellor.
Sharing valuable insight from her career and her priorities as President, Lubna took the audience on a journey in three parts, starting with her early life and pursuit into law.
Originally from Bradford and from a working-class background Shuja highlighted how a "Law degree wasn't on my radar, and I was without a role model in the industry. Education was a core value of my family, and originally I had journalism role models inspiring me. It was in fact through a friend at school who encouraged me to pursue law."
Shuja highlights a difficulty the current generation of students are facing, "Funding is still a concern for students looking to qualify as a solicitor. The government funding I utilised 30 years ago is no longer available for Solicitors Qualifying Exams. It's not really an ideal situation.
The Law Society has raised concerns to the government on the impact this may have on social mobility in the profession and those who are coming into law from more diverse and disadvantaged socio-economic backgrounds."
Back then diversity wasn't a word that was mentioned much, and she is pleased that isn't the case anymore. When first qualifying Shuja highlights that "there were only 709 solicitors who were from a Black, Asian or minority background, with very few women as well. My ethos when I joined the profession was to get on and be a good solicitor.
The legal profession and, in fact, every profession, needs diversity. I'm using my position to make sure, that whatever your background, we want you to be confident that the solicitor profession will welcome you and your career will go as far as your skills, talent, and ambition."
Emphasising the evolution of her career, Shuja runs her own firm based in Birmingham, and in her role as President, she has five ambitious priorities. These summarised are, championing a campaign to bring to light the role solicitors play in upholding the rule of law; the promotion, strengthening, and clarification of ethical issues, especially ethical dilemma's involving the use of AI technology; providing support for members of the law society and their practice; promoting the profession and the jurisdiction internationally; and promoting diversity.
Shuja explains, "Social mobility, diversity, and inclusion they're not just priorities they are actually what I have lived [throughout my career]. I'm delighted to say that now 18% of the solicitor's profession are from a Black, Asian, or minority background.
I'm also very proud that 52% of our professionals are women. There's real change taking place in our profession. Where we need to do a lot more work, and an area I am focused on is looking at the senior levels of the profession as we know there are still barriers."
Finishing her talk were words of encouragement and advice from Shuja, as well as a Q&A with the attendees. Joseph Hammon President of the BU Law Society said "the event has been very inspiring, it was a fantastic opportunity for everyone that attended."