We have been working hard over the summer to improve Talbot Campus. While we finish off the changes to the ground floor of Poole House, the ground floor of Dorset House and to the Sir Michael Cobham Library (SMCL), here's how you can find the teams and services you might need.
Reception: Our reception team will temporarily be in the atrium area of Poole House, located between the Atrium Cafe and the corridor towards Dylan's. The new reception will be based in the main entrance of Poole House, once the works are completed. 
AskBU: You can find AskBU in FG04, on the ground floor of the Fusion Building. AskBU opening times are 9am to 5pm Monday to Thursday and 9am to 4.30pm on Friday.
ALS: The Additional Learning Support (ALS) team can continue to be found on the ground floor of the SMCL in DLG17.
CareersBU: Come and speak to the CareersBU team on the ground floor of the SMCL.
Student Wellbeing: You can find the Student Wellbeing team on the first floor of Talbot House as usual.
Faith & Reflection: Come and visit our relaxed area on the first floor of Talbot House for some downtime in the hubbub of the start of the year.
Access to campus: The front entrance to Poole House will be closed for a few weeks at the start of the academic year. Please use the door into the Atrium Café to walk through to campus.
Poole House ground floor teaching rooms: If you need to get to the following ground floor teaching spaces, please use the doors to the left of the front entrance to Poole House, as you face the building:
Shelley Lecture Theatre
Active Travel facilities (PG10)
Faculty of Science & Technology PC labs (PG4 and PG7)
Sports Therapy suite (PG11)
Cyber Security rooms (PG12 and PG13)
PG22
TV studios (PG25)
There is signage at each door to tell you which rooms you can access through it.
You can also access the stairs and lifts through these doors. If you are able to use the stairs, please do so, to allow those who can't do so easily to use the lifts at this busy time. Thank you.
This map shows you the location of the access doors.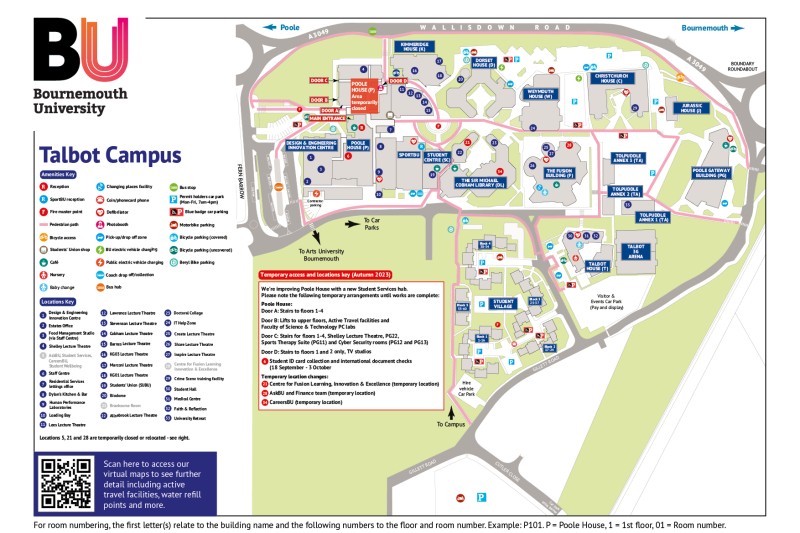 Dylan's Kitchen and Bar: You can get to Dylan's as usual from the link corridor on the ground floor of Poole House. Don't forget your student ID card to get into Poole House out of hours.
If you have any queries about accessing services, please get in touch with AskBU.
You can also see our frequently asked questions.
Please check the building opening hours for Talbot and Lansdowne campus.