What BU is doing
BU is working hard to keep you safe while on our campuses. You can see some of the measures we have taken in this campus safety video and you can read more about what campus looks like and how you will be learning this semester.
There is also further information available about the Covid-19 safety measures which have been introduced to our student accommodation.
BU Covid-19 risk assessment
We have put together a detailed risk assessment, which aims to identify all aspects of a return to campus during the current pandemic and seeks to offer a detailed overview of the controls in place to minimise the risk of Covid-19 to the wider BU community. Latest information about exact Covid-19 cases at BU can be found on our website.
---
What you need to do
As a member of the BU community, we expect all our students behave in a responsible manner towards themselves and other students, staff and visitors and that you play your part in keeping our community safe. BU will consider taking disciplinary action against any student who does not follow Covid-19 guidance and therefore puts members of the BU community and/or general public at risk by their behaviour.
At all times on BU campuses:
You are required to follow all physical distancing signage and measures at all times on our campuses and on the UNIBUS buses. This includes wearing a face covering when inside university buildings and vehicles, except when you are seated and more than two metres away from another person or at a service counter which has a screen protecting you. Please note, as per latest Government guidance, a face covering should be worn at all times in our library facilities. You can find further information related to Covid-19 and wearing a face covering in our frequently asked questions.
If you have Covid-19 symptoms:
You must stay at home and get tested as soon as possible. At no point should you come to campus or attend your GP surgery in person without an appointment, if you have suspected or confirmed Covid-19. You should also inform all other students living in your house/flat, so they can take appropriate action as required.
When you get tested, please let them know that you are a student at BU.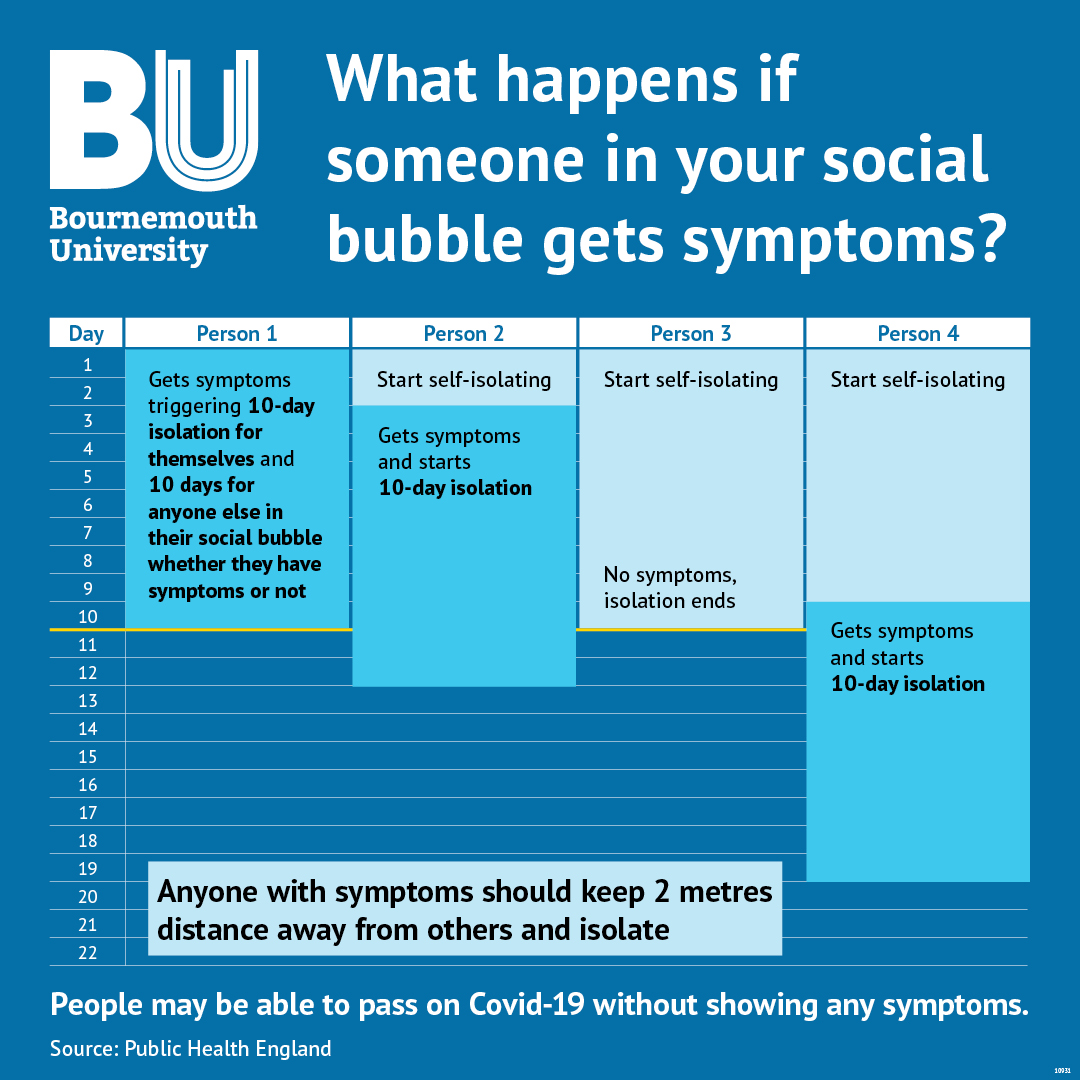 View a PDF version of this infographic (pdf 32kb)
If you have suspected or confirmed Covid-19:
The steps you need to take if you have suspected or confirmed Covid-19 are as follows:
You should contact AskBU at the earliest opportunity or email covid@bournemouth.ac.uk. AskBU will let your faculty know and will also arrange for a follow-up welfare check, if you would like one. If you are clinically vulnerable or extremely clinically vulnerable, you should make AskBU aware at the time of reporting. When you've got your test results, you should let AskBU know the outcome. Once you have let us know you have suspected or confirmed Covid-19, we will send you an email with information about how to get food and medicines, if you are unable to leave your house, and other available support. If there is a reason you are unable to self-isolate in your own accommodation, we may be able to provide a short-term alternative, so again please let AskBU know.
You must make your halls manager or landlord aware if you are symptomatic or have tested positive.
Please see Covid-19 testing: processing personal data of staff and students for how we will collect and manage your data in relation to Covid-19. We may be asked to share your contact details with the NHS Test and Trace service.
You can find further information relating to Covid-19 in our frequently asked questions.
If you are travelling to Bournemouth from any country outside of the UK:
Before you travel to the UK, you must submit this form 48 hours before you travel. Please make sure you are aware of the travel restrictions in place both in the UK and from your departure country before you travel, and any Covid-19 test you may need before travelling.
If you need to self-isolate on arrival in Bournemouth:
If you are travelling to Bournemouth you may need to self-isolate for 14 days from when you arrive in Bournemouth - please check the gov.uk website for more information.
There are further details about how BU will support you, if you are moving into BU accommodation and need to self-isolate, on our website. If you are moving into private accommodation and need support while self-isolating, please contact AskBU for assistance.
Thank you for helping to keep the BU community safe.
Visitors to campus
All visitors must be approved before coming on to campus. Please refer to the campus visitor guide for further information.