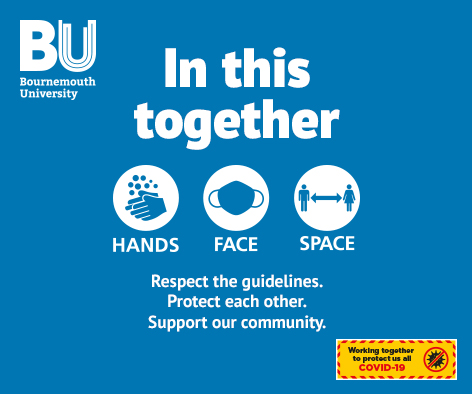 Our primary objective is to support your wellbeing, but we all have a role to play as one community to promote and protect the health, safety and wellbeing of one another and the wider community.
Every member of the BU community has a personal responsibility to adhere to guidelines and safety measures in place, for your own safety, and the safety of the community as a whole. We are asking you to be mindful of others, to understand that others may be shielding or more vulnerable to the virus, and play your part in keeping our campus, and our community, safe. The number of cases of Covid-19 at BU will be published each week on our website, and to keep these numbers low we need each member of the BU community to do their bit in following the rules.
Respect the rules
We expect you, as a BU student, to behave in a responsible manner and play your part in keeping our communities safe. It is important that you understand and follow national guidance when you are away from your accommodation and interact with our local community.
BU will consider taking disciplinary action against any student who does not follow Covid-19 guidance and therefore puts members of the BU community and/or general public at risk by their behaviour. You can find out more information about what you should and should not do on the gov.uk website.
Socialising
The UK Government has published it's roadmap for the easing of Covid-19 restrictions, and it is important to understand what is and isn't allowed, as it may differ, so it is important to check the rules in place.  As of 29 March 2021, you may socialise outdoors with up to six people, or two households (a household is defined as those living in your flat or house only). You should not invite anyone outside of your household indoors with you. Please be mindful when you socialise that you maintain the 'hands, face, space' rules and remember that you are an ambassador of Bournemouth University, and should be respectful of those around you.
Holding or being involved in the holding of an illegal gathering is an offence, and the police may issue fines of £10,000 to those who break the law, as they have done so on a few occasions already. 
At all times on BU campuses
You are required to follow all physical distancing signage and measures at all times on our campuses and on the UNIBUS buses. This includes wearing a face covering when inside university buildings and vehicles, and outside where physical distancing is difficult to maintain or you are unable to guarantee good ventilation (unless you are exempt for health, age or disability reasons). Please note, as per Government guidance, a face covering should be worn at all times in our library facilities – we would also ask that you do this in our Student Centre. It is also important to dispose of face coverings safely and responsibly after use. Find out more information about when to wear face coverings, the exceptions to their use and how to make your own.
You can find further information related to Covid-19 and wearing a face covering in our frequently asked questions.
Washing hands and making space
It is vital that we all continue to wash your hands regularly for 20 seconds and/or use hand sanitiser. Try not to touch your face and remember to keep space between anyone outside of your household – a distance of two metres wherever possible. If you are living in student accommodation, your household bubble consists of your housemates.
NHS Test and Trace
If you or anyone you've had close contact with test positive for coronavirus, you'll be contacted by NHS Test and Trace and asked to self-isolate. If you are contacted, you will be asked to provide them with the information they'll need to help stop the spread of the virus. It's important to make sure that your contact details on myHub are up to date so that NHS Test and Trace can get in touch if they need to.
---
Protect each other
Knowing what to do in an emergency and doing your bit to follow the guidelines protects others – whether fellow students, staff members or the wider community.
Plan your journey
Think about where you're going, how to get back and make sure you have what you need for your journey. Where possible you should walk or cycle to reduce the pressure on public transport and the road network. If you do decide to take public transport, you must wear a face covering unless you are exempt for health, age or disability reasons and it is worth checking the bus timetable so you're not waiting around for too long. Please note, our university bus service may be operating during different or reduced times during the pandemic, please check before setting off.
You should try not to share a vehicle with those outside your household or support bubble. If it is necessary for you to do this consider sharing transport with the same people each time, keep to smaller groups, open windows for ventilation and keep space between you. The gov.uk website shares further safer travel guidance for passengers during the coronavirus outbreak.
International students
If you are travelling to Bournemouth from any country outside of the UK, please check our FAQs for information about what you need to do. You should also check the information on the UK government website, as well as the relevant information in your country of origin.
Check on friends and those in your household
Covid-19 has impacted us all differently and everyone's experience of lockdown has varied. It is important to remember that although lockdown measures have eased, everyone is returning to normality at their own pace. Check in with your friends and housemates to understand what they are comfortable with at this time and do not pressure them into activities they would prefer not to take part in. Please keep this in mind when speaking with people inside and outside the BU community, including university staff.
What to do in an accident or emergency
In you're involved in – or witness – an accident or emergency on campus you should call 01202 962222. That way we can make sure the right action is taken and any emergency services can be directed to the right location.
If you're off campus, the national emergency number to call is 999. For non-emergencies off campus, call 101. These numbers work from both landline and mobile phones, so save them now and make sure you understand which number to call and when.
What to do if you have Covid-19 symptoms
If you feel unwell and show symptoms of Covid-19 you must follow the guidelines which are detailed on our Keeping you safe on campus page. You can find further information relating to Covid-19 in our frequently asked questions.
---
Support our community
Get to know your neighbours
Whether you live in halls, a Unilet or private let, it's good to get to know your neighbours as well as the people you live with. Some local residents may have had bad experiences with students in the past, so making a friendly introduction could really help – not only when you run out of milk, but they'll be more likely to talk to you about any issues and less inclined to make complaints. The same goes with the other flats on your floor.
Don't make too much noise
The people living next door may have to get up early for work or have young children who don't appreciate your 2am garden gossip. Your housemate might have an early lecture or just want to watch a film in their room. Leave home and return as quietly as possible if you are out late and let your neighbours know your contact number should the noise get too loud. Being considerate neighbours makes life more enjoyable for all.
Making too much noise can lead to a noise abatement order which if breached can lead to prosecution, a fine or community service and a criminal record.
Respectful parking
We advise students not to bring their cars to university and instead make use of the excellent cycle, bus and rail networks in the area. The streets around BH9 can get very busy with lots of vehicles and not much off-road parking. If you have a vehicle, try to park off road if you can, but if you must park in the street, make sure you are not blocking anyone else's driveway. Make sure that your vehicle wheels are not up on the pavement, blocking access to pedestrians, pushchairs and wheelchair users.
Bins and recycling
It is important you know when your rubbish collections are, and that you recycle responsibly and regularly to contribute to a more sustainable community. Check your bin collection dates and details of what sort of waste can be thrown into which bin on the Bournemouth Council webpage, visit www.bournemouth.gov.uk/binsrecycling.