Everyone's welcome at BU and we're committed to creating an inclusive environment
From the accessibility of our campuses and accommodation to the range of support services available and much more, we want to make sure that you have the best university experience – and help you to create fantastic memories that will last a lifetime.
Read on to find out more about how we support our community, opportunities to get involved in campaigning for change, the achievements of BU graduates and the difference our research is making.
Our Disability & Additional Learning Support (ALS) team
Whether you're an undergraduate or postgraduate student, studying full-time or part-time, our Disability & ALS team are on hand to offer support throughout your time at BU. 
If you have a physical or sensory impairment, or a medical or mental health condition, or a learning difference such as dyslexia, dyspraxia, ADD or ASS, the ALS team will be able to identify the most appropriate support for you.
As well as one-to-one learning support, which could be tuition and/or mentoring tailored to your individual needs, the team runs specific skills workshops and can also advise you on assessments and funding assistance from the Disabled Students' Allowance (DSA).
Read more of Tom's blog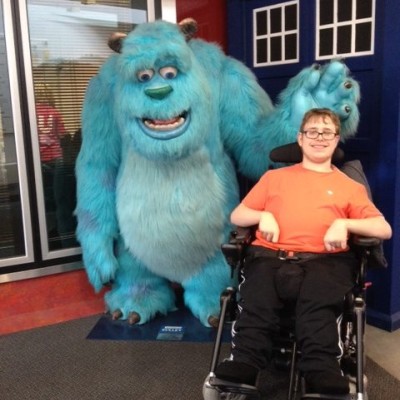 Read more of Tom's blog
I have Cerebral Palsy so I rely on an electric wheelchair. I met with the ALS team on one of my first visits to BU. The support they have provided has been crucial to my studies. Even if you just want a chat, they are always happy to see you.
Read more of Lara's blog
Read more of Lara's blog
Lara – now a BU graduate in BA (Hons) Computer Animation Art & Design – on the academic support she accessed while studying:
I have access to ALS support which has been extremely helpful when writing essays, reports and preparing presentations. You get assigned an ALS tutor that you can meet up with regularly to organise your work and set yourself up for exams.
See the difference our research is making
SUBU initiatives: Disabilities, Accessibility & Neuro-Diverse Campaign and the Allyship Hub
In addition to the support available from BU's Disability and ALS team, your Students' Union (SUBU) offers lots of opportunities to get involved in campaigning for change.
Run by students for students, the Disabilities, Accessibility & Neuro-Diverse Campaign is one of six SUBU Liberation Campaigns and supports students who self-define within this group, including those with physical disabilities, hidden impairments, and learning differences.
When it comes to disabilities that aren't visible, this was the focus of a previous Students with Disabilities Campaign; 'Not all disabilities are visible' – designed to raise awareness and challenge preconceived ideas of what disability means.
Join the Campaign on Facebook Visit the Disability Allyship Hub
Making an impact – meet some of our graduates
Supporting our students and staff through national schemes
Disability Confident Employer
BU is home to a diverse community and we want everyone to feel welcome throughout their time with us. We're a Disability Confident Employer which means that we're committed to the employment, retention, training and career development of disabled colleagues.
---
AccessAble
We want to make sure that the time spent on our campuses, in our buildings and when using our facilities is enjoyable and easy for everyone. We work closely with AccessAble to provide detailed accessibility listings for all of our physical spaces.
Read BU graduate Abigail's blog on accessibility and facilities
---
Mindful Employer
We all know how important it is to look after our mental health. As a Mindful Employer, we take our commitment to mental health seriously and run a number of staff-led initiatives to encourage and promote positive mental health.