Everyone knows Bournemouth, Poole and the surrounding areas for their incredible beaches, dramatic coastline and abundance of green spaces to enjoy.
But while the hidden charms of our coastal towns may not be as well-known as our famous landmarks, they form some of the most cherished memories among our students and staff.
Read on to discover, in no particular order, a variety of local gems to enjoy this winter.
Vegan Bournemouth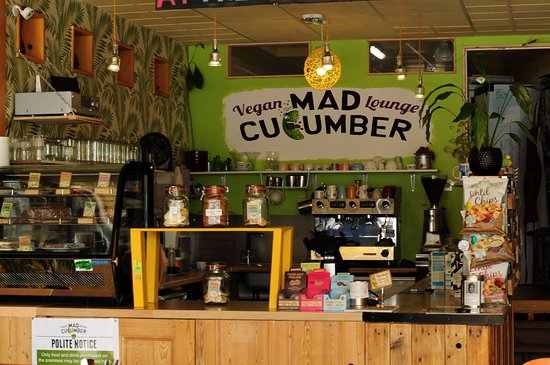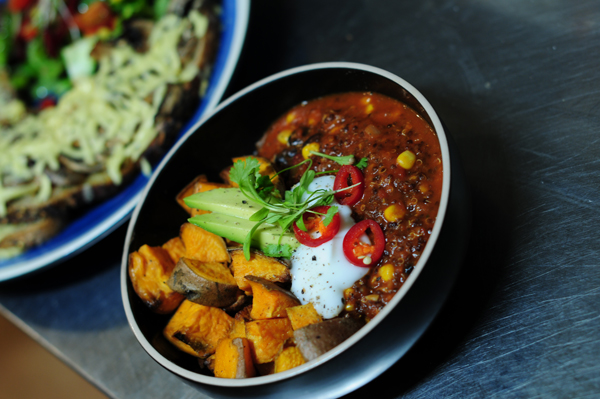 The Mad Cucumber Vegan Lounge offers a home from home feel combined with rustic and upcycled decor
Offering new meat-free options may be de rigueur for high-street fast food joints and shops at the moment – but independent local businesses across Bournemouth and Poole have been blazing that particular trail for ages.
Starting off in The Triangle area of Bournemouth, you'll come across Twelve – an organic, plant-based restaurant and juice bar. There's also the vegan health store Sunrise Organics and Mad Cucumber – the latter of which, as the name suggests, is a quirky vegan lounge serving vegan food and smoothies.
As you head into the centre of town, The Croft Deli & Grill has lots of vegan, vegetarian and gluten-free options to choose from. Plus, there's a range of healthy smoothies too.
And it's not just central Bournemouth which has loads of choice.
In the popular suburb of Boscombe (10 minutes east outside of Bournemouth) you'll come across Kind Kitchen, serving up delicious vegan food and Sukha Lounge, where you can collect (or the team can deliver) their vegan specialities. Plus, there's Blue Orange Juice Bar (just outside of Poole) which offers lots of healthy and delicious juices and smoothies.
Take in some culture
Just a stone's throw from Bournemouth beach is the Russell-Cotes Art Gallery & Museum, an impressive Grade II* listed building that is home to a vast collection of Victorian art. With four purpose-built galleries, there's so much stunning artwork to see.
There's also the Bournemouth Natural Science Society & Museum which houses a fascinating collection of fossils, minerals and even an Egyptology collection. It is well-known locally for its range of free events, with January and February playing host to a variety of lectures.
Head into Boscombe and you'll come across the Shelley Theatre. From comedy nights to films, live music and dance, there's bound to be something for you to enjoy. Built in the 1860s by the famous Shelley family, the theatre was intended to be the home of Mary Shelley, author of Frankenstein. Today, it seats 150 people, creating a cosy, intimate atmosphere.
In Poole, the Lighthouse is renowned for its array of entertainment options, including big-name comedians, the latest films, musical productions and the Bournemouth Symphony Orchestra. There's also the Poole Museum & Scaplen's Court, where the town's rich history is revealed.
Winter walks
You can't beat a winter walk by the coast, wrapping up warm and breathing in the sea air.
The most obvious place to start is Bournemouth and Poole's 10 miles of award-winning golden, sandy beaches and flat promenade – ideal whatever your level of fitness. If you are looking for a bit more of a challenge, walk past Bournemouth Pier (towards Boscombe) and take a detour up the slope towards Bournemouth's East Cliff where you will be rewarded with breath-taking sea views. 
Head five miles east out of central Bournemouth and you will reach Hengistbury Head Nature Reserve, a dramatic headland located to the south of Christchurch Harbour.
A myriad of paths wind across the reserve, reaching up onto Warren Hill (the highest point of Hengistbury Head) with incredible views across Christchurch to the north and Poole Bay to the west.
And that's not all. Neighbouring Poole has lots of great walks too, whether you are looking for a short stroll (picturesque Poole Quay and Harbourside Park are worth a visit) or the ultimate challenge – the 630 miles South West Coast Path.
The New Forest National Park
Our South Coast location offers the best of both worlds; we've got the seaside on our doorstep and the New Forest National Park is just a few miles away.
Easily reached by train or car, the New Forest offers miles upon miles of invigorating walks, across rugged terrains and wild open spaces. In particular, there are three walking trails that will open your eyes to the history and landscapes of the forest this winter: the Huff Duff (an old directional station); the associated bunker, Hale Purlieu, and Hightown.
The Jurassic Coast
If you are looking for dramatic clifftop walks, the Jurassic Coast certainly won't disappoint.
Take in the incredible Old Harry Rocks with a jaunt along the clifftop and enjoy spectacular views of Poole Harbour, Bournemouth and the Isle of Wight. Reward yourself with a stop off at The Bankes Arms in Studland. As you head further along the coast, there's the Corfe Castle circular walk and the Weymouth and Portland Legacy Trail (among many more).