The 12th Annual Postgraduate Research Conference 
Wednesday 2 December 2020
The Annual Postgraduate Research Conference is a great opportunity for you as a postgraduate researcher to showcase and promote your research to the BU Community whether you have just started or are approaching the end of your journey at BU and this year we are going virtual.
Attending the conference is a great opportunity to engage and network with your fellow postgraduate researchers and find out more about the exciting and fascinating research that is happening across BU. 
For our 12th Annual Postgraduate Research Conference we will be hosting oral presentations via Zoom and also showcasing research posters virutally on the website and the research and Faculty blogs.
The call for abstracts is now open. If you are interested in presenting your research at this conference, please have a read of the how to apply guidance and submit your application on this application form to pgconference@bournemouth.ac.uk by 09:00, Monday 2 November. 
Keynote & registration coming soon.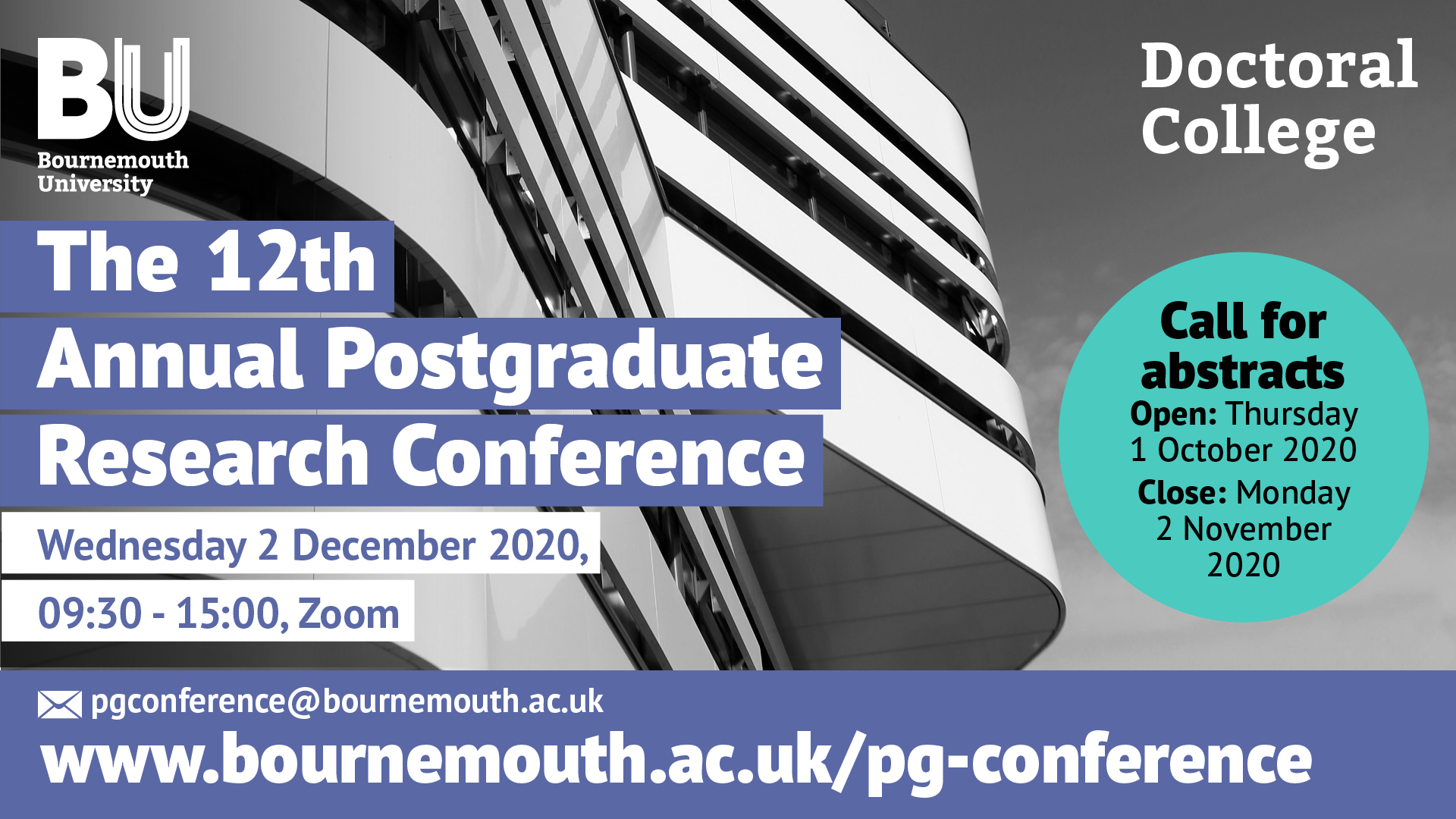 Virtual Showcase and Annual PGR Conference is organised and run by the Doctoral College.
Enquiries to: Natalie Stewart - nstewart@bournemouth.ac.uk 
---
PGR Virtual Poster Exhibition
During April-July 2020 we showcased postgraduate research posters from The 11th Annual Postgraduate Research Conference virtually. These were intially due to be exhibited in the Lees Gallery on Talbot campus; however, due to lockdown, we could no longer showcase the incredible research our students are undertaking in this way and therefore adapted to the current situation. 
You can view this virtual poster exhibition on Twitter (@NatStewartBU), Facebook (@BUDoctoralCollege) and the BU Research Blog.