We know that you want to hear about BU from the people who really matter – our current students and graduates. You can read profiles of our current Nigerian students and graduates below, we'll let them do the rest of the talking!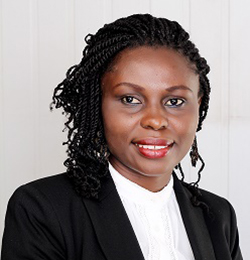 Mayowa Adejumo
MSc Public Health
Having completed a Master's in Public Health at BU, Mayowa Adejumo is now running her own farming and food delivery business in Nigeria.
Mayowa was inspired to develop the business by her experiences of grocery shopping in the UK. This experience, combined with the research and analytical skills she developed on the course, gave her the confidence to go it alone. She is currently receiving support as a mentee of the Cherie Blair Foundation for Women, designed to empower female entrepreneurs in developing countries.
Mayowa said: "I originally came to BU because I wanted to connect my previous degree in veterinary medicine with a greater knowledge of human health. I chose Bournemouth because it offered a quieter lifestyle to some of the big cities, with the beach and a smaller community feel.
"During my year in Bournemouth, I learnt to be very independent. As well as living away from home, I became more independent in my studies, including reviewing and correcting my own work and researching relevant literature to support my thesis. These skills are still supporting me today. I also volunteered at a charity shop and worked as a healthcare assistant, which helped me to develop important skills in customer service.
"I got my current business idea from wanting to replicate the fresh farm produce that I came across when shopping for groceries in the UK. I enjoy being able to solve a challenge or problem and developing a business has given me that opportunity. I am enjoying celebrating my successes and have recently added two new business lines – gardening and maternity gift boxes – which will soon be launched with the help of a brand consultant."
Aside from the academic experience of being at an overseas university, Mayowa enjoyed meeting new friends. She said: "I always looked forward to the weekly international student meetups – being in good company and sharing good food. I miss lots of things about my time in Bournemouth but have very fond memories which will stay with me forever."
Oluwaseun Olowo-Ake
BA (Hons) Media Production
Oluwaseun Olowo-Ake completed a Foundation Certificate in Media and Communications at Bournemouth University International College (BUIC), before embarking on the BA (Hons) Media Production at BU.
She said: "Studying at BUIC gave me the opportunity to improve my presentation skills, as well to gain basic media knowledge to prepare me for my degree. It also gave me a year to settle in Bournemouth before starting a university degree. Having gained the basics in media, I found that I wasn't so confused in my university classes. The university campus is bigger than the college campus, so when it came to making the transition, that took some getting used to. But the staff at both campuses are very supportive and great at helping you find your way around and ensuring that you get the most out of your education."
Oluwaseun decided to study media production in order to gain the knowledge and skills needed to forge a career in the industry. She said: "The foundation certificate and degree gave me a broad understanding of the media and exposed me to areas that I want to explore further. The members of the academic staff were very approachable. They really cared about your studies and wanted to help you do well in them."
During the degree, Oluwaseun completed three different work placements, which she reflects helped her to build resilience and adapt to the breadth of the industry. Away from the course and placements, she also made the most of the town and surrounding area. She said: "I liked being able to feel like Bournemouth was home. I was able to explore the beaches and the New Forest. The church I was a part of allowed me to meet families and get to know them so that I was experiencing the town as they experienced it."