We know that you want to hear about BU from the people who really matter – our current students and graduates. You can read profiles of our current Chinese students and graduates below, we'll let them do the rest of the talking!  We have more alumni stories on our Chinese website.
Liyuan Zhang - MSc Events Management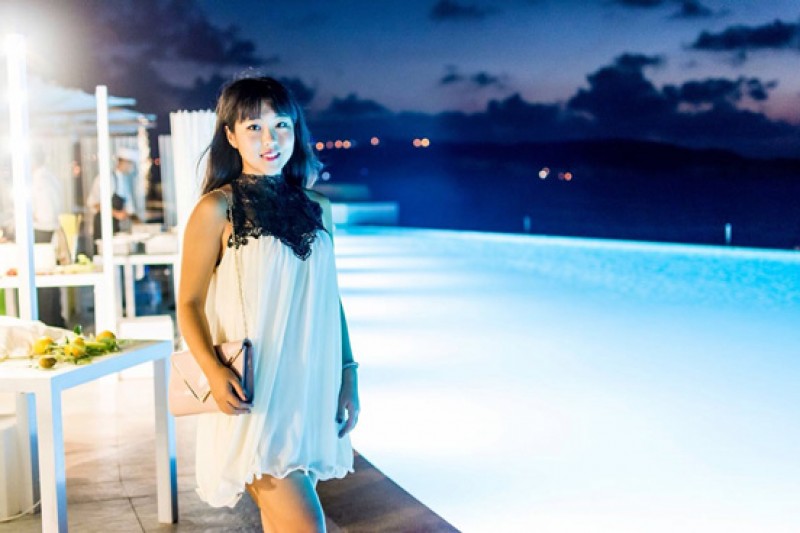 When my course finished last April, it was time to start a new life in Europe.
It was a tough time in May, because hunting for a job as an inexperienced international student is not easy at all. I have been a student for more than ten years and barely have any work experience. I am thankful to Edmund from Postgraduate Placement and Language Support at BU, who gave me precious suggestions as well as self-confidence.
It was tough at first. I searched for jobs on MyCareerHub and sent my CV every day, but only received a few replies, most of them were refusals. Then, I received the first interview chance in my life! That day, I was very nervous and unfortunately the nerves got the best of me. The HR manager asked, "What do you think about our website?" I answered, "Sorry, I did not see your company's website". That was an embarrassing experience, but I learnt from it. Following my terrible start, I attended some interviews, calmer and cleverer. Finally, I received an invitation from Corinthia Hotel. I succeeded!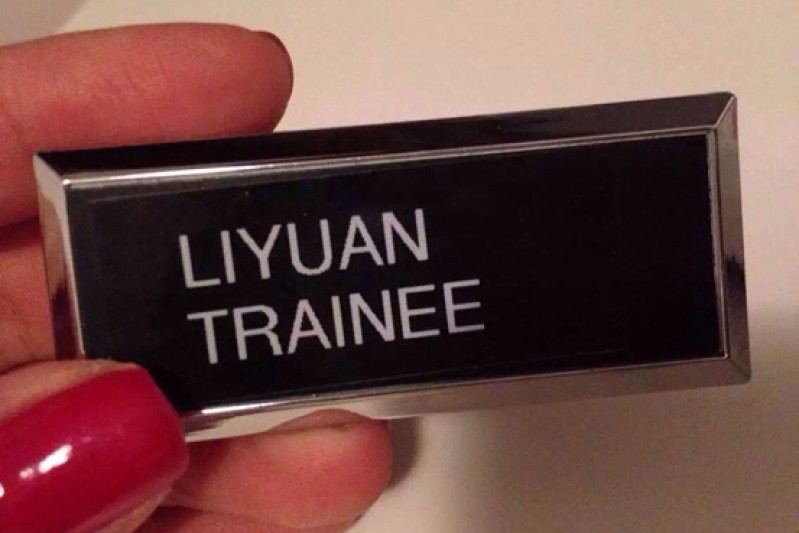 Corinthia Hotel, Saint George's Bay is a five star hotel located in Malta. It is a wonderful destination with luxury and elegance. After solving my visa issue, I started my journey to Malta!I am working as a hostess in the Food and Beverage department. My main task is to greet people and lead them to their seats. My working time is from 8 am to 12 pm and then 7pm to 11pm; which means I am working during the breakfast and dinner services. I think it is a beautiful place to dine! 
The weather in Malta is definitely hot; it is not very comfortable working in a suit and high-heeled shoes. However, the colleagues and guests are really nice people, which makes the time easier and happier.
I have learnt a lot of practical things here, for example making coffee, setting cutlery and making cocktails. I have also acquired some knowledge about fine wines, desserts, and local speciality dishes from a variety of regions – and I luckily tasted them as well!Besides the work experience, I was honoured to attend the Corinthia Annual Donation Party at the end of my internship. I do like the scenery here, the sunny weather, blue sea and the old historical town. And at work, I met friendly and interesting people whom I regard as my best friends forever. I am really happy with my time in Malta!
Suyan Zou - MSc International Hospitality and Tourism Management
Why did I choose this university?
I chose Bournemouth University because it is one of best universities in teaching hospitality and it has a great reputation in this field. I was also attracted by the placement opportunity that my course offers as I believe the experience of working abroad will enhance my employability for the future.
My first week
My first week was very exciting and enriching as I went to lots of university events and activities. Fresher's fair was one of the highlights – it was very new and fascinating to me. I spotted a big  dancing show in front of the library and I joined the crowd in watching the performance. Then some students approached me and asked me to join their societies. However, I quickly ran off as I was not interested in doing pole dancing! I continued exploring the fair and I was  excited to see what the university had to offer. It was a very versatile and interesting experience. At the end of the day, I got lots of discount vouchers and free pizza vouchers. By that time I had realized that my student life in Britain had "officially" started.
I also went to the international dinner ceremony and got welcomed by the university's Dean and other university staff. I became friends with some of the people, who sat around me, and I feel very lucky that they remained my good friends throughout my university life.
My school also organized a trip to Windsor Castle for us – there I got to meet all of my course mates and make a few friends as well.
The only thing I regret is not being able to go to the big night party, which was organized by the Students' Union at Bournemouth University during the first week – I am sure it must have been very exciting!
My campus
My main campus is Talbot. It is the biggest campus of Bournemouth University and it is where you can live, study and relax. I like going to the student canteen, Students' Union shop, Dylan's bar and many other coffee shops around the campus. The prices there tend to be much cheaper than anywhere else in the city.  I can spend a whole day  just at Talbot campus.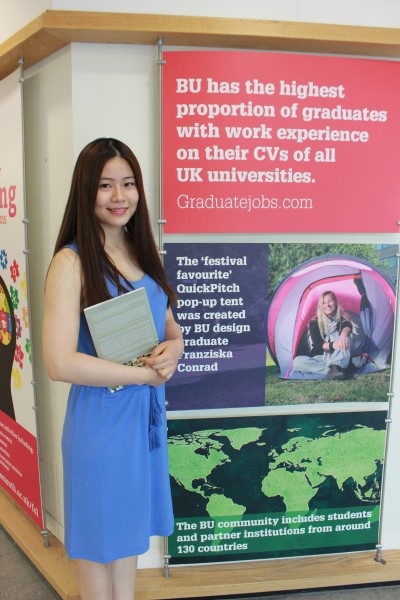 My city
Bournemouth town centre is always vivid and busy with lots of interesting street shows and friendly people. It is not big, but it is clustered with loads of restaurants and shops and I can find a variety of world cuisine here.
The Beach is one of the highlights – two minutes walking distance from Bournemouth town centre. It's very beautiful and every year it attracts tourists from all over the world to come and spend their summer here.
My study space
I study at the main library of Talbot campus most often. It opens everyday from 8 AM until 12 PM. It is five stories high and with mixed  quiet, discussion and group study areas. I like going to the language centre on the first floor – it's where I can learn many different languages.
There are many studying spaces that students can explore and utilise. I have recently  discovered that the new Student's Centre is an amazing place to study. Everything is modern with a nicely painted interior and beautiful decoration inside. Students all love the comfy couches there as well!
My social life
My social life is about meeting with my friends. In my free time, I like going out with them to have a drink and sometimes we cook together.
I was one of the members of the Chinese Students & Scholars Society and I made a lot of friends that way. I helped organize the society's Halloween Party and Chinese New Year Party, which was very fun!
I also made friends from getting involved in volunteering activities. Last year I helped raise a record-breaking 1.5 tonnes of food for a charity and I was named Best Volunteer at the event!
My home
I live in Chesil House. It is located in Lansdowne and it is only a 6-minute walk away from the town centre. I have a standard en-suite room and I share a kitchen with 5 other girls in my flat. In my room, I have a very large desk, a single-sized bed, a decent-sized wardrobe, large chest drawers and a modern bathroom. I couldn't think of any negative things about my accommodation because it is the safest and most comfortable place I have ever lived in and I loved making it my new home!
FU Runfeng - BA (Hons) Finance and Economics (Year 2)
Bournemouth University International Partnership Scholarship: Beijing Normal University (BNU) winner
I am so surprised that I was awarded this scholarship and it is such an honour for me to study at BU. This accolade inspires me hugely and I really appreciate BU offering me this great opportunity to prove myself.
I view this prize as a good starting point and I am looking forward to my new life in BU. I am so excited about everything now!
Di Zheng - BA (Hons) Tourism Management
I chose BU in the first place on the recommendation of friends who studied here before, my own research and BU's excellent reputation. After two years of study, I am very pleased that I chose wisely.
The study experience here is very enjoyable. There are many different nationalities. The societies run by overseas students provide lots of activities, to both British and international students, which is definitely a good opportunity to explore new things and experiences. The support from academic tutors and the International Office is very helpful too.
My course is Tourism Management and working in the tourism industry for my placement is crucial. It is a fantastic opportunity to work in the real world, gaining valuable experience, which will be a great advantage for my future studies and career.
Overall, I am very glad that I can study and live here, not only because the wonderful environment of the University but also the diversity of the town. The mix of nationalities gives a real insight into different cultures and languages.
After completing my course I hope to work in the UK for one or two years to gain more work experience from the tourism industry, then take a Masters degree in Tourism.
Hui Zhong - BA (Hons) International Business Communication (Top-up)
BU is a very friendly university. It is located beside the sea and the climate is wonderful. It has a great library where I spend alot of time. The environment of the University is quite nice and life in Bournemouth is a fantastic experience.
The course which I am studying now is great as it gives me the opportunity to get a British Bachelor's Degree in one year. The course covers language and also business subjects, such as International Marketing Management, International Human Resource Management and Corporate Financial Management etc. During this one year study, I learnt how to think in a critical way and to always ask "why" and "why not" before I accept the ideas presented to me. Furthermore, through doing all my assignments, I gained a British studying style and am more independence in my studying.
One of the benefits of studying at BU is to meet people from different countries and to understand and learn about different cultures, because the development makes us to work and communicate together. I have made a lot of friends from different countries since coming to BU.
My favourite thing about BU is the International Office who organise day trips to other cities or towns frequently. It is great for us international students to know more about the country and the British culture.
Xinyue Wang - MA Producing Film & Television
Jie Da - MA 3D Computer Animation
Yisi Lu - MSc Sport Management
Yukun Wang - BA (Hons) Computer Visualisation and Animation, MA in Digital Effects
Freshers' Week - Chinese Students Sharing Experience at BU