Bournemouth University graduate Luke Gniwecki was one of the stars at this year's Grads for Growth Celebration, winning the Graduate Achievement Award.  
Luke was recognised for his outstanding work in brand communications for Kestrel Medical Limited which contributed to a significant increase in sales for the Dorset company.
Grads for Growth is a programme aimed at helping both new or small business and recent graduates in South West of England. It helps businesses find the right people and gives students an opportunity to find the right working environment.  Funded by the European Regional Development Fund (ERDF), the programme has so far worked with 130 companies generating 84 graduate roles delivering innovative projects in all types of businesses.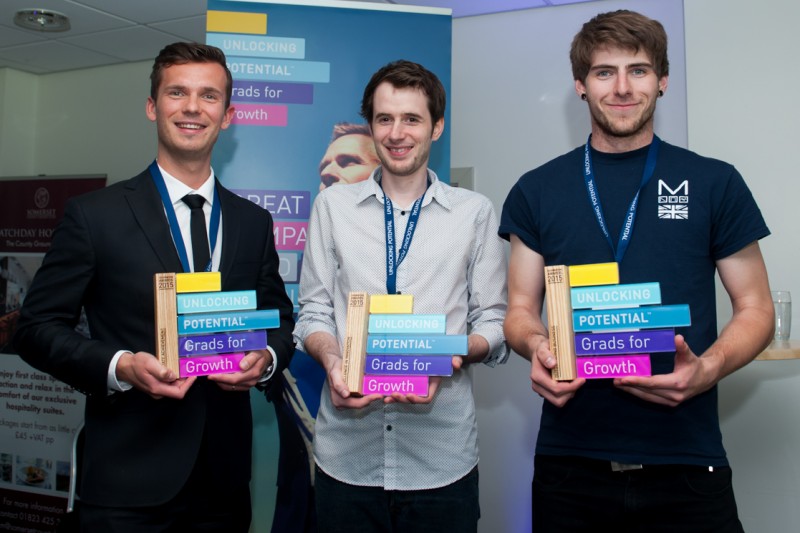 Luke, who is a BA (Hons) Marketing graduate, joined pharmaceutical company Kestrel Medical Limited through the Grads for Growth programme. Having already worked with brands like Hewlett-Packard, LEGO and Warner Bros; Luke was appointed as the Brands and Communications Manager for Kestrel's Vocalzone product.
Vocalzone is a throat pastille created by world renowned ear, nose and throat surgeon, William Lloyd over 100 years ago. Even now Vocalzone is still made with its original recipe and is a famous brand among highly acclaimed singers like Tom Jones and Rihanna.
As the Brands Communications Manager for Vocalzone, Luke identified all the key opportunities for the brand and crafted a strategic plan involving a diverse range of multimedia content, social media communications and competitions which helped Kestrel Medical to take Vocalzone to its highest potential. This was reflected in their social media activities and online sales figures.
Luke commented on his award, saying: "I am very excited to receive the Grads For Growth Graduate Achievement Award. It's a fantastic recognition for my work at Vocalzone and for our entire team who worked very hard over the last year."
He went on to say: "I'm proud to be a BU graduate who decided to stay in Bournemouth to continue his marketing career. I think that initiatives such Grads For Growth are a great way of giving local businesses an opportunity to hire graduates with the right skillset needed to grow and expand."
Luke will also be sharing his expertise at Kestral Medical with the next generation of students through their placement programme. He said: "We are also pleased that we can continue to source local talent as we have just recruited a marketing student from BU for a 12-month placement. We have an exciting time ahead of us and look forward to working with him."   
All graduates placed at businesses through the Grads for Growth programme receive funding which can be used for mentoring. Luke is currently working with his mentor Melanie Gray, Lecturer and Consultant in the Faculty of Media and Communication at BU, to develop a marketing campaign to promote Kestrel Medical's products to the public speaking and teaching sector.