Studying towards the right qualifications is a huge part of achieving your aspirations – but there's so much more you can do to make the best possible start in your career. That's why we've developed a learning community that's full of extracurricular opportunities and support to make you career-ready – wherever you want that career to take you.
In addition to courses developed in collaboration with industry, you can take advantage of career support services, and networking events.
It's all about expanding your horizons – from the day you start, to your graduation, and beyond.
Work placement opportunities
All our undergraduate degrees and many of our postgraduate degrees offer the opportunity to undertake a work placement as part of your studies.
Securing a placement brings with it many benefits – real-world experience, excellent networking opportunities and insight into your chosen industry – all of which will help you stand out. But it will be competitive. You'll need to demonstrate confidence, creativity, determination and resilience to secure a great placement. Ultimately, it will be your responsibility to find and organise your placement, but we'll be on hand to support you throughout this process.
And for many of our students, the hard work pays off as they return to their placement company or organisation in their first job role after graduating, having demonstrated their ability while on placement. 
Placements explained in more detail Read students' placement stories
Read Emily's blog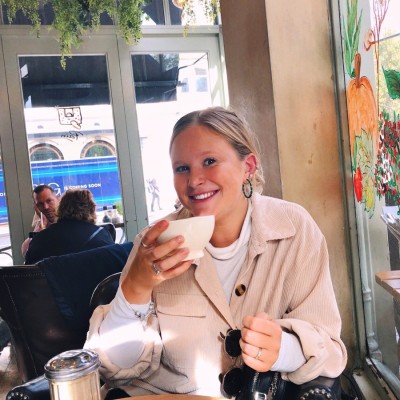 Read Emily's blog
BA (Hons) Communication and Media student, on starting her own company when her placement was cut short due to a Covid-19 lockdown:
Being put in a workplace and seeing how a company works has made me realise what I want in the future and how I am going to get it.
Careers support
From your first day at BU to up to three years after you graduate, you'll have access to a wide range of careers support to assist and guide you on your journey.
From our experienced and friendly Careers team and faculty placement staff, to our careers portal, MyCareerHub, we can help equip you with the skills and experience you'll need to make your mark.
Each year, we run 'Your Career Week', a week-long event offering networking and skill development opportunities, workshops and a two-day Careers Fair, attracting a wealth of companies and organisations. In addition, we also host recruitment fairs, part-time job fairs, weekly careers workshops and employer events, designed to help introduce you to employers and make that all-important first impression.
View highlights from 'Your Career Week' 2019
Working with industry
We have excellent relationships with many local, national and international companies and, as a result, we can tailor our courses to meet industry needs. Many of our courses are accredited by professional bodies too, meaning your degree is recognised by potential employers as being professionally relevant and up to date.
When it comes to valuable industry insights, a large number of our staff have worked, or are still working, in the industry that they lecture in, bringing the knowledge and understanding of best practice and latest developments into your lectures and seminars. 
What's more, lots of our courses offer the opportunity to train with industry-standard equipment and in industry-standard facilities so that you're familiar with how things work in professional settings – meaning you can hit the ground running when you graduate.
More ways to get ahead and stay ahead