Bournemouth University's 2015 Festival of Learning has been hailed a huge success after thousands of people attended the 150+ free events on offer throughout the week.
 
Running from 11 – 17 July, the Festival featured everything from cooking masterclasses to professional development opportunities and family-friendly workshops.
 
It opened with a family day on BU's Talbot Campus - with hundreds of people taking part in everything from making soap and mortarboards, to fossil workshops and listening to BU's Dementia Orchestra perform. 
The day also featured two talks by naturalist and TV presenter Chris Packham, who took time to visit some of the activities taking place as part of the Festival.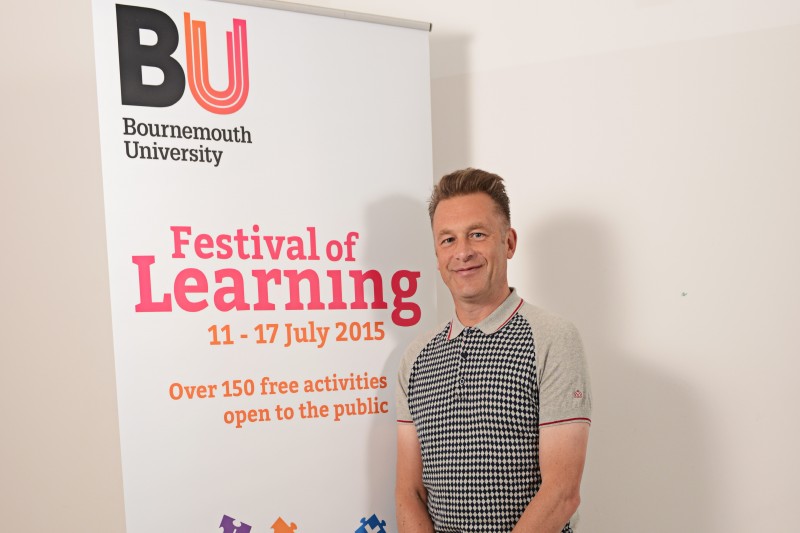 "I can't think of anything more exciting than a Festival of Learning, and obviously it's been really great to attract young people into the learning environment," Chris said.
"I think it's absolutely essential that universities engage with the communities where they are based, the community that's supporting them and they are helping to support."
The Festival featured over 150 events over the course of a week – from the chance to Meet Your Inner Monkey at Hengistbury Head, to learning how to prevent a zombie infection spreading in Zombie Science workshops, and trying out new and unusual sports like Velodrome Cycling and Wheelchair Basketball.
Jeremy Austin, of Hamworthy, attended several events – including an introduction to the stock market, a presentation on cybersecurity, and a computer programming workshop.
He was one of the winners of the Festival of Learning weekend postcard competition, which asked attendees to sum up their experience in ten words or less. Jeremy received a hamper of BU goodies for writing it was: 'Stimulating, rewarding, satisfying, encouraging, illuminating, educational, and free!' 
Jeremy said: "I've come to about half a dozen events – and through doing that I've found out things that simply wouldn't have come my way otherwise – so it's been a very fruitful experience.
"I think the Festival is excellent - it's a very good idea that the university tries to reach out, particularly to the local people. I think the university has to be praised for any efforts it makes to avoid being an ivory tower and generally opening people's minds to what goes on here."
Now in its third year, the Festival of Learning aims to share Bournemouth University's knowledge, research and expertise with the local community in an engaging and accessible way.
More people attended this year's event than ever before.
Rebecca Edwards, Knowledge Exchange and Impact Manager at BU, said: "We are delighted that the Festival of Learning in 2015 has been a huge success - never before have we seen such diversity of fantastic events and engagement from our audiences.
"From the opening day with hundreds of young people getting stuck into science, Chris Packham's amazing talks through to the huge range of workshops to develop skills and a mind boggling array of sports events to achieve, there has been so much to see and enjoy." 
See more images and stories from the 2015 Festival of Learning