Graduation week finished with celebration as graduates from the Faculty of Media and Communication received their awards alongside honorary doctorates Kate Adie OBE and Dame Annette Brooke.
Around 4,000 Bournemouth University graduates received their awards over the course of the week at the ceremonies conducted at the Bournemouth International Centre (BIC), with the ceremonies watched online by over 6,300 people from 76 different countries across the world, including Kuwait, Turkey, Bulgaria and Colombia. Locally, the tag #BUgraduation was trending on Twitter in Bournemouth on Thursday and Friday.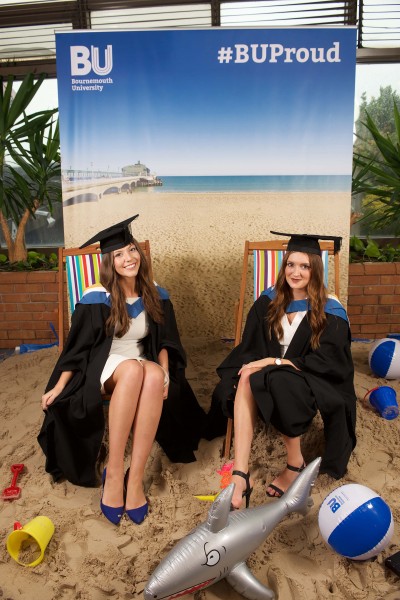 Kate Adie OBE received a Doctor of Letters and was honoured for her inspirational career in the media. Dame Annette Brooke, who served as MP for the Mid-Dorset and North Poole constituency from 2001-2015 and has had a close relationship to Bournemouth University, received a Doctor of Education award. Both received their awards and addressed a packed hall of students and family members during the Faculty of Media and Communication graduation ceremony.
Professor John Vinney, Vice-Chancellor of Bournemouth University, said, "Our graduation week ceremonies at the Bournemouth International Centre are one of the highlights of the academic year and I have been absolutely honoured to personally shake the hands of over 3,000 graduates this week, as they have crossed the stage and received their awards.    
"This year we had students from 109 countries graduating from Bournemouth University, showing that BU really does have a global reach, and we wish them all well for the future, wherever that takes them locally, nationally and internationally."
At the ceremony Kate Adie OBE said, "Lots of students are graduating today and who knows what will be in their future because the world changes and it is changing at the moment quite rapidly. They will have to report on it, reflect it, make films and document it and take pictures, all the things that belong to the world of journalism. They may even be finding out during their careers new methods and ways of reporting.  It will be really exciting for them."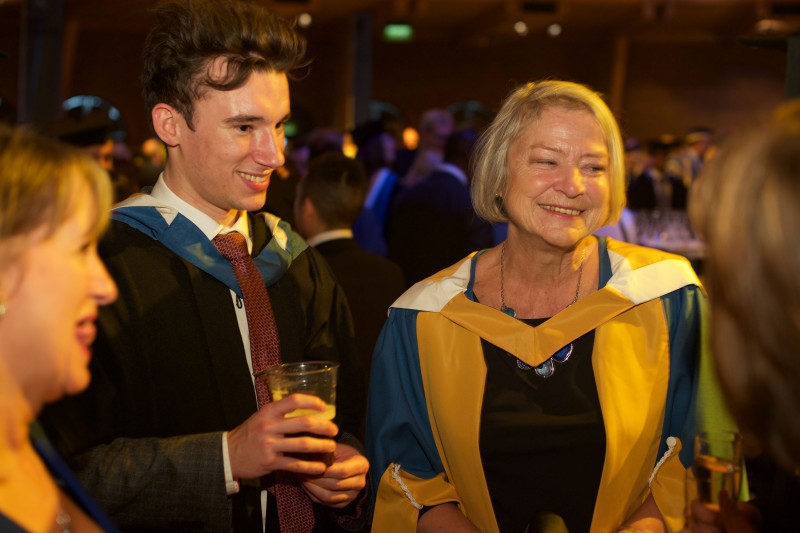 Dame Annette Brooke reflected by saying, "I did used to have an ambition to be a politician when I was 17 but I didn't achieve that until I was 54. My message to students is that you might have an ambition that seems impossible to achieve at the moment but if you keep it in your mind while you do useful and interesting things on the way. Then when that opportunity rises you'll have all the tools you need to take the opportunity."
Honorary Doctorates were also given to Olympic athlete Liz Yelling, travel industry entrepreneur Peter Long, retail entrepreneur Andrew Thomson, former Principal of Bournemouth and Poole College Lawrence Vincent and former Bournemouth University Board member Roy Spragg.
Speaking earlier in the week, retired professional runner Liz Yelling gave this advice to students, "Follow your dreams and your passions, to get out there and chase it. You might not end up there in the end but I think the path towards your dream will take you on an amazing life adventure."
Following the Faculty of Media and Communication graduation ceremony, Professor John Vinney visited Bournemouth-based digital agency Bright Blue Day to meet a number of Bournemouth University graduates who now work there.
Following a Tech Nation report where Bournemouth was recognised as having the fastest growing digital economy in the UK, Professor Vinney visited the agency to talk to staff and BU graduates and understand how Bournemouth University graduates are contributing to the creative industries in the local area.
Commenting on his visit to Bright Blue Day, he said, "At the end of our graduation week it was very good to see an example of how BU graduates are contributing to the growth of the Dorset economy by visiting a local business in the fast-growing digital sector, that is both employing BU graduates and also has a current student undertaking their placement year with them. Every student at BU has the opportunity to undertake a work placement and this experience in the workplace is hugely beneficial in developing the high employability of our graduates."
Watch a roundup of the final day of graduation:
The best bits from the Faculty of Media and Communication Graduation Ceremony.