A student from Bournemouth University has been named Dorset Student Journalist of the Year.
Second year BA (Hons) Multimedia Journalism student Samantha Everett received the award from the National Union of Journalists (NUJ) for her 1,000 word feature article which explored the experiences of teenagers diagnosed with arthritis and the impact it had on their lives.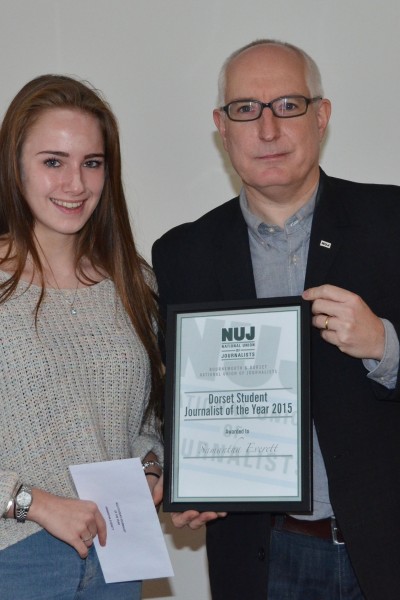 She said: "It felt amazing to win the award, especially considering feature writing is something I hope to pursue in the future, and so it felt really good to get some recognition for it. It feels like all the late nights and hard work has paid off!"
She added that she was particularly proud of the piece she submitted after researching the subject extensively and securing a wide range of interviewees.
"It was something quite personal to me as both my dad and boyfriend suffer from the condition," Samantha said.
"I thought it was important issue to write about as so many young people go for years without the proper treatment and care as they don't think having arthritis so young is possible. So I wanted to dispel the myths surrounding it and emphasise the fact that anyone, even toddlers, can suffer from the condition."
Samantha received the award, and a prize cheque, in a presentation at Talbot Campus.
Presenting the award to Samantha, NUJ representative Neil Jordan said that Samantha's winning entry was "about a topic that we thought was really unusual, arthritis in adolescence, which was well researched and really well written."
Programme Leader for the BA (Hons) Multimedia Journalism degree Liisa Rohumaa said that she hoped the award marked the start of a long and successful career for Samantha.
Liisa added: "It's fantastic for Samantha – it reflects on her dynamic original reporting, and is good news for a course which encourages our students to cover issues that reflect people and impact their lives, such as Samantha's story about arthritis in teenagers."