New plans have been launched for £100m worth of landmark developments to create world class facilities at Bournemouth University (BU).
The schemes aim to create striking gateway buildings at BU's Lansdowne and Talbot sites, bringing significant investment into Bournemouth and Poole.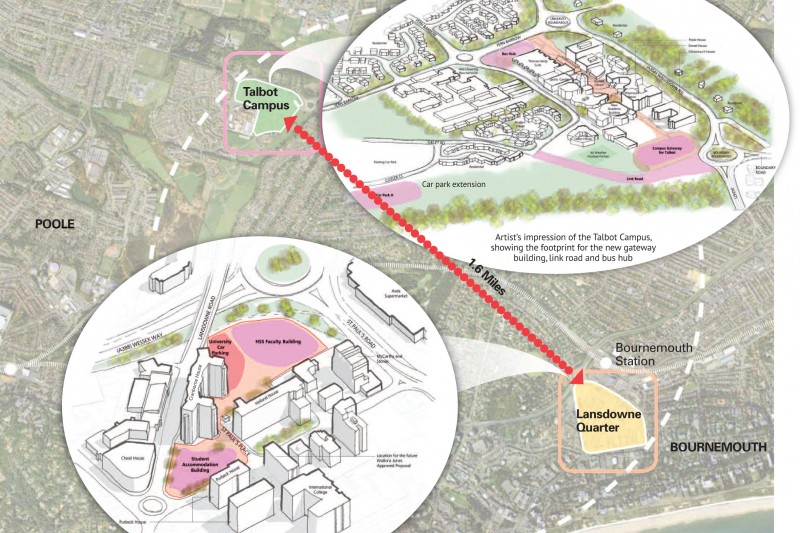 Proposals include state-of-the-art facilities for BU's highly regarded faculties of Media and Communication, Management, Science and Technology and Health and Social Sciences (HSS).
The plans for Talbot include a landmark Poole Gateway Building for the Media and Communication, Management, and Science and Technology faculties.
There will also be transport and accessibility benefits for the wider community including a bus hub on the campus and a new link road off the Boundary roundabout.
Lansdowne's scheme aims to bring HSS under one roof with modern facilities in the Bournemouth Gateway Building. Associated BU parking and a new student accommodation building are also proposed.
A four-week public consultation period began today (Monday January 25) and is open for comments until February Friday 19.
There will be public exhibitions on Monday February 8 and Wednesday February 10 about the Talbot and Lansdowne schemes. Both exhibitions will include full details of both schemes with the opportunity to comment.
Professor John Vinney, BU Vice-Chancellor, said: "Bournemouth University has recently been recognised in the top 200 most international universities in the world. Our proposed new developments are key to helping us achieve our vision of providing world class facilities for a world class university so that we can continue to develop global talent.
"If we are to continue producing Oscar winning graduates, designers, engineers and the midwives, nurses and social workers of the future, then we need the facilities to attract the best.
"The new buildings will bring investment in the region of £100m into Bournemouth and Poole, creating striking gateways to Talbot and Lansdowne."
Professor Vinney added: "Our staff and students contribute more than £1 million a day to the south west economy and support just less than one full-time equivalent (FTE) job in the local conurbation for every 7.4 students.
"For this to continue we must remain competitive. We encourage everyone to come along to our public exhibitions to find out more about our exciting vision for BU and have their say."
The public exhibition on Monday 8 February is from 4pm to 8.30pm on the fifth floor of the Student Centre at the Talbot Campus. Free parking is available from 4pm in university car parks on the campus from 4pm.
The public exhibition on Wednesday 10 February is from 4pm to 8.30pm at the BU Executive Business Centre in Holdenhurst Road, Lansdowne. There is no parking available on site; the nearest public car park is in Cotlands Road.
All feedback will be analysed before planning applications are submitted to the local authorities in March.
If approved, construction is scheduled to begin in 2017 for both sites with buildings opening in September 2019.
As part of the Lansdowne project, Three Sixty Developments is proposing to develop student accommodation with up to 550 beds on a separate site in Lansdowne Road at a cost of circa £37m. 
Since 2012, BU has been embarking on a significant programme investing multi-millions of pounds to improve its facilities for staff, students and the community.
At Talbot, its new £10.5m Student Centre opened in March 2015 and a £22m academic centre is nearing completion and is due to open this spring.
In Lansdowne, BU's new International College opened last September.
Any growth will be within the existing envelope of student numbers for a medium-sized university.
BU is committed to achieving high levels of Building Research Establishment Environmental Assessment Methodology (BREEAM) certification for its new buildings.
BU is committed to 'excellent' ratings for the new developments, in line with its new Student Centre and academic building at its Talbot site.
Visit www.bournemouth.ac.uk/campus-development for more details and email [email protected] with comments about the proposals.