60 Chinese football coaches will spend three months studying at Bournemouth University (BU) this summer on a British Council China UK Football Study Programme project.
The Chinese football coaches will participate in a specially developed programme to improve their skills and knowledge in collaboration with BU and AFC Bournemouth.
The strategic partnership between BU and AFC Bournemouth was a key factor in creating a bespoke three month programme that BU submitted for funding to the British Council China UK Football Study Programme (which was announced following the UK-China Government Summit in September 2015). BU was one of only three successful UK Universities from the 35 who put in a bid. Key delegates from China were in Bournemouth for a two day preparation visit ahead of the study programme, and had the chance to find out more about BU and AFC Bournemouth - as well as taking a tour of the university campus and having an opportunity to hear from the academics and coaches who will lead the programme.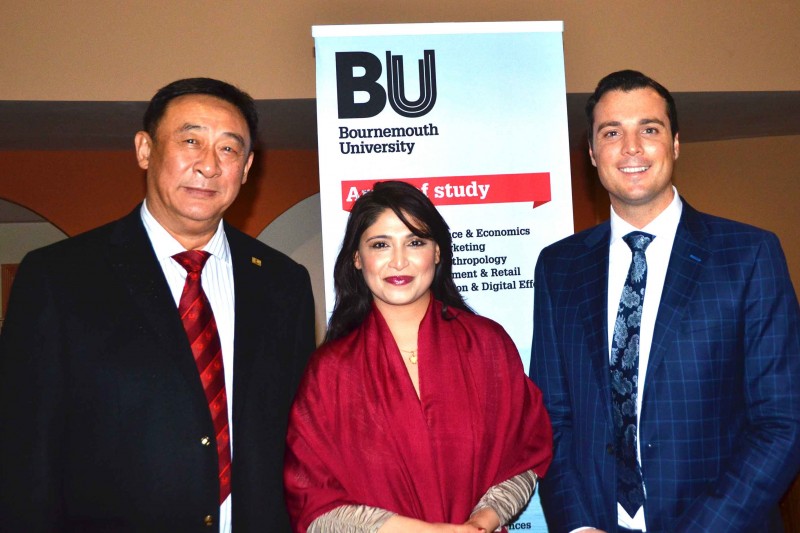 On their arrival in Dorset, Dr Sonal Minocha, Pro Vice-Chancellor (Global Engagement) at Bournemouth University, said, "We are delighted to welcome this high level Chinese delegation to Bournemouth, and to Bournemouth University. It is a prime example of our expanding global capital and we are delighted to work alongside our partners AFC Bournemouth to deliver coaching training to Chinese coaches this summer that will underpin the development of their football infrastructure in the future.  At the heart of this tripartite relationship is a shared passion for the development of future Global Talent and we can be collectively proud of placing our County on the global map through this work". 
As part of the visit, the delegation also received a tour of Vitality stadium from AFC Bournemouth chairman Jeff Mostyn and explored the coaching and training facilities available at the club. Mostyn said, "Having 60 coaches from China studying in Bournemouth this summer is a great example of the international impact and benefits to both 'Premier League' organisations from the university and football club working in partnership."
The study programme aims to use the UK's expertise and resources to help football coaches from Chinese schools and universities learn more about football management; improve their technical skills and theoretical knowledge; and develop their capacity to train young people and increase China's football competitiveness.
BU academics will lead lectures and seminars around the principles, psychology and theory behind coaching and management and the Chinese coaches will also receive practical coaching and conditioning sessions from Sport BU and AFC Bournemouth coaches.
The visit comes in the same month as BU was announced in the Times Higher Education top 200 list of the most international universities in the world 2016. This accolade reflects BU's increasing international reputation and the worldwide reach it has gained in recent years, following on from the Global BU strategy, which is committed to developing global talent of staff and students, driving global thinking through research and delivering global traction through professional practice.
The Times Higher Education World University Rankings are globally recognised, and Times Higher Education has used the 'international outlook' indicator of the World University Rankings to determine the top 200 most international universities.  All institutions in the top 800 of the rankings have been considered. This makes the inclusion of Bournemouth University in the list of the top 200 most international universities a significant achievement.
BU also rose in all three major UK university league tables in 2015 - the Complete University Guide, Guardian University Guide and The Sunday Times Good University Guide.
The Chinese coaching study programme forms part of the China State Council's plan to boost the development of football in the country, with aims to train 50,000 full-time and part-time football coaches by 2020.
Wang Gang, Vice President of Federation of University Sports of China and China School Sports Federation (FUSC and CSSF), said, "Many thanks for the warm hospitality from Bournemouth University.
"I can see BU has done a lot preparation work for the Chinese football training programme and I believe that we will have a successful strategic collaboration between FUSC/CSSF and Bournemouth. I wish Bournemouth University success in creating global impact by taking their Fusion vision global."