BU sport scholar Chloe Thomas competed at the Table Tennis World Team Championships.
Building on her recent win representing BU at the British University and College Sports (BUCS) Table Tennis Championships, Chloe represented Team Wales on the world stage in Malaysia.
Currently studying BSc (Hons) Nutrition Chloe works hard to balance her undergraduate study with training and competing at an international level.  Although she previously represented Wales in the Commonwealth Championships in Glasgow for her country, the event was Chloe's first experience of a team competition for Wales.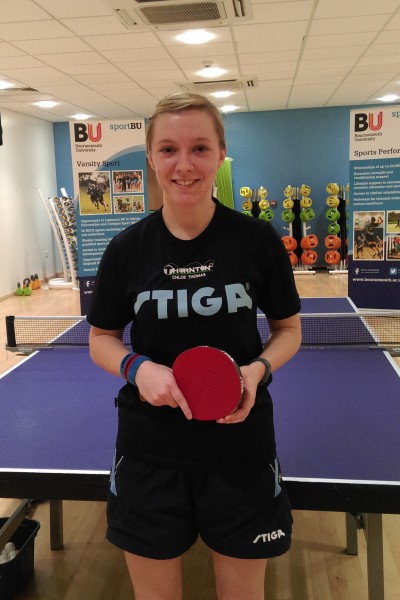 She arrived in Malaysia with her team mates a few days before the competition began, where Team Wales faced five countries in a tough group round but managed to qualify second in their group.  This allowed Wales to compete in the top half of the draw where they were drawn against a tough Latin American team, Venezuela.
In a series of very close matches Wales lost to Venezuela 3-1 with only Chloe winning her singles match. This put them in a playoff position against Argentina, where they and unfortunately lost 3-2. By the end of the competition Wales finished 10th place in their division, equal to their starting ranking.
Reflecting on the competition Chloe said:  "I am quite happy with my performance over all. It's a shame we lost against Venezuela in the last 16, as the matches were all so close, but it just wasn't meant to be. 
"We didn't do any better or worse regards to our ranking but I have definitely learnt a lot about my own game and was amazing to see the top players in action such as the Chinese!"
Now back in the UK, Chloe has no time to rest and is already back in the training room and back in lectures. Her next big table tennis tournament will be the Luxembourg Open at the end of March.