The 8th Annual Postgraduate Conference was held on Wednesday 8 and Thursday 9 March with over 250 delegates, including staff and students from all four Faculties the most popular to date.
Every year our Graduate School host a two-day conference for postgraduate taught and research students to submit their current research work which are then presented via oral, poster and photography presentations. 
Professor Tiantian Zhang, Head of the Graduate School, commented that "The conference is one of many ways we create a vibrant postgraduate community to support a research active environment.
"There were a record number of students and staff involved in the conference which is brilliant to see. The conference is designed to provide an internal platform for students to present their research in a conference environment and the standard was extremely high; many presentations were of international conference standard."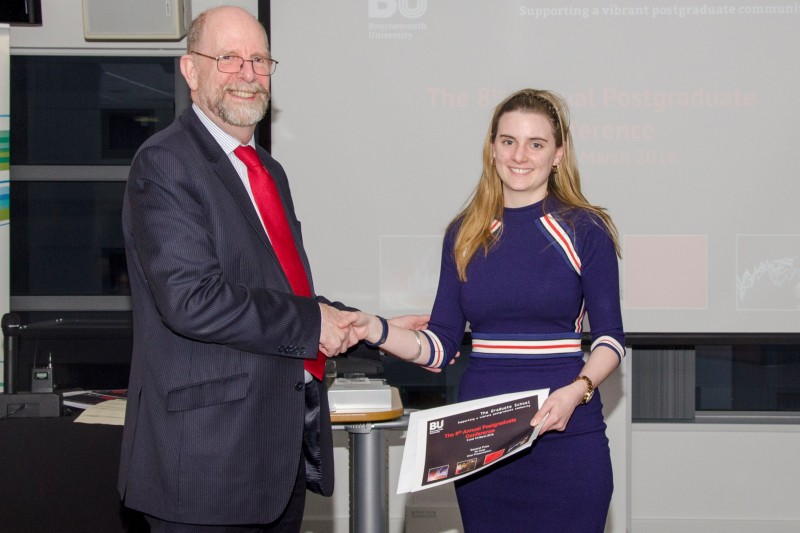 The event was opened by Vice Chancellor, John Vinney, who said 'The conference demonstrates the vast array of co-creation and co-production between students and staff which integrate research with education, learning and practice presentations and really encapsulate a fused idea of education."
An informative keynote from Professor Edwin Van Teijlingen on the 'Pitfalls of Publishing' provided excellent advice and tips to students on how to publish work from their thesis, ensuring they get the most out of the work they want publishing.   
Day two of the conference saw Pro Vice Chancellor for Research and Innovation, John Fletcher, open the conference. This was followed by a keynote from Dr. Katarzyna Musial-Gabrys.  
With four different presentation categories, there were lots of opportunities for students to gain recognition for their work. The winners were:
Oral presentations
1st –   Lucy Sheppard-Marks (Faculty of Management)
2nd – Sarah Hodge (Faculty of Science and Technology
3rd - Evangelia Papadiki (Faculty of Media and Communication)
Poster presentations
1st – Emmy Van Den Heuvel (Faculty of Science and Technology)
2nd – Daisy Wiggins (Faculty of Health and Social Sciences)
3rd – Jan Lewis (Faculty of Media and Communication)
Three minute presentations
1st – Clare Farrance (Faculty of Health and Social Sciences)
Photography presentation
1st – Danny Sheath (Faculty of Science and Technology)
Find out more about the Graduate School at www.bournemouth.ac.uk/graduate-school