Undergraduate students from BU and University of Southampton competed in the Institute of Mechanical Engineering (IMechE) Design Challenge. 
Four teams of students took part in the Wessex branch of the challenge hosted at BU, each team hoping to win and gain a place at the national finals in October.
The challenge was to design and create a functioning launcher such as those used to fire a rope or line from one boat to another. The young designers who are all in their first year of study, had to design and build the machine and also to produce a poster and present their design to the judges. The designs were tested against each other for accuracy over set distances, launching a squash ball in lieu of a rope.
The design challenge was introduced by IMechE in 2008 as a way of exposing first year undergraduates to the real world of engineering, encouraging them to think for themselves, resolve engineering problems and present their ideas in a professional manner.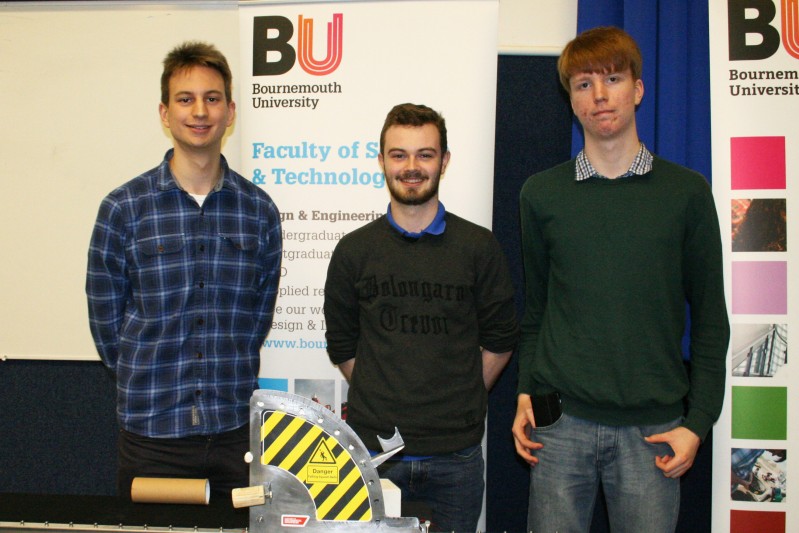 Dr David Ball, Chairman of the IMechE Design Challenge started the design challenge eight years ago. He explained, saying: "We are simulating the requirements of a professional engineer in every aspect, that's what it's all about."
"From the Institution's point of view what we want to do is help universities so that we are helping so we are helping the students to apply the knowledge they are gaining from their university course."
He went on to comment on the students' work: "I think the designs seem to be very good they have done exactly what we want them to do. They've come up with some innovative designs to achieve the objective. They're going to learn from this and when they see all the other designs perform they will get a lot from it."
Vice-Chancellor Professor John Vinney opened the competition. He said: "I'm delighted to be here today to see the Wessex branch of the Institute of Mechanical Engineering Design Challenge competition. We've had four teams competing, it's been absolutely fantastic, some really creative designs and the ideas have been very well explained by the students."
The winning team were BU students William Long, Matthew Lane and Joseph Keech. They will be refining and improving their design before competing in the National Finals in London in October.