Around 25 students from BU's MSc Forensic Anthropology and Forensic Archaeology courses have discovered 12 artificial sets of remains at the site of a simulated war grave on the Trigon Estate, near Wareham in rural Dorset.
 
Discovered deep in an area of natural woodland, the students had to locate, excavate and document a scene which comprised several skeletal remains, as well as unique, period artefacts, such as coins, bottles, and personal belongings.
Team Leader and MSc Forensic Anthropology student, Will Carroll-Adams said: "I'm interested in humans and human variation, and on this course we've learned about human anatomy, disease, pathology and trauma. What we are doing is spending a week in the field, where skeletons have been buried over the past year, which are in most realistic conditions possible.
"We had to find the mass grave area and were looking for sites with a certain variation in vegetation. This is because bodies placed in the area may lead to additional plant species growing. There are supposed phosphorus and additional bombs, among other things in with the skeletons."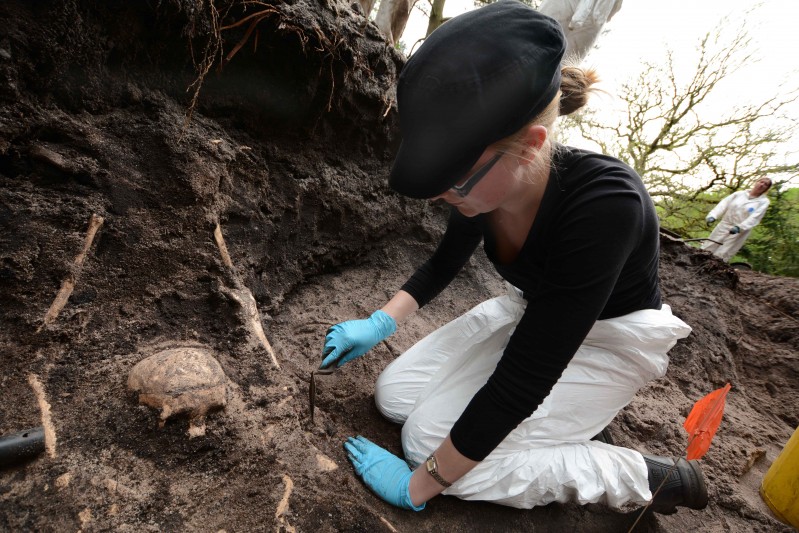 The exercise, which forms part of the Professional Practice in Forensic Science unit for both courses is non-assessed and brings together course-specific skills learned in both disciplines throughout year. In their first semester, MSc Forensic Archaeology students develop technical skills in the excavation of single and mass graves, while MSc Forensic Anthropology students specialise in the interpretation of skeletal remains.
Senior Lecturer in Forensic Anthropology, Dr Martin Smith said: "Students have been looking forward to this unit for quite a few weeks, partly because it brings together a number of things studied throughout the year and partly because it's non-assessed.
"Students explore different roles that they are given and apply a different set of processes to work together as a team to try and answer a specific question.
He added: "When they are first brought out to the site, we have them walk around and look at the landscape, using their observational skills to see if they can spot a likely target for where something fairly large and significant could be buried."